29 May 2017
DUP still stonewalling over Brexit 'dark money' and shady sources
Little is known about the Conservative Research Council but links have emerged between one of its leading figures and Saudi Arabian Intelligence
THE DUP took the money for Brexit but it is the rest of us who will pay the price, Sinn Féin MEP Martina Anderson has said in Belfast at the launch of a 'Brexit billboard' asking who exactly gave the DUP £435,0000 used in Britain but not the North of Ireland.
The Sinn Féin MEP for the North of Ireland – the only MEP in the North to oppose Brexit – was again asking questions of Arlene Foster, Diane Dodds MEP and the rest of their party to reply to reports about the original source of the 'dark money'.
It has been linked by openDemocracy investigators to shadowy Conservative hardliners and Saudi officials with ties to the Saudi royal family and Saudi Intelligence.
Earlier this year, it was revealed that the DUP received £435,0000 from a shadowy group called the Conservative Research Council to fund its lavish Brexit campaign.
The money was used to pay for expensive newspaper advertising, including a wraparound in the Metro free newspaper – which is not distributed in the North of Ireland and so had no direct benefit to the DUP – as well as posters, T-shirts, car stickers and other material which was also not used in the North.
Little is known about the make-up of the Conservative Research Council. It does not publish accounts or other details but in recent weeks links have emerged between one of its leading figures and Saudi Arabian Intelligence.
DUP leaders have refused to answer questions on the origin of the huge sum of money it received or whether or not any of it came through the Saudi Arabian link, which would be in contravention of electoral law.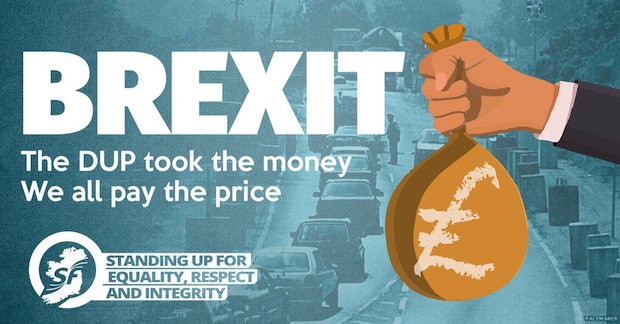 Speaking at the billboard launch in Belfast alongside fellow MEPs Liadh Ní Riada and Matt Carthy, as well as election candidates Paul Maskey and Mairéad O'Donnell, Martina Anderson said:
"The DUP took the money for Brexit but it is the rest of us who will pay the price.
"There is no doubt that Brexit is bad for Ireland, North and South and the clearly the DUP have questions to answer over this 'dark money' it received to back Brexit.
"The people have a right to know if this money, whoever it came from, influenced the DUP's decision to line up behind the Tories to support Brexit despite the impact it will have on people in Ireland."