1 June 2017 Edition
An open prison in which people are slowly suffocating
Eyewitness West Bank
Palestinian children in the West Bank are regularly physically and psychologically abused by the Israelis, routinely mistreated at checkpoints by combat troops and paramilitary police
AFTER A MONTH of volunteering in the West Bank with a children's rights NGO, I am left with a sense of despair for the Palestinian people forced to exist under a brutal apartheid Israeli regime. Every night, every day, the experiences of just four weeks living in the West Bank haunt me.
I spent four weeks in March and April living in Bethlehem (arranged by Volunteer Palestine) and working in Hebron in schools and social centres across the West Bank with youngsters aged 8 to 16 under the umbrella of Defence of the Children International, which promotes and protects the human rights of Palestinian kids. 
Children in Palestine have been deeply traumatised by the harassment and casual violence they suffer daily from the Israeli military and settlers. A rising number are suffering arrest and imprisonment. More than 300 Palestinian kids are currently languishing in Israeli jails, some of them held in solitary confinement and tortured, psychologically as well as physically.
Palestinian children in the West Bank are regularly physically and psychologically abused by the Israelis, routinely mistreated at checkpoints by combat troops and paramilitary police.
It was seriously distressing to see children who were almost devoid of hope and living in an atmosphere of fear and oppression that would challenge any adult, not to mind a child.
One workshop involved inviting children to draw their dreams to give an idea of what they are thinking about, their worries and their hopes for the future.
The parallels with the suffering of children in the Six Counties during the conflict were stark.
Pictures had soldiers and checkpoints. One young boy drew a picture of an airplane and said that he wished he could fly around Palestine to help everyone. Ambulances, sirens and the general paraphernalia of war featured regularly in their images.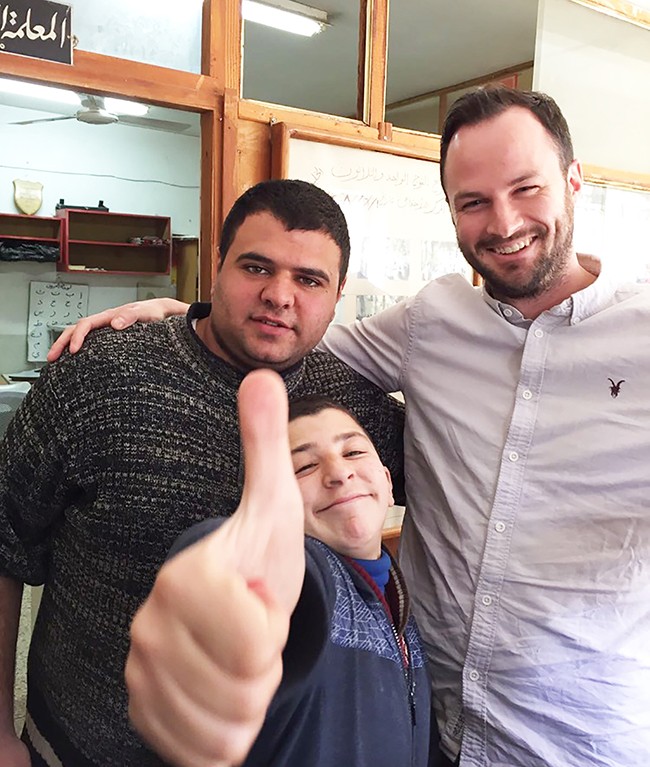 •  Eolan de Búrca (right) after a workshop in a social centre in Hebron with Palestinian youth
Social workers alongside me told me of distressing case histories that reflect the daily ordeals of many, many Palestinian children.
The parents of one 13-year-old boy saw him being kidnapped not long after he arrived home from school by hostile soldiers, blindfolded, his hands bound with cable ties, dragged screaming in an army vehicle. Some hours later, he was found dumped at the side of the road like a sack of rubbish.
Another 11-year-old was abducted by the Israeli Army and threatened with castration by heavily-armed men before he was released without charge but left traumatised and prone to incessant bed-wetting and nightmares as a result. 
What can a terrified parent do in the face of such overpowering force and state violence? There is nowhere to turn to get justice.
A social worker who works with the families relayed these stories to me. Events such as these are, sadly, everyday occurrences.
Israel's campaign of murdering Palestinian minors has been well-documented and I learned of many such instances during my stay, including (as of 10 April) Jassem Muhammad Nakhla, the fourth minor killed and 18th Palestinian killed in the West Bank in 2017.
When 17-year-old Qusay al-Umour was murdered by the Israeli Army, the BADIL human rights organisation reported:
"Whether he was throwing stones at the soldiers or not, al-Umour could not have presented a lethal threat to the well-protected Israeli Border Police from a distance of around 100 metres, and the use of live ammunition against him was therefore unjustified."  
When I was working in Hebron, I felt at first-hand the hourly tension experienced in Tel Remuida. It was both exhausting and frightening. I saw the effects on locals of living in such a constant state of high alert.
I can only imagine the long-term damage to people's mental health living in these conditions of never-ending stress and fear.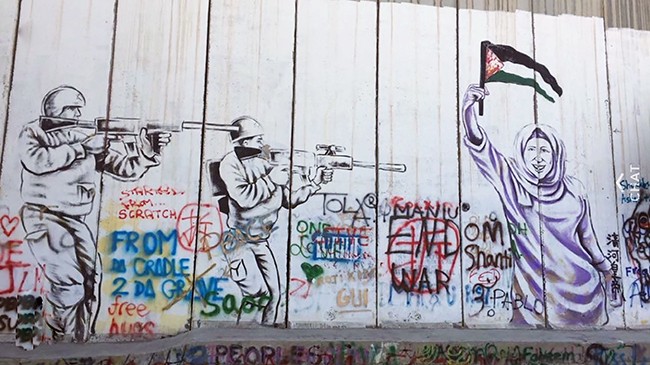 • Israel's 'Apartheid Wall' in Bethlehem
Tel Remeida is a neighbourhood where around 800 notoriously aggressive (and armed) settlers live under the protection of the Israeli Army.
I saw how daily life for the more than 30,000 Palestinians in the neighbourhood is like a living hell.  
It is classified as a "closed military zone" within which two systems of law exist, depending on whether you are Palestinian or an illegal Israeli settler. If you're a soldier or a settler, you can abuse the Palestinian population with impunity. You can, literally, get away with murder.
On one particularly difficult day, we did a workshop with a number of youths, among them a 12-year-old girl. She was clearly traumatised, outlining how she was about to burst with the pressure from constant attacks from settlers and harassment from Israeli soldiers. By the end of the workshop her hands were trembling and she seemed totally devoid of hope. She was a nervous wreck.
She was in such a state that myself and another worker decided it was best to walk her home as she was so distressed. Her house was on the other side of a military checkpoint, where many settlers lived. My colleague asked the two Israeli soldiers, fingering their machine guns, if we could pass through to walk this child home as she was clearly really anxious.
Point-blank, the soldiers refused our civil request. Pleading failed to move them. As a last resort, my colleague implored the soldier: "Well, can you guarantee her safety?" The answer was an unsympathetic "No".
She made it home safely that day. Every day, I wonder will she make it home safely; even if she will get home alive.
Israeli tear gas and guns against planting trees 
•  Eolan plants a tree on Palestinian land next to an illegal Israeli settlement and (right) a tear gas canister on the ground in Bethlehem ('one of many fired at me') from his last protest in Palestine
ISRAELI SETTLERS attacking Palestinians in the West Bank is a regular occurrence, including settlers driving their cars at Palestinian pedestrians.
The Israeli authorities know full well that these are deliberate acts designed to terrorise, maim or even kill people but they are dismissed as accidents if they're even taken seriously at all.
A simple and totally peaceful ceremony involving the planting of trees on Palestinian land next to an illegal settlement in Hebron (with me also planting a tree) resulted in the Israeli Army assaulting and arresting two Palestinian activists – for doing nothing more than planting trees!
During the arrests, armed and volatile Israeli settlers appeared, shouting abuse and menacing us with their guns under the protection of their army. I truly feared I could be killed at any second.
It wasn't the only time I felt that way.
The first demonstration I attended was a peaceful rally against an illegal Israeli settlement on Palestinian land between Bethlehem and Ramallah.
I marched with over 100 locals, varying in age from 12 to 70.
When we got within 200 feet of the illegal settlement on the hilltop we saw the cordon of combat troops protecting it. An Israeli military drone appeared above us, no doubt filming the people taking part.
We walked slowly forwards, carrying the flag of Palestine.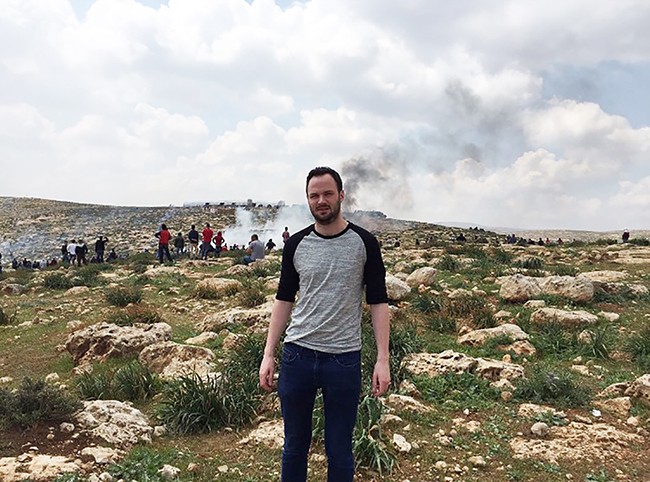 • At a demonstration against an illegal Israeli settlement in a village in the West Bank before Israelis opened fire on the crowd
A barrage of tear gas grenades was unleashed by the Israeli military. The toxic gas enveloped us, choking men, women and children. It was absolutely scary. I thought my head was going to explode as my vision almost completely went.
Everyone started to run but the Israelis kept firing. Canisters whizzed by my head. They are metal, about six inches thick and three inches wide, with the potential to kill if they hit your head. A Palestinian guy around my age had to be rushed down the hill after being hit in the back of the head with a tear gas canister. It looked as if he was in excruciating pain.
An old man, aged around 70, was hurried down the hill on a makeshift stretcher, put in the back of jeep and rushed away after suffering from tear gas inhalation. Thankfully, he recovered but everyone is well aware that the Israelis killed an eight-month-old baby in Bethlehem in October 2015 by exposure to tear gas.
All other demonstrations are regularly suppressed in the same manner.
On my second-last protest, the Israeli Army also threw sound bombs, which not only hurt your ears but are also dangerous due to flying shrapnel when they explode.
On my final day in Palestine, a young woman was taken away by ambulance after the Israelis aimed a sound bomb directly at her.
I asked a Palestinian friend of mine who has two small children how he keeps it together. He has humour. He's just a nice guy. He says he has no choice. This is his homeland, where he lives for his family and he is resigned to the fact that he could be murdered any day of the week. When his kids go to sleep at night, however, he admits that he cries out of worry for them. There are tears in his eyes as he tells me this. The level of pressure is just torture in itself. I get a knot in my stomach even thinking about him and his family now.
The guilt I feel about being to escape the daily repression by the Israeli apartheid regime is tempered by the experience, witnessing the spirit and dogged determination of the Palestinian people in the face of huge odds, a cruel regime bolstered or turned a blind eye to by the West and heedless of the countless condemnations by the United Nations.
Palestinians do value solidarity from abroad, particularly Ireland.
Many told me that they were inspired by the bravery of Irish republican prisoners, with the name of Bobby Sands on the lips of many.
Gerry Adams got a thumbs-up from a fruit seller in Hebron when I explained I was a Sinn Féiner from Ireland.
"Ah, yes. Gerry Adams," he nodded and smiled: "He's a good man."
And then he wouldn't let me pay for my orange.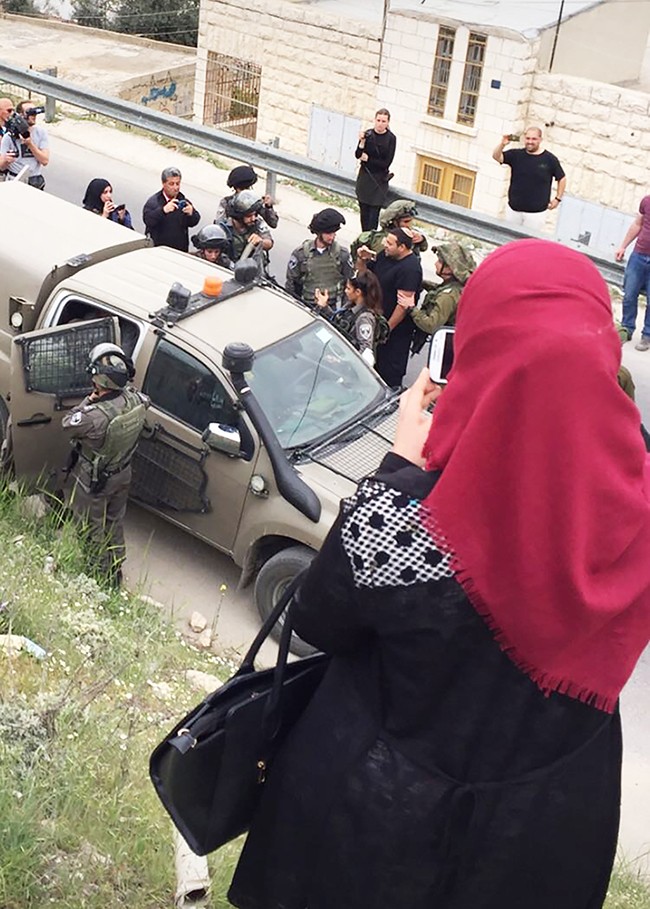 • Israeli soldiers arrest two men who were planting trees
Eolan De Búrca is a Sinn Féin Economic Adviser 
Solidarity with the people of Palestine
Boycott, Divestment, Sanctions (BDS) movement  bdsmovement.net
Ireland Palestine Solidarity Campaign  www.ipsc.ie
Sadaka – The Ireland Palestine Alliance  www.sadaka.ie