1 June 2017 Edition
Fine Gael/Ind Government launches assault on workers' pay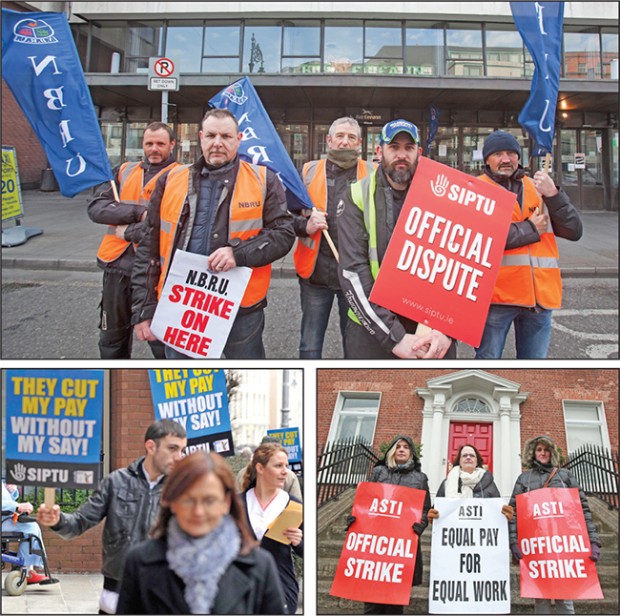 The ground is set to create an artificial confrontation between public and private sector workers while the bosses and investors keep their taxes down and their profits up
THE Dublin Government has launched a full-scale attack on public sector workers. While mouthing about restoring some of the pay stolen from these workers at the height of the recession, they have declared a hardline stance about any pay restoration being based on the Government's ability to pay.
In an ironic and typically dishonest twist, the Government set up a tame Public Service Pay Commission, which, wonder of wonders, produced a "report" exactly in tune with Government policy and with the hard-right ideology advanced by Fine Gael, Shane Ross and Katherine Zappone.
The strategy is also crystal clear, even if it's a bit jaded at this point. 
Spokesperson after spokesperson, media commentator after media commentator all bemoan the low wages being paid in the private sector and then they use this point to argue for public sector workers to be brought down.
At best this would be an ugly begrudgery on the lines of 'I don't have a decent pension or weekly income, so no one else should'.
There is, of course, a simpler answer to this problem to the extent that it really exists. Why not raise private sector pay to public sector levels?  
But don't hold your breath for Fine Gael and the Ross-Zappone clique to put that forward as it would hit the very comfortable living standards of their backers in business and enterprise.
Lower private sector pay means higher profits and dividends for the bosses and the investors.
In the real world, an increase in income for one section of workers is a benchmark for others to campaign on. So improvements in public sector pay ultimately should act as a spur to improving the private sector also.
But that's not how the media portray it.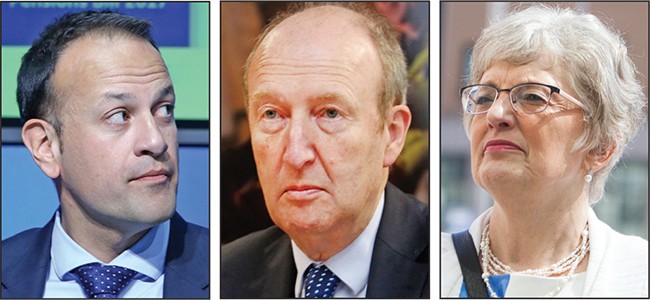 • Leo Varadkar, Shane Ross and Katherine Zappone
On RTÉ, Ingrid Miley solemnly assures viewers that the unions must sell any deal to their members (are the unions different from their members?) and the Government must sell it to private sector workers.
So the ground is set to create an artificial confrontation between public and private sector workers while the bosses and investors keep their taxes down and their profits up.
It's not that private sector workers will take to the streets in protest. The objective is to weaken the resolve of public sector workers to fight.
The context is, of course, the amount of money at the Government's disposal to meet the various demands on the public purse.
But the point should be made loud and clear – bus drivers don't have the responsibility of providing hospital beds or schools; those with more money than the rest of us do.
And the issue to a large extent therefore isn't what the rich can afford to pay in taxes but what income now and what pension in the future will ensure a decent, comfortable life for people working in the public sector – and in the private sector too.
Let's repeat. Not one penny that the bosses save by keeping their taxes down will go into the pockets of private sector workers without a struggle by those workers.
And of course, the best way to carry on that struggle is through a trades union.
But the struggle, as this issue of public pay policy shows, is not just an industrial struggle. It is a political one as well.
In France, trade unionists and political activists are already rallying to begin the fight against Emmanuel Macron's neoliberal agenda. We in Ireland need to follow that example by waging a united struggle of trade unions and Left political parties.
Tragically, however, SIPTU (and Jack O'Connor) are still deluded by the dishonest pretence of the Labour Party that it is in any way different from the gang who imposed austerity on the working class while the bulk of the trade union movement stands aloof from any political affiliation.
At this time of serious Government assault, surely it is time for the unions to sit down with the genuine Left (with Sinn Féin in particular) and put forward a programme of resistance, not a mealy-mouthed 'negotiation' leading to a compromise paid for by workers' living standards.
But Sinn Féin activists too must face up to the need to fight neoliberalism on a broad front, but especially in opposition to the EU's plans – embodied above all by Macron in France – for greater EU integration and for a further weakening of national sovereignty a hundred years after the Proclamation of 1916.