24 May 2017
Ballymurphy Massacre families go to Westminster to launch civil proceedings against Ministry of Defence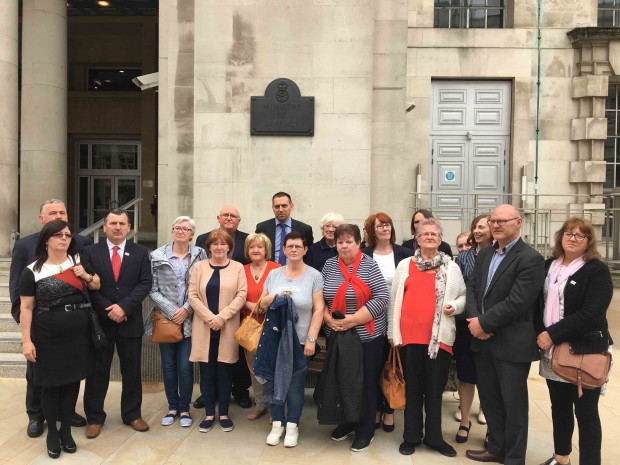 'We have waited over 45 years and our loved ones are dying, our witnesses are dying' – John Teggart
THE Ballymurphy Massacre families took their battle for justice to the heart of Westminster this week, arriving in London to begin civil proceedings against the Ministry of Defence and serve letters on the MoD and Prime Minister Theresa May.
The British Government has 21 days to respond, with the next step in proceedings beginning in September.
Eleven people – including a mother of 8 and a Catholic priest – were shot dead by British Army paratroopers when the Paras went on a killing spree in the 72 hours after the introduction of internment without charge or trial by the Unionist Party Government on 9 August 1971.
In September, the families walked out of a meeting with Secretary of State James Brokenshire. They had urged him to release funds for inquests into the shootings.
On Tuesday, the families travelled to London with outgoing West Belfast Sinn Féin MP Paul Maskey in another move to force the British authorities to admit the truth.
Speaking outside the MoD in Whitehall, John Teggart, whose father was one of those shot dead, told the BBC:
"We have waited over 45 years and our loved ones are dying, our witnesses are dying.
"We would like to get this put to bed and hopefully overturn what was said in 1971, that all our loved ones were gunmen and gunwomen."
Inquests into the deaths are due to reopen in 2018.
Paul Maskey told An Phoblacht:
"I want to commend the Ballymurphy families who have been tireless in their campaign for justice for their loved ones.
"They served letters on the British Ministry of Defence and British Prime Minister Theresa May in London today and I was privileged to accompany them on the trip.
"The families have travelled near and far to highlight their case and today is another step on that journey.
"They are determined to get justice for their loved ones and today shows their strength and determination to keep the pressure on the British Government to achieve their goal."
 ● Taoiseach Enda Kenny lays flowers at the Ballymurphy memorial in 2015