17 May 2017
'We need a change of Government, not just a change of Taoiseach' – Gerry Adams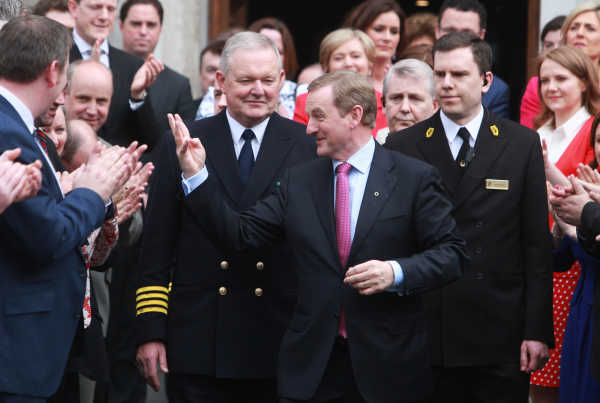 'The reality is that Fine Gael, no matter who leads them, are firmly wedded to the policies that cause so much hardship in the daily lives of ordinary people'
ENDA KENNY announced late on Wednesday afternoon that he would resign as leader of Fine Gael at midnight – opening a new leadership contest for Fine Gael leader and Taoiseach. Sinn Féin leader Gerry Adams TD said soon afterwards that Deputy Kenny had come to power promising a democratic revolution but left behind a political legacy "dominated by crisis, chaos and a chronic lack of accountability".
Speaking at the Dáil after the Fine Gael leader's announcement that had been expected later on Wednesday night, Gerry Adams wished him and his family well.
"It will be a big a change in all of their lives."
He added:
"He and I disagree on many political issues, but I acknowledge that he did his best from his perspective.
"From Sinn Féin's perspective, this was not good enough.
"In 2011, Mr Kenny came to power with the largest majority in the history of the state. He promised a democratic revolution.
"Six years on and his political legacy is dominated by crisis, chaos and a chronic lack of accountability."
The TD for Louth continued:
"There is an ongoing and unprecedented crisis in housing and homelessness.
"The health service is in chaos and there is the deep crisis in policing and justice.
"The Government's strategy for dealing with the challenge of Brexit – acknowledged as the greatest threat to the economies of this island in generations – is deeply flawed.
"There also a clear lack of affinity with the North and a clear lack of consistent strategic engagement on the process of change that is required to sustain the political institutions.
"This is a do-nothing government courtesy of the confidence and supply arrangement with the Government's partner in Fianna Fáil.
"The reality is that so-called new politics, led by Mr Kenny and Fianna Fáil leader Mícheál Martin, isn't new at all.
"As a result, there is a deep paralysis in the body politic.
"The reality is that Fine Gael, no matter who leads them, are firmly wedded to the policies that cause so much hardship in the daily lives of ordinary people.
"That will not change under Leo Varadkar, Simon Coveney or any other contender.
"We need a change of Government, not just a change of Taoiseach."