15 May 2017
Sexism storm rains down on DUP leader's head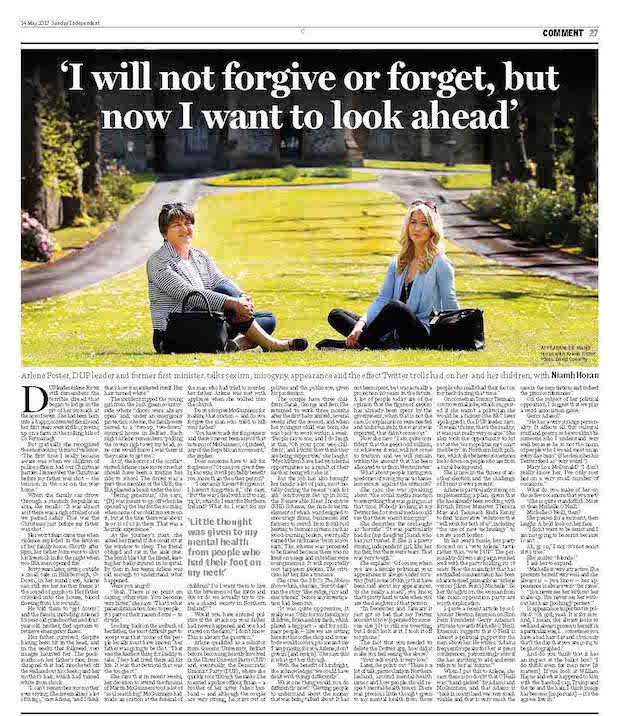 'There is no right or wrong way to look, and women are in positions of leadership because we belong, representing everyone equally' – Michelle O'Neill
YOU MIGHT THINK that DUP leader Arlene Foster would have learned her lesson when her curt denunciation of Sinn Féin's support for an Irish Language Act ("If you feed a crocodile, it will keep coming back for more.") ahead of the Assembly election in March led to a deluge of crocodile memes and crocodile-costumed campaigners biting back.
It seems not.
Interviewed in the unionist-leaning, anti-republican Sunday Independent at the weekend, the Democratic Unionist Party leader brought a social media storm of accusations of sexism down upon her head when she summed up Sinn Féin's Michelle O'Neill on the basis of her looks rather than her character and ability.
In a broadsheet full-page puff piece, Arlene Foster gets sucked (or suckered?) into a word association game about her Sinn Féin opposite numbers.
Gerry Adams is "strange", Mary Lou McDonald is "standoffish". And Michelle O'Neill?
Niamh Horan explains the exchange with the DUP leader thus:
Michelle O'Neill, then?
She pauses for a moment, then laughs. A bold look on her face.
"I don't want to be sexist and I am not going to be sexist because I can't . . .
"Ah, go on," I say. "It's not sexist if it's true."
She smiles: "Blonde!"
One of the many tweets the DUP leader unleashed was from Michelle O'Neill's daughter, Saoirse, who tweeted:
"Disgraceful, Arlene. Mummy has blonde hair, yes; she also has class, smarts and strong leadership skills that empower the great women around her."
Political commentator Patricia MacBride notes: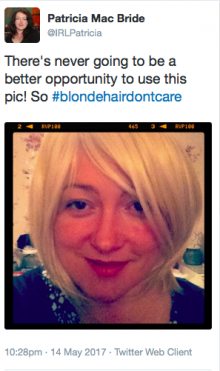 "We all know that 'blonde' is a euphemism for not very bright, for a woman who is perceived as pretty but dim. Watch now as the DUP try to spin it otherwise.
"Arlene Foster goes on to say that Michelle O'Neill is very well presented with her hair and make-up done. This isn't meant as a compliment. She's throwing shade and she knows it. And Niamh Horan eggs her on telling her, 'It's not sexist if it's true.'"
Patricia MacBride disagrees.
"Yes it is sexist.
"It is true that Michelle O'Neill is well-groomed in public. So are Emma Little-Pengelly, Claire Bailey, Paula Bradshaw, Michelle McIlveen, Claire Sugden and dozens of female political representatives in the North. Can you imagine what Arlene Foster and the DUP would say if someone described Joanne Bunting MLA as 'blonde'? It wouldn't be pretty – and rightly so.
"It's sexist because you're judging a woman on her appearance.
"It's sexist because you're implying that because she is well-presented and well-groomed that she lacks substance or intelligence.
"It's sexist because you know yourself exactly how it feels to be judged on your appearance, as Foster has said in the article – and yet you do exactly the same thing to your political equal."
● Martina Anderson MEP, Mary Lou McDonald TD and Michelle O'Neill MLA with European Parliament Brexit Steering Group rep Roberto Gualtieri in Strasbourg on Monday
MICHELLE O'NEILL, was in Strasbourg where she was meeting EU leaders and policy makers with Sinn Féin deputy leader Mary Lou McDonald TD, presenting the case for 'Designated Special Status for the North Within the EU', on Monday, the day after the Sunday Independent interview.
In a statement that didn't directly mention the DUP leader, Michelle O'Neill said:
"As political leaders, we have a duty and a responsibility to lead by example.
"There is a clear need for more women in public life and there is an onus on women in political leadership to empower women to encourage greater participation in public life.
"There can be no room in our society for sexism, misogyny, racism, homophobia or any form of discrimination.
"There is no right or wrong way to look, and women are in positions of leadership because we belong, representing everyone equally."