15 May 2017
Palestine flag over Dublin City Hall – 'The Irish Times' didn't print this letter
THE 'Irish Times' has not published a response by Dublin City Councillor Mícheál Mac Donncha (pictured below) in response to a letter from Chambers Ireland regarding the flying of the flag of Palestine. We print it here:
Mary Rose Burke, Chief Executive of Dublin Chamber (Letters, 10 May), takes Dublin City councillors to task for discussing the plight of the Palestinian people and agreeing to fly the flag of Palestine in a gesture of solidarity.
Ms Burke contrasts this with what she claims is "insufficient attention" by councillors to the many pressing issues facing Dublin.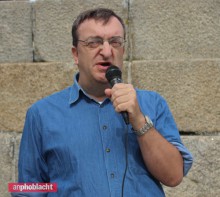 At the meeting in question, the May monthly meeting of the City Council, we addressed a whole range of issues, including the ongoing housing crisis. We agreed to invite Housing Minister Simon Coveney to our June meeting, with councillors across the political spectrum stressing the need for more urgent and effective action from Government. We addressed in some detail housing measures currently being implemented by the City Council.
With regard to Poolbeg West, which Ms Burke mentions, it is simply not true that Minister Coveney had to intervene to increase the number of housing units. The Minister made a submission, as did others, including my party, Sinn Fein. In our case we seek to maximise housing, including social and affordable.
The Council meeting dealt with a range of other reports and issues, including the planning of the new National Maternity Hospital.
We extended the meeting to deal with the Palestine question so no issue was neglected or disregarded and we quite correctly made time for a matter of huge concern to all who value human rights.