19 April 2017
Westminster election U-turn 'chance for voters to oppose Brexit and reject Tory cuts'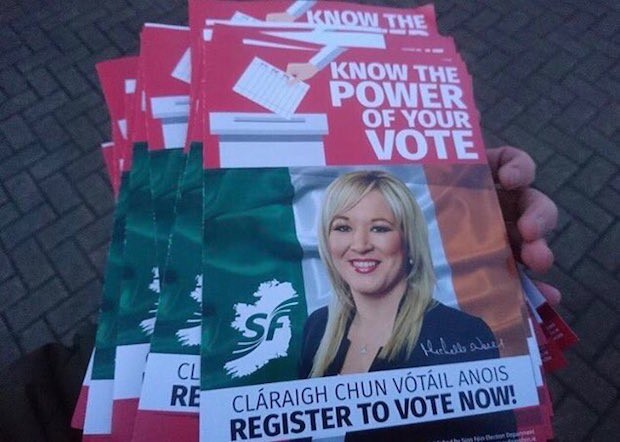 'Activists in Fermanagh & South Tyrone chomping at the bit this morning. We'll be fighting for the return of this historic seat!' – Michelle Gildernew
THE snap general election for 8 June called for by Tory leader and British Prime Minister Theresa May at Westminster on Tuesday is an opportunity for voters to oppose Brexit and reject Tory cuts and austerity, Sinn Féin MLA Michelle O'Neill has said.
Sinn Féin President Gerry Adams tweeted in response to the surprise announcement at Downing Street:
"Sinn Féin is up for that! Another chance to vote against Brexit and for progress."
In Fermanagh & South Tyrone, Michelle Gildernew tweeted:
"Activists in Fermanagh & South Tyrone chomping at the bit this morning. We'll be fighting for the return of this historic seat!"
Only last month, the British Prime Minister rejected talk of a second independence referendum for Scotland by telling First Minister Nicola Sturgeon that, because of the Brexit negotiations, "now is not the time" for another poll and it is "not the time to play politics or create uncertainty".
In a matter of weeks, the Tory leader has changed her tune.
On Wednesday, Sinn Féin's Michelle O'Neill said in response to Theresa May's U-turn because of the Tories now 'playing politics' over Brexit:
"Sinn Féin opposed Brexit because it will be disastrous for the people of Ireland, our economy and our public services.
"The people of the North clearly voted to see their future in the European Union in the referendum last June. We have been blatantly ignored by Theresa May since.
"The Tory Party's reckless Brexit agenda offers nothing to the people of the North who are being dragged out of the EU against our will.
"The Tory Party and their polices have been rejected by the people in the North in the past and will be again in this election.
"Sinn Féin is ready to contest this election and it will be an opportunity for voters to oppose Brexit and reject Tory cuts and austerity.
"It is an opportunity to progress 'Designated Status for the North Within the EU' and for a future based on equality, respect, integrity and unity."
Sinn Féin holds four Westminster seats while the DUP has eight, the SDLP three, Ulster Unionists two and there's one Independent (former Ulster Unionist Sylvia Hermon).
Secretary of State James Brokenshire said there will be no change in Stormont's talks process despite the announcement of the snap general election that took him by surprise as well as many Cabinet colleagues.
On Wednesday night, Sinn Féin MLA Conor Murphy confirmed that Sinn Féin negotiators would meet with the other parties and the British and Irish governments in the coming days. 
● TV sports personality Gary Lineker tweeted in response to a tweet by BBC Media Editor Amal Rojan about Wednesday's front page of the Daily Mail in a taste of the pro-Brexit Tory campaign to come:
"This kind of hate and aggression is the last thing the country needs."
Amal Rojan had earlier tweeted:
"May said she wanted unity not division. This is one hell of translation."