11 April 2017
Fine Gael's foot is on the neck of Fianna Fáil to sabotage Oireachtas Water Committee, Mary Lou tells Dáil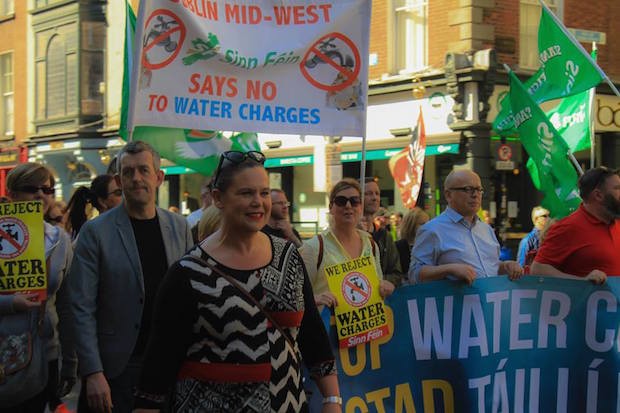 Fine Gael putting pressure on Fianna Fáil to buckle on water charges
FINE GAEL wants to sabotage the campaign against water charges to leave the door open to privatisation, Mary Lou McDonald TD told the Dáil on Tuesday. The Sinn Féin deputy leader challenged the Taoiseach to "take your foot off the neck of Fianna Fail" and allow the all-party Oireachtas Water Committee to finalise its report without Government interference.
Local Government Minister Simon Coveney wrote to the Water Committee Chairperson at the weekend to try and pressurise members to change their views getting rid of water charges.
The move brought an angry response from Sinn Féin TD Eoin Ó Broin, a Water Committee member, who described the minister's interference as a threat.
"The sub-text of this letter being that if he doesn't get his way, he will force a general election," the Dublin Mid West TD said.
"He is once again undermining his own process and the Water Committee he established in an attempt to put off taking the right decision on the domestic water charges issue.
"He is, quite frankly, treating the committee and its members with contempt."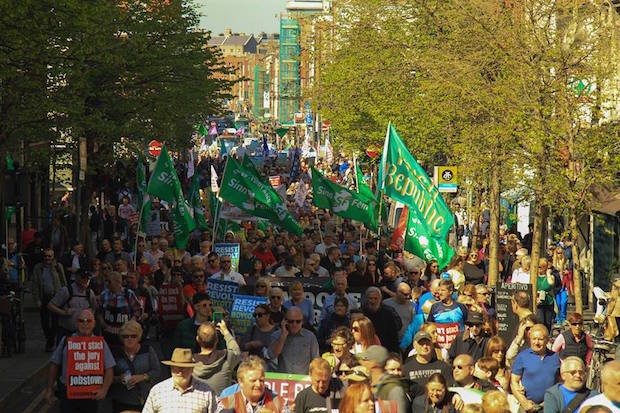 ● Saturday's Right2Water rally crowds showed that public opposition is undiminished – something Fianna Fáil must bear in mind
On Tuesday, amidst fears that Fianna Fáil may be wobbling under pressure from Fine Gael, it was announced that the Water Committee would be presented with new legal advice that could give Fianna Fáil a way to maintain a veneer of opposition while allowing Fine Gael to get its own way.
During Leaders' Questions in the Dáil on Tuesday afternoon, Mary Lou McDonald said that Minister Coveney's intervention was "most inappropriate".
The Sinn Féin deputy leader accused the Fine Gael leader of having no respect for the "tens of thousands" of protesters against water charges or the majority of TDs in Leinster House who were elected on platforms opposing water charges.
"Today we have Round 2 of the plan to sabotage the Water Committee report by your government," the Sinn Féin deputy leader said.
"You set up this committee," Mary Lou reminded Enda Kenny. "This committee does its work [but] you don't like its outcome so you set about sabotaging that work, largely by putting pressure on Fianna Fáil."
She told Enda Kenny:
"The people on the streets at the weekend want to know that their Taoiseach is capable of listening, hearing, understanding and respecting their wishes. And today is the day that you need to make that clear."
Mary Lou pressed the Taoiseach again, asking him if he will respect the wishes of the people for the abolition of water charges, for the ending of the water metering programme, and for a referendum to protect water from privatisation.
"Will you commit to all of those elements? And will you assure us that you will back off and allow the Water Committee to complete its work, that you will take your foot off the neck of Fianna Fáil?"
She added in an aside to the Fianna Fáil benches,;
"And we would expect and hope in that scenario that they would actually stand firm on their democratic mandate."
She concluded:
"The people will not back down on this issue, Taoiseach; we will not back down.
"Water charges are dead and over, and it's time for you to accept that."