8 April 2017
Fine Gael and Fianna Fáil must listen to the people on water charges – Mary Lou McDonald addresses Right2Water rally
'Fianna Fáil and Fine Gael thought citizens would roll over – they were wrong'
FINE GAEL – and Fianna Fáil – must listen to the people on water charges, Sinn Féin deputy leader Mary Lou McDonald told the Right2Water ' 'One Last Push' rally in Dublin on Saturday.
Thousands of marchers from all over Ireland converged on Dublin City Centre from starting points at Connolly and Heuston rail stations in a week that has seen Fine Gael reneging on a prior pledge to respect the findings of the all-party Oireachtas Water Committee because of its move to scrap water charges.
Fine Gael leadership candidate and Local Government Minister Simon Coveney even went as far to write to the Water Committee Chairperson to try and pressurise members to change their views.
It brought an angry response from Sinn Féin TD Eoin Ó Broin (pictured below), a Water Committee member, who described the minister's interference as a threat.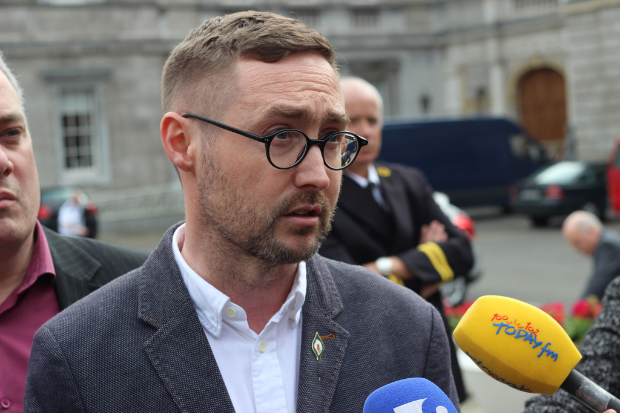 "The sub-text of this letter being that if he doesn't get his way, he will force a general election," the Dublin Mid West TD said.
"He is once again undermining his own process and the Water Committee he established in an attempt to put off taking the right decision on the domestic water charges issue.
"He is, quite frankly, treating the committee and its members with contempt."
The Sinn Féin TD pointed out that Fine Gael democratically lost key votes on the report in the all-party committee.
"Instead of accepting this, Minister Coveney is now hiding under an interpretation of the Water Framework Directive. The Water Committee has three separate senior counsel legal opinions, all of which indicate that our proposals are legally sound."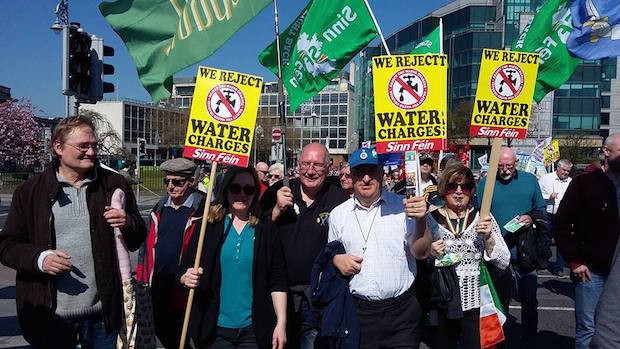 On Saturday, Mary Lou McDonald was one of the key speakers at the Right2Water rally, where she said:
"Water charges were agreed by Fianna Fáil and imposed by Fine Gael. They thought citizens would roll over. They were wrong.
"The Right2Water campaign won the argument on the streets.
"We won the battle at the ballot box last year and your Right2Water TDs won the argument at the committee this week.
"The people have spoken. Fine Gael and Fianna Fáil must listen. But they fear another election. They are seeking to hide behind questionable legal advice."
She told Fine Gael and Fianna Fáil, who may be thinking of trying to do a deal with Fine Gael behind closed doors:
"There can be no hiding place. It's called democracy, stupid.
"Water charges must end, the right to water must be safeguarded and those who paid must be refunded.
"We will settle for no less."