7 April 2017
Hundreds protest at Education Authority HQ in support of Irish-language youth clubs
Erin McKinley (16): 'I've been totally devastated since they took away our funding and this has motivated me and my friends to get involved to save our youth services'
MORE THAN 800 protesters brought Academy Street in Belfast to a standstill on Thursday in a vibrant and colourful display of vocal opposition to the Education Authority's removal of funding from Irish-medium youth services which resulted in the closure of four Belfast-based youth clubs this week.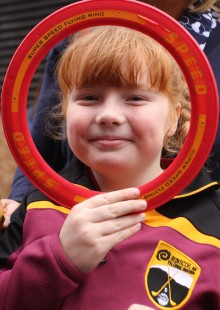 Speaking at the protest, Club Óige na bhFál member Erin McKinley (16) said:
"I've been totally devastated since we learned that they took away our funding and this has motivated me and my friends to get involved in this campaign to save our youth services and get the funding support that we are entitled to."
Having handed in the letters, the protesters then engaged in a peaceful sit-down protest in the offices.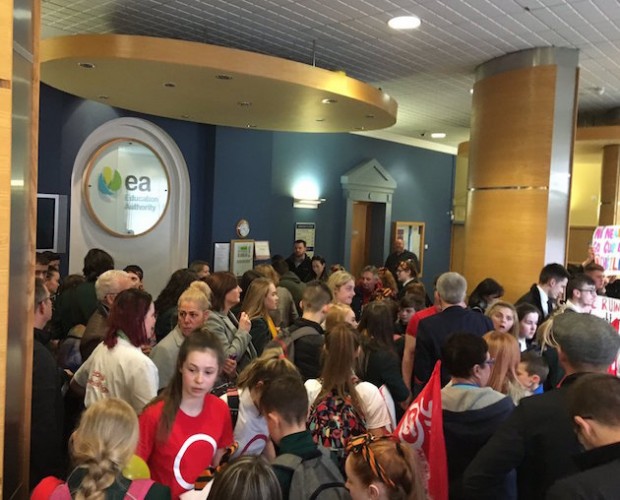 ● Hundreds of children and young people handed in over a thousand letters for the immediate restoration of this youth provision and an urgent meeting with the Department of Education and the Education Authority
Conchur Ó Muadaigh, the youth leader in charge of Cumann Óige Uachtar Chluanaí, who had the funding for his post withdrawn last Friday, said:
"Disgraceful decisions have consequences and we wanted to bring our frustration and the widespread anger felt in the community since these services were removed to the doors of those responsible.
"No longer will we accept being treated less favourably than those around us where funding can be removed at a whim without consideration for the adverse impact on our young people."
Speaking after the protest, Glór na Móna Director Feargal Mac Ionnrachtaigh stated:
"We welcome today's commitment from the Chief Executive of the Education Authority, Gavin Boyd, who has assured us that they are willing to engage with us constructively to find an immediate resolution to our situation that will enable us to restore our current youth provision.
"Furthermore, Mr Boyd agreed to meet with us next week in recognition of the need for the Education Authority to work towards mainstreaming Irish-medium youth services and adopting a long-term, resourced and strategic approach to this provision.
"Irish-medium youth work must have core status and we will continue to campaign until the Department of Education fulfils its statutory duty to encourage and facilitate Irish-medium education."
● Supporting the protest: Professor Art Hughes of the University of Ulster, Julian de Spáinn of Conradh na Gaeilge, and Ciarán Mac Giolla Bhéin from Dream Dearg, the Belfast-based Irish-language campaign group