3 April 2017
Martin McGuinness – Esteem and affection from the United States and Canada
President Bill Clinton and his eulogy to Martin was the most obvious manifestation of the US and Irish-America's admiration
THE INTERNATIONAL esteem and love for Martin McGuinness was reflected across many countries, not least in the United States, a key player in the Irish Peace Process, and amongst the many people who traveled from the US for Martin's funeral in Derry.
(Picture: At Congressman Richard Neal's Office on Capitol Hill)
The presence of former President Bill Clinton and his eulogy to Martin was the most obvious manifestation of this but the Irish-Americans at the funeral represented all the strands of support in the USA and Canada for Martin's work for a new Ireland.
They included:-
Joseph Smith, Paul Kelly, Seán Kelly and Todd Allen from Friends of Sinn Féin;
Terry O'Sullivan (General President) and Brian Donohue (Chief of Staff), LiUNA, the Laborers' International Union of North America, representing more than half a million workers in the US and Canada;
James McKay (President), Danny O'Connell (Vice-President) and Vincent Tyer, Ancient Order of Hibernians;
Congressman Richard Neal (Co Chair of the Congressional Friends of Ireland Caucus) was represented by Chief of Staff Billy Tranghese;
Tom Moran, former CEO of Mutual of America, Ed Kenny and others who had known Martin also came across the ocean to pay their respects.
Influential Irish-American figures Bill Flynn and Niall O'Dowd, who had both worked with Martin through the Connolly House Group, regretted they could not be there and sent their sympathies.
Personal messages of sympathy to Martin's family and to his friends and colleagues came from many figures.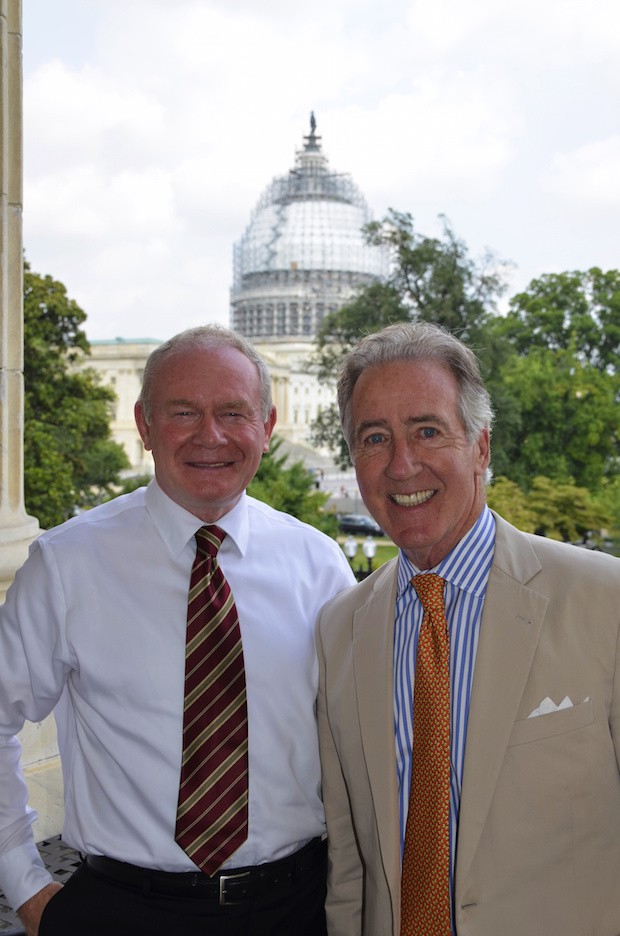 ● Martin in Washington DC with US Congressman Richard Neal
They included:-
US Congressman Richard Neal
US Congressman Joseph Crowley
US Congressman Brendan Boyle
US Congresswoman Kathleen Rice
Senator Hillary Clinton
Senator Chris Dodd
New York State Comptroller Thomas Di Napoli
Former Mayor of New York Michael Bloomberg
Former Speaker of New York City Council Christine Quinn
President John Samuelsen of the Transport Workers' Union's Quill Connolly Local 100
Martin Glennon on behalf of the James Connolly Irish American Labor Coalition
Brehon Law Society
Irish American Unity Conference
AOH and LAOH
Books of Condolences were opened in Washington DC at Congressman Neal's office and there was a Mass in St Peter's on Capitol Hill.
Masses and Books of Condolence were organised in Atlanta and in Chicago, among many other cities and towns.
A Book of Condolences in Toronto drew so many people wanting to pay their respects that the organisers, Friends of Sinn Féin Canada , had to provide a second one.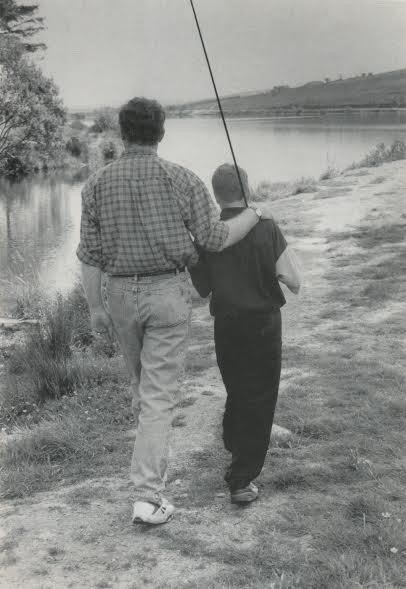 ● Martin in the US with his son out fishing (from Irish America Magazine, 1985)