3 April 2017
'Arseways' Fine Gael Help to Buy Scheme backed by Fianna Fáil behind rising house prices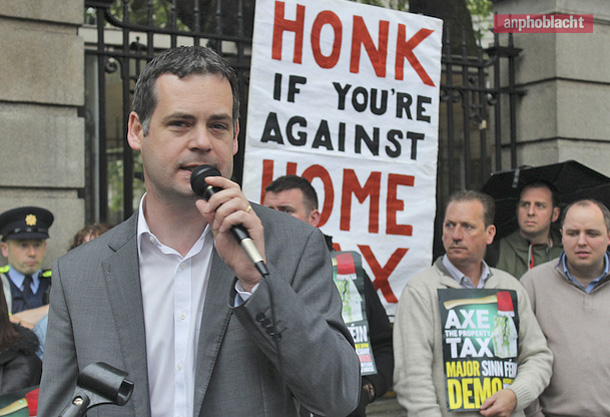 'In reality, it has become a bribe to developers to do their job. Meanwhile, the state is still failing in its obligations to build houses for its people'
THE Fine Gael Government's 'Help to Buy Scheme' – facilitated by Fianna Fáil – was always a bad idea and has "directly led to the massive hike in house prices", Sinn Féin TD Pearse Doherty has said after new figures show that prices in Dublin have risen by an average of €17,500 in the first three months of this year.
"When it was proposed, with Fianna Fáil facilitating it, the Minister agreed to a review after it was introduced," the Donegal deputy said. "I said at the time that approach is doing it arseways."
He said that figures he has obtained through Dáil parliamentary questions show that applications already made means that the estimated cost of the scheme could easily be exceeded.
"Worryingly," Pearse Doherty said, "there is no cap on the scheme to prevent it becoming a runaway cost."
He will be bringing these questions up with Housing Minister Simon Coveney next week, he said, even though the minister has rejected calls to suspend the scheme.
Pearse Doherty insisted that the scheme should now be suspended and no further applications accepted.
"In reality, it has become a bribe to developers to do their job. Meanwhile, the state is still failing in its obligations to build houses for its people."
Price spikes like this benefit only the hoarders and the banks, the Sinn Féin deputy said.
"This scheme needs to stopped, reviewed and – in my view – totally abandoned or seriously refined now before even more damage is been done.
"We cannot afford to see similar price hikes in the next quarter."