3 April 2017 Edition
ETA to disarm by 8 April 2017
Basque Country peace process momentous move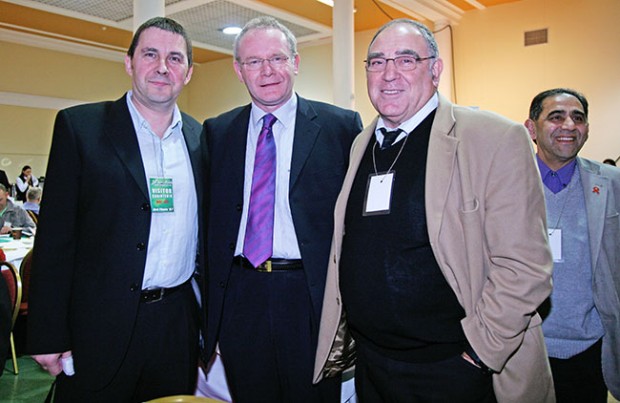 Basque institutions and civil society have shown their support to the process, which would include international verification to ensure that weapons are put beyond use
ETA – the Basque independence military organisation – will disarm by 8 April, the Basque Peace Process website reports.
BakeBidea, a civil society platform dealing with the peace process in the north of the Basque Country held a forum in Biarritz over the weekend of 18/19 March.
The forum was entitled "Disarmament at the Service of the Peace Process" and included several experts and representatives of the Peace Artisans, the group of five people arrested last December while trying to put beyond use a number of ETA's weapons.
Txetx Etcheverry, one of those five activists, announced to Le Monde newspaper on 17 March that ETA has entrusted "civil society" with the responsibility of its arsenal's disarmament and that, on the afternoon of 8 April, ETA will be totally disarmed.
The activist called on the French Government not to block the disarmament and urged it to avoid hindering it, as it had done on previous occasions. 
According to Le Monde, civil society representatives have been awaiting the commitment of the French Government to take ETA's weaponry under custody, supervised by international observers.
Basque institutions and civil society have shown their support to the process, which would include international verification to ensure that weapons are put beyond use. 
The main stakeholders in the Basque Country, including political party EH Bildu's spokesperson, Arnaldo Otegi, have recognised the importance of this initiative and shown their support.
The Social Forum for Peace has been working on the issue of disarmament since January 2016, when the Forum organised its third event in Gernika. In October 2016, it presented a report titled Implementation of the Conclusions with Institutional, Political and Social Agents which covered the work done by the members of the Permanent Social Forum in the previous eight months.
La Bande Pasante – an "International Network of Critical Thoughts, Alternative Practices and Contemporary Creations" – has launched a documentary titled Peace Now, A Popular Demand to Support Disarmament and Peace in the Basque Country. 
The documentary includes several prominent individuals, including Pierre Joxe, former French Interior Ministers and endorsers of the Aiete Declaration. The film has Basque, Spanish and English subtitles.