30 March 2017
Brexit fact-finding visit to Ireland by MEPs after Britain triggers EU exit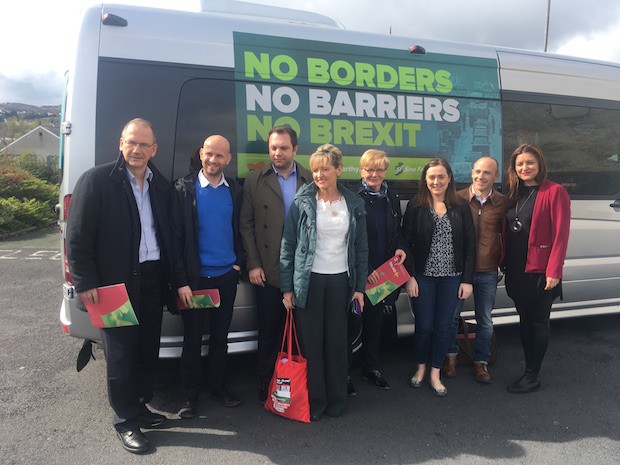 Minibus emblazoned is with 'No Border, No Barriers, No Brexit'
A TASK FORCE of MEPs from across Europe are visiting Ireland at the invitation of Sinn Féin to see the expected impacts of "Brexit" at firsthand.
The MEPs, all members of the European United Left/Nordic Green Left (GUE/NGL) group in the European Parliament, are on a two-day fact-finding mission organised by Sinn Féin MEPs Martina Anderson and Matt Carthy.
The MEPs making up the task force include Gabi Zimmer, President of the GUE/NGL group; Marisa Matias from Portugal; Josu Jurasti from the Basque Country; Lidia Senra from Galicia; and Giorgios Karatsioubanis, a representative of SYRIZA from Greece.
Following their arrival at Dublin Airport, where they were met by Sinn Féin TD Peadar Tóibín, they travelled north in a minibus emblazoned with the message "No Border, No Barriers, No Brexit" for a series of meetings on both sides of the Border.
The group met with representatives of Newry, Mourne & Down District Council in Newry alongside local business and civic leaders before travelling back across the Border to Carrickmacross to meet members of Monaghan County Council and local business and agricultural representatives.
At both meetings they heard how the imposition of a hard border by the British Government at Westminster against the democratic will of the people of the North will devastate local communities.
On Friday, the delegation travels to Belfast to meet community groups before meeting MLAs at Stormont.