29 March 2017
Transport Minister Shane Ross challenged by SIPTU to stop dodging his responsibilities to travelling public
Pay cuts imposed by management would have resulted in a loss of earnings of up 30% for many Bus Éireann workers
SIPTU members in Bus Éireann have called on Transport Minister Shane Ross to stop dodging his responsibilities to both transport workers and the travelling public.
The union said he should establish a process that can effectively deal with the issues in the company that have led to an indefinite strike by workers over cuts unilaterally imposed by management.
Minister Ross was facing the Oireachtas Transport Committee on Wednesday afternoon after a lunchtime protest by Bus Éireann workers and public transport colleagues from Dublin Bus and Irish Rail, who fear their pay and conditions may be next in the firing line if Bus Éireann management succeeds.
SIPTU Sector Organiser Willie Noone, said:
"The current strike action is in response to a management attempt to force through changes to workers' terms and conditions of employment without any agreement. The changes, which management stated it intended to immediately implement in a letter to workers on 22 March, would have resulted in a loss of earnings of up 30% for many Bus Éireann workers."
He added:
"SIPTU representatives want to engage in meaningful negotiations concerning far-reaching change and improvements in the public bus network.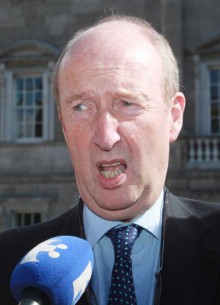 But, he said, for these talks to be effective, Transport Minister Shane Ross (pictured) must establish a process that allows for direct input from the National Transport Authority and the Department of Transport as well as management and workers' representatives.
"The best place for these talks to take place is in the Workplace Relations Commission or another body capable of overseeing an agreement on a just and fair solution to this dispute.
"SIPTU members in Bus Éireann want a solution to the current dispute and to return to work as soon as possible."
● Donegal – Sinn Féin TD Pearse Doherty joins striking Bus Éireann workers on the picket line at Letterkenny Bus Station