26 March 2017
Once upon a time in Free Derry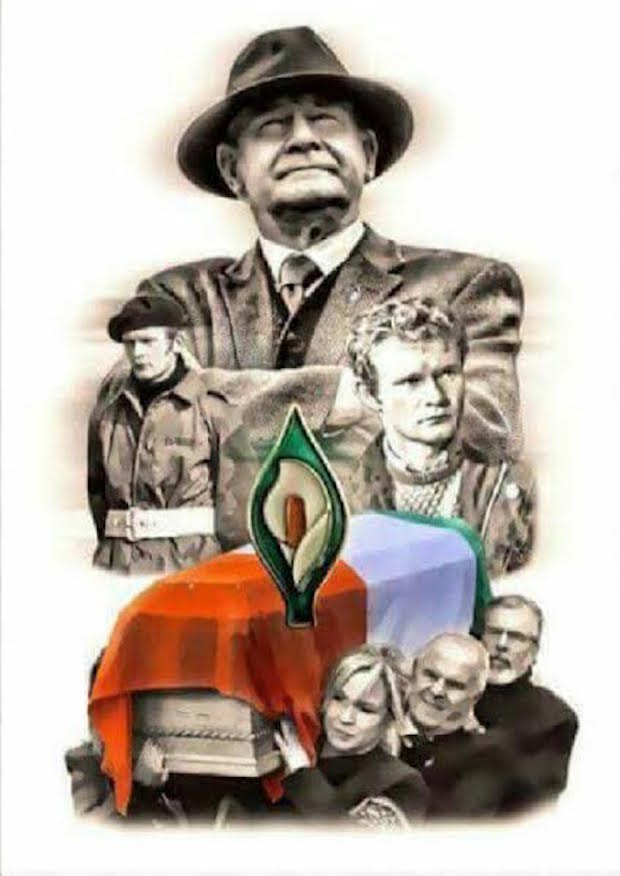 . . . the chill stinging all the more from the sense of grief that now enveloped this tight-knit community, this Bogside bastion of the Irish struggle for freedom
THE LOVE from the Bogside was overwhelming. It poured along the roads and spilled from the footpaths. It pulsed and swept forward towards the coffin.
His final transport – draped in the green, white and orange flag of the Republic – was carried forth by an awesome current of gratitude, respect and remembrance.
It rippled along in a sea of humanity.
The mighty folk of Free Derry hung Tricolours from their bedroom windows, a gesture that seemed to say: "We are with you still. You will not travel this length of your journey alone."
In their thousands, they huddled together in groups to repel the cold of a day that refused to give way to springtime – the chill stinging all the more from the sense of grief that now enveloped this tight-knit community, this Bogside bastion of the Irish struggle for freedom.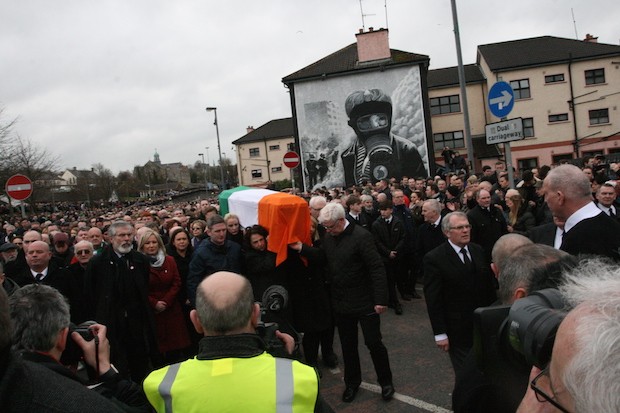 Heads were bowed but spirits remained unbroken. Faces were solemn but each had a smile for their neighbour.
The sacred silence was only as immense as the weight of his absence. The plume of heartache hung in the air, out of the reach of comfort – for now.
And then that silence was pierced by the needle sound of a piper's lament.
People stood on street corners, their twinkling eyes reddened and their cheeks marked with the streaks of tears.
Gone was their captain, their hero, their laoch.
He had refused to allow his beloved Derry to be subjected. He would not countenance the occupation of his beautiful hometown, or the brutalisation of its people.
As the tears flowed with the strength of a flood, they remembered that he had fought. He had fought for them. He had risked everything for their freedom, for their rights and for their future.
They remembered that, once upon a time in Free Derry, there was a man who loved them with every bone in his body and with every fibre of his being.
As they brought his remains to that little church on the hill, they knew that he had given them his all. He had left it all on the pitch.
And still the tears came as they contemplated all the tomorrows to come without him – a future without the man who made the future possible.
His reward – the laughter of the little children who ran alongside his funeral cortège, their school bags almost as big as themselves. In the sound of their innocent excitement, the comfort, so badly needed, moved into touching distance.
In the City Cemetery, as his dear friend Gerry Adams, with words dripping with emotion and pride, defiantly declared him to be "a freedom fighter", members of the crowd embraced.
One of those excited children pulled on her mother's jacket and asked why there was such a big crowd.
Later in life she will know.
For there lay Ireland's gallant Martin McGuinness, Derry's shining champion – his huge heart hardwired into the Bogside. A connection that not even the rigours of death could break.