16 March 2017
DUP to meet McGurk's Massacre families after Nolan Show on-air commitment
Unionist and British governments, the RUC and senior British Army figures were involved in a disinformation strategy blaming the IRA for the 1971 attack by unionists
JEFFREY DONALDSON, the DUP's chief legacy spokesperson and MP, has agreed to meet members of the McGurk's Bar Massacre families following an intervention by Robert McClenaghan on BBC Radio Ulster's Nolan Show on Thursday.
At 8:45pm on 4 December 1971, a bomb planted by the unionist Ulster Volunteer Force ripped through the Tramore Bar on the corner of North Queen Street and Great George's Street, near the nationalist New Lodge Road in north Belfast. The bar was run by Patrick McGurk.
Fifteen men, women and children were to die in the atrocity. The RUC, unionist politicians and the British state were quick to blame the IRA, attributing it to a premature explosion.
Robert McClenaghan's grandfather, Philip Garry, died in the UVF explosion.
On Thursday, Jeffrey Donaldson was debating legacy issues with Sinn Féin North Belfast MLA Gerry Kelly when Robert McClenaghan phoned in.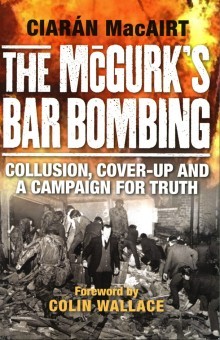 In an on-air discussion, McClenaghan outlined how the families, through their own efforts and research, had compiled a dossier of evidence showing that the then Unionist and British governments, the RUC and senior British Army figures were involved in a disinformation strategy blaming the IRA for the 1971 attack and covering up the UVF's involvement.
The families had presented this dossier to the North's Attorney General last week (9 March) as part of their fight to have new inquests into the killings.
Donaldson sheepishly admitted that he knew nothing of this and at this point Robert McClenaghan offered to meet with DUP representatives to make a presentation of the evidence they have gathered and discuss the case.
Donaldson agreed to arrange a meeting with a time and venue to be arranged in the next few days.
Speaking later to An Phoblacht, McClenaghan welcomed the breakthrough.
He said the families "want the truth and are willing to meet anyone who will help us find it".