14 March 2017
Bus Éireann strike unavoidable due to management intransigence, says SIPTU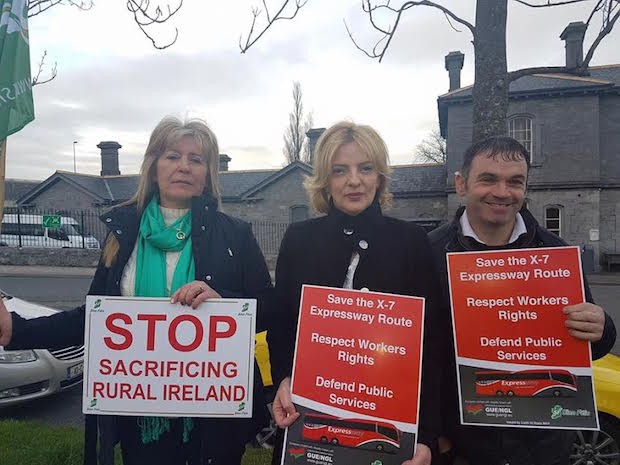 Sinn Féin Transport spokesperson Imelda Munster TD said management at Bus Éireann are in no position to walk away from talks with its workers' representatives
SIPTU representatives have said that the intransigence of Bus Éireann management has led to strike action being unavoidable following the breakdown of talks at the Workplace Relations Commission (WRC) on Monday night.
Sinn Féin Transport spokesperson Imelda Munster TD said management at Bus Éireann are in no position to walk away from talks with its workers' representatives, having deliberately avoided engagement for the past five months. She added:
"Transport Minister Shane Ross is abdicating his responsibility to ensure transport services for rural Ireland.  He has a duty to engage and he must do that now before strike action begins."
SIPTU Sector Organiser Willie Noone said:
"Our members believe management at Bus Éireann have sleepwalked this vital community service into this position by not engaging with the unions in a fair and equitable manner while unfairly attempting to portray the unions as being unreasonable and inflexible.
"SIPTU representatives indicated throughout the engagement with the WRC that every effort would be made to avoid a dispute and to deliver an outcome that would be acceptable to all parties. However, we said would not be able bring to our members in Bus Éireann any plan which would slash wages and terms and conditions.
"We entered the talks in good faith. Our proposal would help drive out inefficiencies while simultaneously securing a decent wage for workers. This proposal was not deemed sufficient for management who claimed it would not bring in immediate savings even though there have been huge savings made by the company over recent years.
"After agreeing to consider its position and revert to the unions, management put out a statement to the media late Monday night which claimed that the unions were inflexible and not willing to discuss reducing earnings or eradicating 'unnecessary overtime'.
"We can say categorically that our members never would try and justify 'unnecessary overtime'. However, our representatives will not allow for wages earned in excess of a basic rostered week that brings a meagre wage to a decent wage to be removed without agreement by management."
He added:
"Bus Éireann management proposals to date have indicated that cuts to terms and conditions would be concentrated on ordinary workers who provide services at unsocial hours, and weekends.
"The company stops short of providing any detail regarding changes to the numbers of senior management or their terms of employment. This absence of detail would have made any proposals difficult to accept as again it appears that the ordinary worker in Bus Éireann is expected to shoulder all the envisaged cuts."