13 March 2017 Edition
150th anniversary of 'Battle of Tallaght'
Martin Ferris TD addresses commemoration of Fenian rising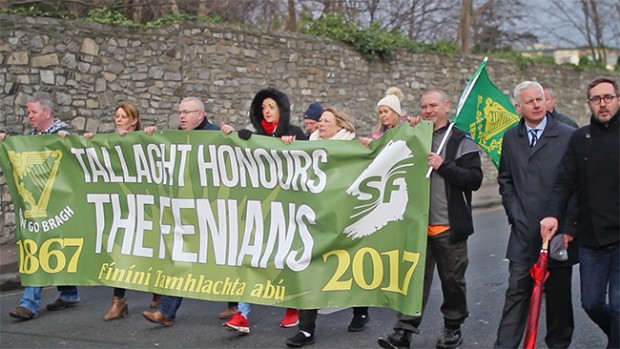 'Those brave men who died here 150 years ago tried to break the chains of bondage with Britain and they fought for equality'
HUNDREDS OF PEOPLE gathered in County Dublin on Sunday 5 March to commemorate the 150th anniversary of the Battle of Tallaght, when Fenians attempting to reach their comrades gathered in the nearby Dublin Mountains engaged the Royal Irish Constabulary in the centre of Tallaght Village.
The skirmish saw Fenians Thomas Farrell and Stephen O'Donoghue killed. Six other Fenians died in other engagements across Ireland that day.
The Fenian Rebellion petered out as the poorly-armed rebels lacked leadership, most of whom had been arrested in advance due to informants within the revolutionary movement's ranks. 
The march this year from City West to Tallaght Village was led by the Dublin Republican Colour Party and accompanied by the Rising Phoenix Republican Flute Band and the Cabra Historical Society.
In Tallaght, there was entertainment by local Irish dancers with music by Gráinne Holland and Senator Fintan Warfield. Lynn Boylan MEP read the 1867 Proclamation.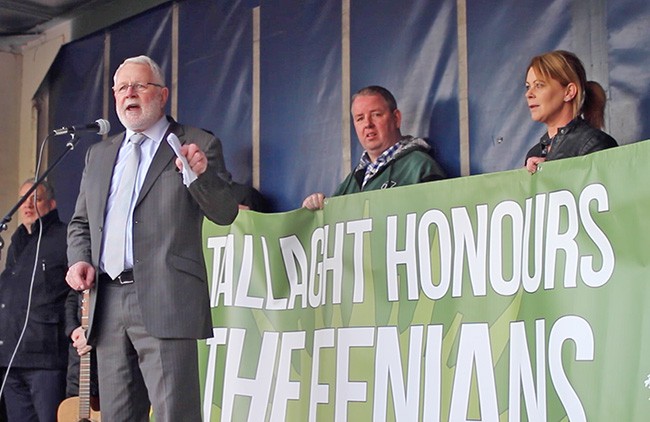 • Martin Ferris TD delivers a rebel-rousing speech on the legacy of 1867
Fenian historian Dr Shane Kenna RIP, who was buried just the day before, was scheduled to be a keynote speaker.
Martin Ferris TD said of those who died at Tallaght 150 years ago:
"They were carrying on the noble tradition of the United Irishmen of 1798 and the Young Irelanders of the previous decade. It was from the suppression of the Young Irelanders that they were formed.
"Unfortunately, the rising of 1867 was doomed before it had started. The curse of the informant, which has plagued so many Irish revolutionary bodies, was rife from top to bottom."
•  Many Sinn Féin elected representatives and activists took part in the events
Although the rebellion failed – it provided valuable lessons for future rebellions, the former IRA activist said, "especially the men and women of 1916 who ensured extreme secrecy in the knowledge that England's difficulty was Ireland's opportunity". He continued:
"Those brave men who died here 150 years ago, they tried to break the chains of bondage with Britain. But, more than that, they fought for equality and we still fight for equality for all our people."
Martin Ferris praised the work of republicans in recent elections and the dramatic Assembly election that had concluded with huge success for Sinn Féin just 24 hours earlier.
This had been achieved, he said, "despite the vilification by the Free State parties who have tried to demonise us and criminalise our struggle".
• Irish dancers entertain the crowd
Martin Ferris sent best wishes to Martin McGuinness, describing him as
"A man who led from the front. A man of integrity, who stood up to unionism and stood up to the British Army on the streets of Derry. A man who has been an inspiration to all of us, along with his comrades, over the decades."
He called on republicans to continue the work of the men and women of 1867 in pursuing an Irish Republic based on equal rights for all:
"Let us leave here today in full knowledge that we will not take one step back. We are going forward for equality, we are going forward for justice. We are going forward for respect and we will not accept anything but justice for all of our people!"