13 March 2017 Edition
Israel's demolition of Palestinian homes raised in Dáil by Sinn Féin TD
'The figures so far for 2017 tell us we are heading for another record year of demolitions'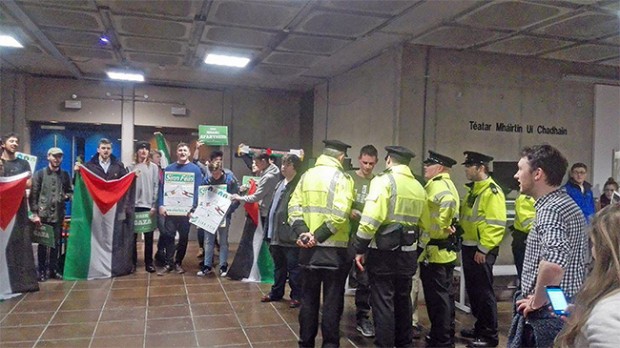 THE THREATENED DEMOLITION of the entire Palestinian village of Khan al Ahmar by Israel has been raised in the Dáil by Sinn Féin Foreign Affairs spokesperson Seán Crowe TD.
The Dublin deputy called on Irish Foreign Affairs Minister Charlie Flanagan and the Irish Government to make urgent representations to the Israeli Government to reverse the demolition orders.
He welcomed the news he was given in the Dáil on Thursday that the Irish Ambassador to Palestine would visit Khan al Ahmar in the coming days.
Figures from the United Nations Office for the Co-ordination for Humanitarian affairs and the Ecumenical Accompaniment Programme in Palestine and Israel show that 1,089 structures were demolished or confiscated in 2016, leaving some 1,600 Palestinians displaced and affecting the livelihoods of a further 7,100 people.
"The figures so far for 2017 tell us we are heading for another record year of demolitions," Seán Crowe told the Dáil.
He said that demolitions constitute a breach of the of the Fourth Geneva Convention, which prohibits the destruction of personal property by an occupying power unless it is rendered absolutely necessary by military operations. It also prohibits all forcible transfers of civilian populations by an occupying power.
"The continued demolition of Palestinian homes and structures, as well as the continued building of illegal colonial settlements in occupied Palestine is a deliberate attack on the possibility of the two-state solution," Seán Crowe said.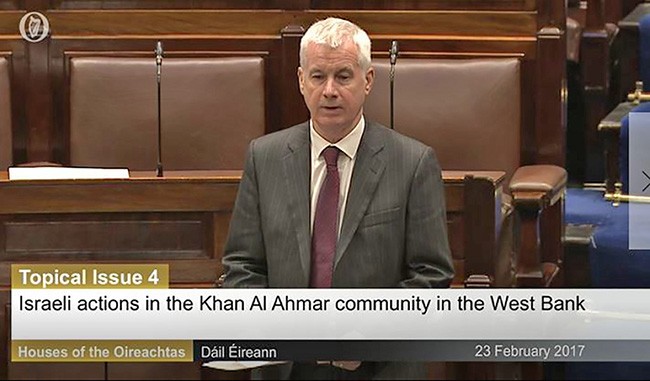 • Sinn Féin Foreign Affairs spokesperson Seán Crowe
Meanwhile, Sinn Féin Republican Youth activists were prominent among other protesters during the week who prevented Israeli Ambassador Ze'ev Boker from excusing Zionist aggression against the Palestinian people to a small group of students at Trinity College Dublin.
Eoin Rochford, Chairperson of Dublin Sinn Féin Republican Youth, said that Ze'ev Boker has previously denied the existence of a military blockade of Gaza "as well as whitewashing other war crimes committed by the Israeli rogue state".
Eoin explained:
"We found it to be unacceptable that this man would be given a platform in an Irish educational institution to spread his vile Zionist propaganda.
"While the question of whether or not to allow someone speak at an event continues to be an academic endeavour for some people, it isn't one for the Palestinian people who continue to suffer under a brutal apartheid regime."
He said the BDS (Boycott, Divest, Sanctions) campaign has the opportunity to play a major role in bringing an end to Israeli apartheid.
"It is the duty of every Irish person to stand shoulder to shoulder with the oppressed Palestinian people to bring the Zionist terror campaign to an end."