4 March 2017
Thousands of Fenians to descend on Tallaght on Sunday
The Fenians stood by the same principles contained in the 1916 Proclamation
HORDES OF FENIANS, some of them fresh from victories in the North, are to descend on Tallaght, County Dublin, this Sunday. They will be addressed in Tallaght village by a renowned rebel from the far South.
Revealing details of the march and rally, Sinn Féin TD and Chair of the party's Fenian Commemoration Committee, Aengus Ó Snodaigh TD, said that, as in the Fenian rising of 1867, they are prepared to brave all weathers.
The 150th Anniversary of the Fenian Rising and the Battle of Tallaght Commemorative Parade will assemble at Citywest shops at 2pm on Sunday and parade to Tallaght village where the main speaker will be Sinn Féin TD Martin Ferris.
Aengus Ó Snodaigh says:
"The procession, led by the Cabra Historical Society, will march through areas where, 150 years ago, thousands of Dublin Fenians travelled on their way to join in the planned rising. The ill-fated rising led to the death of two Fenians, Thomas Farrell and Stephen O'Donoghue, and the arrest of hundreds."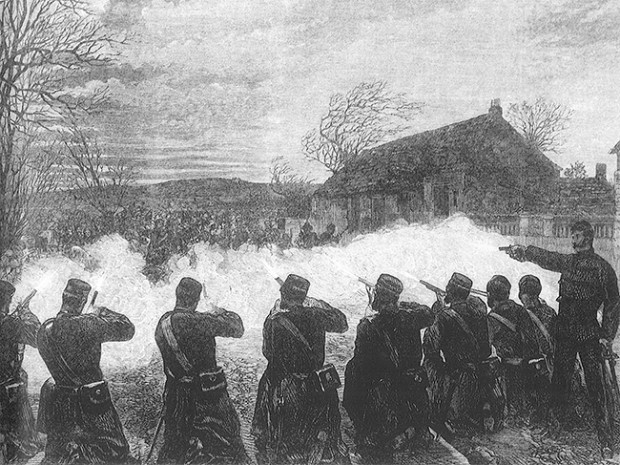 Local Sinn Féin TD Seán Crowe will chair the event which includes music, songs, dancers and military drill. It will be followed by a ballad session in Molloy's Pub, just yards from the site of the clash between Fenians and the constabulary 150 years ago.
Wreaths will be laid by family members of those who were involved that fateful night.
Kerry TD Martin Ferris will be the main speaker at the commemoration.
Aengus Ó Snodaigh TD issued a call people to turn out and take part in remembering one of the most significant organisations in Irish history, their rising in 1867 and the huge influence they had on politics in Ireland and abroad since:
"Last year saw the Irish people celebrate the bravery and vision of the men and women of 1916. This Sunday I am calling on people to come out and remember their forerunners, the Fenians who stood by the same principles that were contained in the 1916 Proclamation.
"They deserve the recognition for their foresight and their bravery from 1858 till 1916 when they kept the flame of Irish freedom alight."