3 March 2017
Michelle O'Neill tops poll – 'This is a great day'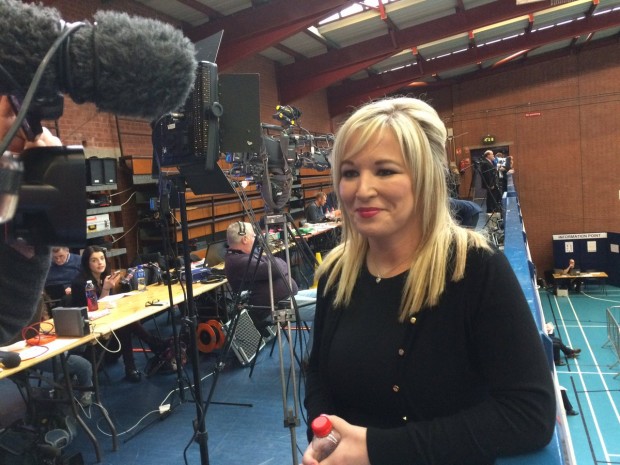 'Now we have a job of work to do to restore public confidence in the institutions, to deal with the outstanding issues'
MICHELLE O'NEILL, Sinn Féin's leader in the North, topped the poll in her Mid Ulster constituency in the Assembly election and said it has been a good day for Sinn Féin with the election results in so far when she was speaking late afternoon on Friday.
Speaking after receiving 10,253 votes in Mid Ulster, Michelle O'Neill said she was delighted with Sinn Féin's performance in the area.
"We have had a brilliant result here in Mid Ulster and I want to thank everyone who voted for us," she said.
Michelle O'Neill also paid tribute to Martin McGuinness, who she succeeded as Sinn Féin leader in the North and who also represented the Mid Ulster area for many years.
"The 26,207 people who voted for Sinn Féin in Mid Ulster are sending 26,207 good wishes to Martin McGuinness who has done so much for this constituency," she said.
The re-elected MLA also said Sinn Féin will now enter post-election negotiations with the new mandate received from the people.
"We said that what we win in this election we win for all, so now we have a job of work to do to restore public confidence in the institutions, to deal with the outstanding issues.
"We don't need a new agreement – what we need is implementation of what is outstanding from previous agreements.
"This has also been a great day for young women in our party with Órlaithí Flynn topping the poll in West Belfast and becoming the first candidate elected and the election of Elisha McCallion in Derry.
"We know we have a task ahead of us now but the Sinn Féin team are up for it."