21 February 2017
'We are in the business of taking power' – Feargal O'Hanlon Memorial Lecture, Monaghan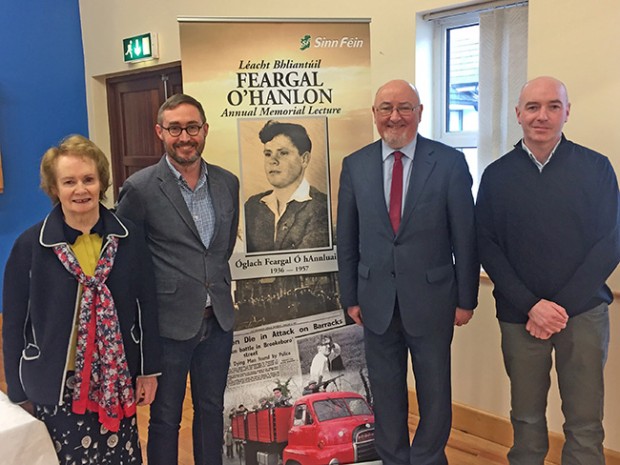 Caoimhghín Caoláin TD told us the secret of Sinn Féin's success in Cavan/Monaghan. He told us of "The Three Rs" – be rooted, relevant and republican.
THE 2017 Annual Feargal O'Hanlon Memorial Lecture took place in Teach na nDaoine in Monaghan town on Sunday 22 January. 
This year's lecture, in a series that commenced in 1982, marked the 60th anniversary of the deaths in action of IRA Volunteers Feargal O'Hanlon and Seán South.
The guest speaker was Eoin Ó Broin TD.
The event was chaired by Shane Treanor of Monaghan Town Sinn Féin. Dáil Deputy Caoimhghín Ó Caoláin introduced his Oireachtas colleague to the audience, and Pádraigín Uí Mhurchadha, sister of Feargal, was also at the top table.
The subsequent vote of thanks to Deputy Ó Broin was proposed by Seán Ó Murchadha, seconded by Councillor Seán Conlon.
Presentations were made to Deputy Ó Broin of a copy of the recently-published book on the story of Margaret Skinnider, Suffragette, Sniper, Schoolteacher (Margaret's father came from Monaghan) and of a special 1916 centenary limited edition bottle of Monaghan stout.
"From everything I have read, and especially Pádraigín Uí Mhurchadha's moving interview with Ella O'Dwyer in An Phoblacht back in 2007, Feargal sounds like a remarkable young man: a person of real character and integrity; the kind of person who represents everything that is great in our movement," Eoin Ó Broin said.
"But what stands out most strongly for me is the bravery and leadership he showed as an IRA Volunteer."
Read the full article here.