20 February 2017
DUP leader too sick to take questions at manifesto launch – but well enough to deliver tirade attacking Sinn Féin
'10 years as top dog and the DUP is still peddling this crap' – unionist commentator Alex Kane
DUP LEADER Arlene Foster's self-diagnosed "man flu" at her party's Assembly election manifesto launch on Monday didn't stop her from carping about the challenge from Sinn Féin. It did, however, prevent her from taking any questions from the media, including a quarter of a million pounds donation by a mysterious benefactor to the DUP for the Brexit campaign – in England!
Instead of facing up to questions on the Brexit donation, the Renewable Heat Incentive scandal or even her own party's manifesto, the DUP leader continued her relentless excoriation of "Gerry Adams Sinn Féin".
Gerry Adams tweeted in response: "Just 4 the record. I didn't give Arlene the flu."
Seasoned republican spokesperson Richard McAuley added:
"A 3,000-word speech delivered but can't take questions because of flu. Sounds a bit iffy to me."
Even unionist commentators are despairing of the DUP's desperation and its "Project Fear".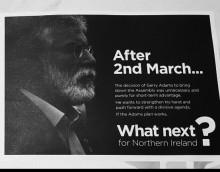 Alex Kane, former Communications Director of the Ulster Unionist Party, tweeted in response to this DUP leaflet (pictured):
"Seriously! 10 years as top dog and the DUP is still peddling this crap. I've never been afraid of SF, Adams or the IRA. Change the record.
"It's Adams now because McGuinness is off the scene. I'd like to see [Arlene Foster] promote confident unionism rather than 'be afraid' mantras."
Meanwhile, across the city . . .
AT THE SAME TIME as Arlene Foster was stonewalling questions on RHI and the DUP's Brexit bonanza, Sinn Féin's Chris Hazzard, Elisha McCallion and Nuala Toman were launching the party's Integrity in Government document.
● Elisha McCallion, Chris Hazzard and Nuala Toman 
Sinn Féin's Chris Hazzard said integrity must be at the heart of government in order to command public confidence.
"Recently, public confidence in the political institutions have been undermined by the DUP's mishandling of the RHI scandal and the allegations of corruption associated with the scheme.
"The public need to able to have confidence in the political process.
"There can be no place for allegations of corruption and malpractice.
"We need to be proactive in the fight against corruption, incompetence and malpractice."
Sinn Féin's proposals are designed to address political donations, lobbying, conflict of interests, and whistleblowing, the former minister said.
"Sinn Féin wants to see equality, integrity and respect at the heart of the political process."
The Sinn Féin trio did take questions.