14 February 2017
Marriage equality – Assembly election candidates pressed to sign pledge
ALL CANDIDATES in the Assembly election are being pressed to sign up to a pledge to work towards bringing in marriage equality legislation in the North.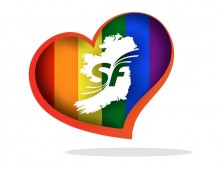 Sinn Féin's Equality spokesperson, Megan Fearon, launched the pledge in Belfast City Centre on Tuesday alongside party colleagues Órlaithí Flynn, Carál Ní Chuilín, Caoimhe Archibald and Gerry Kelly.
The pledge calls on all candidates to "actively work to legislate for equal marriage and eradicate all forms of prejudice and its many manifestations".
Speaking at the launch, Megan Fearon said:
"There is a growing demand for marriage equality across the North. Equal marriage threatens no one. It is about equal rights for everyone.
"Sinn Féin is committed to seeing marriage equality extended across the island and to opposing homophobia, sectarianism, sexism and all other forms of discrimination wherever they occur.
"This is part of Sinn Féin's commitment to equality and we are asking all other candidates to sign this pledge."