10 January 2017
'Restore Líofa' protest in Belfast, Thursday – 'Bursaries not Boilers'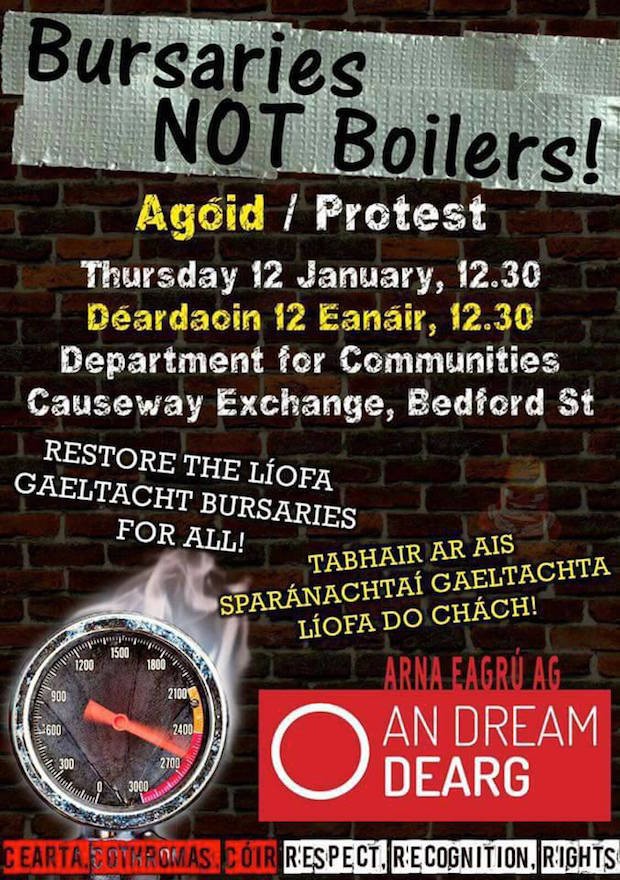 AN DREAM DEARG – the Irish-language group set up to harness the anger running through the nationalist community over the decision by DUP Communities Minister Paul Givan to cut the Líofa Gaeltacht bursary scheme – has organised a protest at the Department of Communities this Thursday under the banner of "Bursaries not Boilers".
The protest is called for the Belfast HQ of the Department of Communities on Bedford Street.
In a statement on its Facebook page, the group urges people to join the protest, saying:
"We are An Dream Dearg. You are An Dream Dearg. Anyone who believes in rights, respect and recognition for all is An Dream Dearg.
"Join this open network of Irish-language activists from all corners and backgrounds.
"Take part. Be #DeargLeFearg."
The group is also encouraging people to change their Facebook profile picture to the image shown here which is a symbol Gaels have agreed upon to show opposition and disgust at the DUP's attacks on the Irish language.