3 January 2017
No political will to tackle housing crisis under Finance Minister Michael Noonan, says Pearse Doherty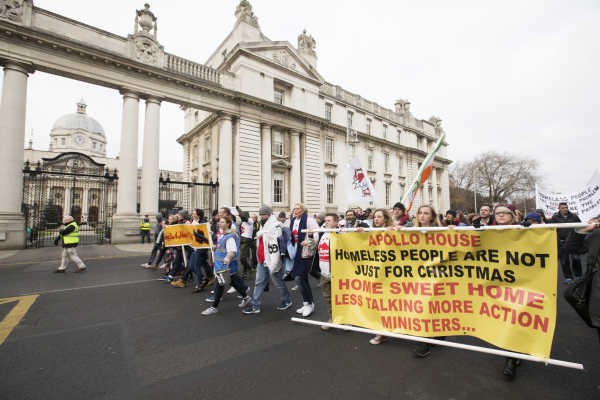 Sinn Féin Bill to have NAMA play greater role in resolving housing crisis is to be brought back to the Dáil after being blocked first time
(Pictured above): Supporters of the Home Sweet Home housing campaign and the Apollo House occupation in Dublin marched on Tuesday to the office of Finance Minister Michael Noonan to hand in a petition with more than 3,500 signatures calling on him to direct NAMA "to make proper and adequate housing stock immediately available" to local authorities
PEARSE DOHERTY TD has said the political will within the Fianna Fáil-supported Fine Gael/Independent Government to use NAMA properties to help tackle the housing and homelessness crisis does not exist and will not exist as long as Michael Noonan is Minister for Finance.
Deputy Doherty (pictured) said a letter he has received under a Freedom of Information request shows the Finance Minister told NAMA as late as September 2015 that redemption of debt should take precedence over NAMA's contribution to tackling the housing crisis in any future plans.
The Sinn Féin Finance spokesperson also cited the blocking of legislation he had drafted that would have given NAMA a greater mandate in providing housing as an example of the lack of political will to use NAMA to help build houses for families.
Deputy Doherty said:
"The occupation of Apollo House by activists has refocused public attention on the role of NAMA in tackling the housing crisis. The activists' main point – that NAMA is owned by the people and should be used to provide housing – is one I share and believe most Irish people would share."
But the political will does not exist amongst Government TDs and their supporters, the Sinn Féin TD said.
He said this is obvious from the record of the meeting of September 2015 between Finance Minister Noonan and NAMA where the minister made it clear that, in his view, the redemption of NAMA debt must come before any NAMA role in providing housing.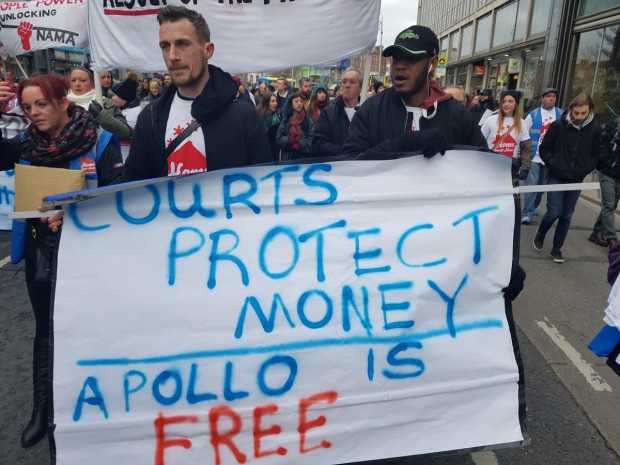 "I drafted legislation that would have greatly empowered NAMA to play a fuller role in tackling the housing crisis and would force the Finance Minister to direct NAMA to carry out a full audit of all its assets with a view to fulfilling this role," the Sinn Féin deputy said.
"Unfortunately, after much discussion, the Ceann Comhairle's office refused to allow this Bill to be tabled because of an interpretation – that I contest – by officials of a Constitutional provision.
"I will bring this issue back to the Dáil as soon it returns in the hope of winning political support for a greater role for NAMA in tackling our housing and homelessness crisis.
"NAMA is owned by the people and should be fully used to help build houses for our people.
"This is a matter of priorities and unfortunately it appears Finance Minister Noonan is still wedded to the 'bondholders first' mentality."