3 October 2016 Edition
Another Europe is possible – Treo eile don Eoraip
Funded by the European United Left/Nordic Green Left (GUE/NGL) Aontas Clé na hEorpa / Na Glasaigh Chlé Nordacha Crúpa Paliminta – Parlaimimt na h Eorpa
Legal advice confirms water charges can be scrapped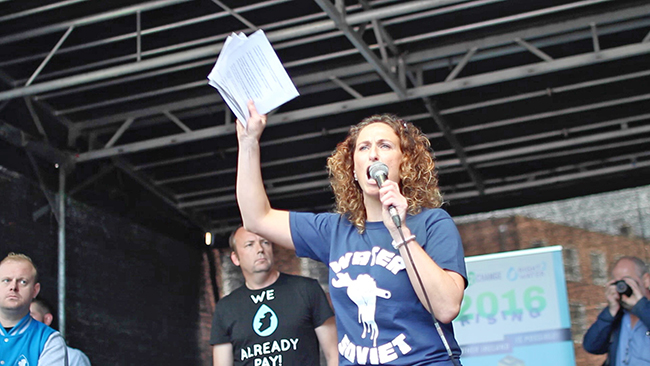 • Lynn Boylan MEP addresses September's massive Right2Water demonstration in Dublin
DUBLIN MEP Lynn Boylan has published a summary of legal advice she has received which contradicts the latest view of the European Commission that water charges cannot be scrapped.
Lynn says her legal advice clearly shows that charges can be scrapped:
 "The legal opinion that I have received has confirmed what we have been saying all along – that the abolition of water charges would not contravene the Water Framework Directive, provided that Ireland can meet the objectives of the directive, which is about the conservation and protection of water.
"I welcome Fianna Fáil's new-found commitment to scrap water charges.
"The majority of TDs elected to the Dáil in February were elected on anti-water charges mandates.  Now that Fianna Fáil have accepted this, there is a clear majority in favour of scrapping water charges.
"The expert commission [on water charges] is now redundant. It should be scrapped and the issue should be dealt with by the Dáil."
GUE/NGL MEPs worried by impact of CETA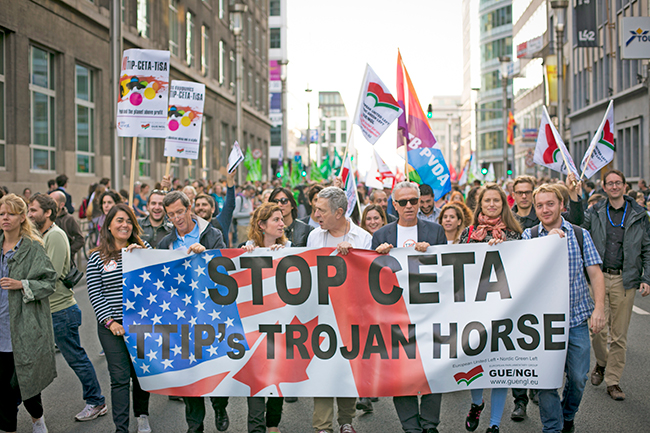 • Protest in Brussels against transatlantic TTIP and CETA
MARTINA ANDERSON addressed the GUE/NGL group's 'study days' in Bratislava, where MEPs heard testimonies from local experts and activists on the dangers facing the Slovakian and Czech economies in the battle against CETA and TTIP.
MEPs were astonished to learn that only 11 activists are currently directly involved in civic movements against the two European Commission-led trade agreements – eight in the Czech Republic and three in Slovakia.
Local experts warned that should CETA and/or TTIP be ratified, no companies in Slovakia or the Czech Republic would be in a financial position to either challenge or defeat North American multinationals in a legal fight.
Portuguese MEP and substitute on the Committee on Agriculture and Rural Development in the European Parliament, Miguel Viegas, was adamant that TTIP and CETA pose a big threat to the continent and to Slovakia's agricultural sector and food safety standards:
"I have nothing against international trade which can be a positive thing as long as it comes from mutually beneficial agreements," he said.
"But if it's based exclusively on competition then we should put forward a counter model that would be in the mutual interests of both sides in the EU and North America or we'd end up with the law of the jungle that is CETA and TTIP – agreements done at the behest of the multinationals."
Irish MEP Martina Anderson, meanwhile, saw the movement against CETA and TTIP as reminiscent of the doomed Anti-Counterfeiting Trade Agreement (ACTA) which the European Parliament rejected back in 2012:
"ACTA was the most successful campaign that people and parliamentarians were involved in. Potentially, we could do the same with CETA but my concern is that multinationals have already started to implement it. 
"You'll then see legal challenges through the ISDS (Investor-State Dispute Settlement)/ICS (Investment Court System) against national, sovereign governments whose hands will be tied just because the Commission is looking after the multinationals' influence in policy development."
"Even after the Brexit vote, the Commission has learned nothing," Martina Anderson said.
Cypriot MEP Neoklis Sylikiotis also expressed concern about the impact of ISDS/ICS:
"Although TTIP and the possible loopholes in it now look dead, the social democrats are still pushing CETA through the back door.
"If we have a treaty with Canada, it's a worry that everything rejected through TTIP will just come through CETA. The ISDS/ICS is an instrument for these big companies to try to get round any kind of sovereignty and de facto privatisation."
Apple tax appeal 'morally wrong and economically stupid'
• Midlands North West MEP Matt Carthy
ADDRESSING the European Parliament in Strasbourg during a debate on the Apple tax furore, Midlands North West MEP Matt Carthy described the decision of the Irish Government to appeal the EU Commission's ruling regarding Apple's unpaid taxes in Ireland as "morally wrong, politically dishonest and economically stupid".
At the European Parliament in Strasbourg during the debate on Apple with Commissioner Vestager, Matt Carthy said:
"I have stood in this chamber on countless occasions to defend the rights of national parliaments to set their own tax rates. Sinn Féin will always defend Ireland's sovereignty, as we have on every occasion it has been attacked by the European Commission, including on taxation matters. 
"But this ruling is not one of those occasions.
"I am sure there are federalists in this room scratching their heads wondering what's happened to their best friends in the Irish political establishment – the people the EU could always depend on.
"When the Commission said 'jump' to a savage austerity agenda, they simply asked 'how harsh?'. When the EU said €64billion in private bank debt should be placed on the shoulders of the Irish people, or when you've demanded new water and property taxes, your friends in Fine Gael and Fianna Fáil quickly capitulated.
"When you propose trade deals with investment courts that would do more to undermine sovereignty than any commission ruling, your Irish friends proudly say 'We'll champion that for you'.
"But today, the Commission's buddies in Ireland are biting back – not in the interests of the Irish people or the Irish economy but in the interests of the wealthiest corporations in the world and their global web of tax avoidance.
"This ruling has no effect whatsoever on our tax rate or our ability to attract investment or create jobs. Any investors seeking to remain or come to Ireland can be assured of a talented workforce and a 12.5% corporate tax rate that we will protect. They just won't be assured of sweetheart deals that will allow them to dodge billions in tax."
A member of the Panama Papers Inquiry and the Economic & Monetary Affairs Committee, Matt declared:
"The appeal is morally wrong, politically dishonest and economically stupid."
He continued:
"We have a housing and health crisis in Ireland, many of our public services are savagely underfunded – €13billion or even a fraction of it could help solve these problems. 
"Rather than spending Irish taxpayers' money on this appeal, our government should be restoring our international reputation by ensuring that Ireland will never again be part of the international tax avoidance racket."
Liadh Ní Riada promotes role of sign languages in EU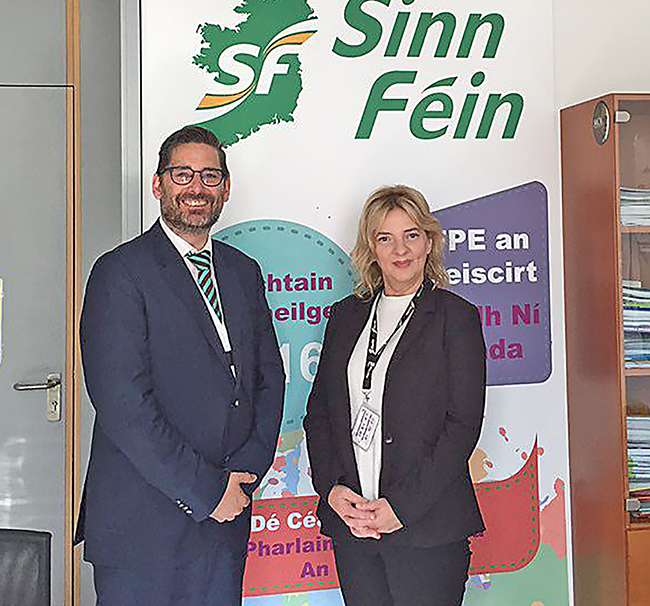 •  Liadh Ní Riada MEP met with Mark Wheatley of the European Union of the Deaf ahead of the conference
LIADH NÍ RIADA MEP and Belgian MEP Helga Stevens are hosting a conference as An Phoblacht goes to press to show how our rich linguistic heritage plays an important role in achieving equal rights for all. 
Speaking ahead of the conference on 28 September, Liadh Ní Riada said:
"It will be the first event ever to be accessible through 24 EU spoken languages as well as all 31 EU sign languages. The conference will promote multilingualism and set up a stage for social cohesion on an international platform.
"The conference complements the work I have been doing on rights for speakers of lesser-used languages and follows on from a European-wide conference that I hosted last June.
"With speakers from the European Union of the Deaf, the World Federation of the Deaf, to the President of the European Parliament, Martin Schulz, throughout the day we will be focusing on 'Sign languages in the EU', '(Sign) Language Interpreting in the EU', and 'Paving the Way Forward'. 
"In co-operation with disability organisations and the European Parliament services, every effort has been made to make this conference as accessible as possible to a diverse range of participants."
She said these services include:-
Sign language interpretation
Spoken language interpretation;
Documentation printed in Braille;
Facilitated wheelchair access.
Looking forward to the event and its outcomes, Liadh said: 
"It will bring us one step closer to understanding the needs of the deaf and of achieving equal rights for all linguistics".
Young people in Brussels ahead of Brexit
• Irish MEP Martina Anderson MEP
Martina Anderson MEP is to host a delegation at the European Parliament of 40 students, student leaders and young people from across Ireland to discuss the impact of Brexit.
The Derry-based Irish MEP said:
"The uncertainties of Brexit as a whole are overwhelming but for our young people the implications could be abysmal."
She reminded observers that, for decades, our young people have enjoyed the freedom of Europe, the ability to work, study and travel freely on the continent and to enjoy other privileges while they do so.
"We cannot afford to starve their future of these prospects," she said.
"Bringing this back to home, at least 5,200 students and 18,000 workers cross the Border daily. The implications for students and young people have, once again, been forgotten."
During the two-day visit, the Irish contingent is meeting with representatives from the European Youth Forum, Erasmus International and the European Commission.
"This is the perfect opportunity for delegates to ensure their concerns are heard and the implications of Brexit on their future is well and truly on the table of any forthcoming negotiations.
"David Cameron, Theresa May and the British Government might be willing to gamble with their futures but we will provide numerous avenues to ensure they are protected."