5 September 2016 Edition
It's the island economy, stupid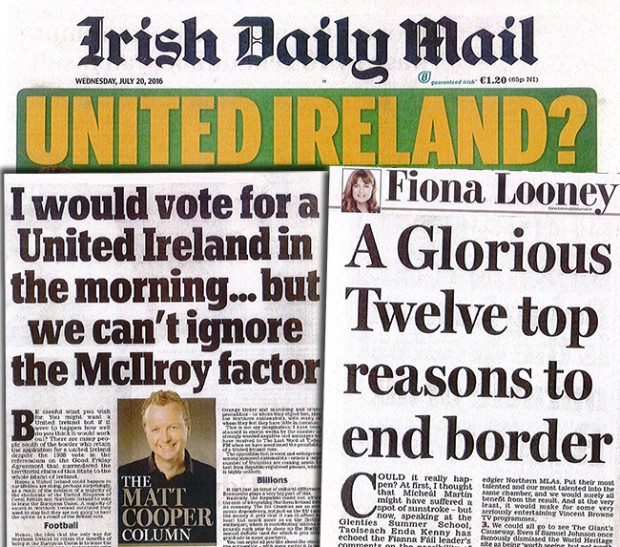 'The Union has been an economic disaster for the people of Northern Ireland, Protestant and Catholic, unionist and nationalist. They have all been impoverished by the Union' – David McWilliams
WATCH OUT – 'Official Ireland' is waking up to the positive side of a united Ireland. 
Maybe it's a post-1916 celebration thing or a serious reflection on the centenary since Connolly's dire 1914 prediction of the "carnival of reaction" that partition would be. 
Maybe it is a realisation that a Brexiting Britain would wreak havoc on the island economy here. 
So who is 'Official Ireland'?
You know them well: the columnists, commentators and contributors who live in the pages of Dublin's mainstream newspapers and the radio stations of RTÉ and Denis O'Brien's Communicorp. They fill talk-radio broadcasts from Marian Finucane to Tubridy, Kenny, Hook, Cooper and Mary Wilson.
This isn't a republican conspiracy. And RTÉ's Dublin 4 Montrose campus or Marconi House (home of Today FM and Newstalk) are not being besieged by what once upon a time was frequently called  'Provo fellow travellers' (classifications of this term freely offered by most Sunday Independent journalists). 
It is the great and the good from Enda Kenny down who are joining the discussion now.
Gerry Adams sets the unity agenda
Sinn Féin President Gerry Adams set the ball rolling on 24 June. He called for a Border poll on Irish unity in the aftermath of the Brexit vote, where a majority of Six-County voters wanted to remain in the EU.
Adams argued that "there is an onus on the British Government to respect the democratic wishes of the people of the North" and that "the Irish Government needs an all-island, all-Ireland view" because "there are real worries it will have an adverse impact on the two economies on this island. This will have serious consequences for jobs and investment and for families and communities."
• Sinn Féin President Gerry Adams set the ball rolling 
The now sacked Northern Secretary of State Theresa Villiers claimed there was "no appetite" for such a vote, while First Minister Arlene Foster described Adams's suggestions as "opportunistic" and "predictable", a view echoed by Ulster Unionist leader Mike Nesbitt.
Enda Kenny claimed the same day that there was no evidence "that there could be a serious movement of a majority of people [in the North] to want to have a situation where they want to join the Republic".
Fintan O'Toole outraged
Enter an outraged Fintan O'Toole, upset not at Enda Kenny but at the "insult to Ireland". O'Toole wrote in his Irish Times column on 24 June that "English nationalists have planted a bomb under the settlement that brought peace" and this "fecklessness" is "deeply unsettling for unionists" as the "new English nationalism is completely indifferent to their fate".
O'Toole followed up on 5 July, writing that "Northern Ireland cannot and must not be taken out of the EU against its will" and ending with the call for the Irish Government to "speak very, very clearly" that "Northern Ireland is not an English shire".
Enda Kenny had returned to the political implications of the Brexit vote, proposing an all-Ireland forum at the North/South Ministerial Council meeting on 4 July. The negative reaction from DUP First Minister Arlene Foster is captured in a Newstalk headline: "United we fall? All-Ireland Brexit forum dismissed before it's even proposed."
As our media focus moved onto the imploding British party political establishment in the days after Brexit, the summer school season kicked off in the Irish political environment. First out of the traps was Fianna Fáil leader Mícheál Martin, giving the John Hume Lecture at the MacGill Summer School.
Martin called for the Irish Government to lead a "civil dialogue" with interest groups on both sides of the Border. Enda Kenny trumped his Fianna Fáil counterpart at that very same venue the next day by clearly stating that a Border poll was now on the agenda. 
Comparing the situation in Ireland to the reunification of Germany, Enda Kenny said that East Germany was "absorbed" into West Germany "without a tortuous and long process applying for membership of the EU".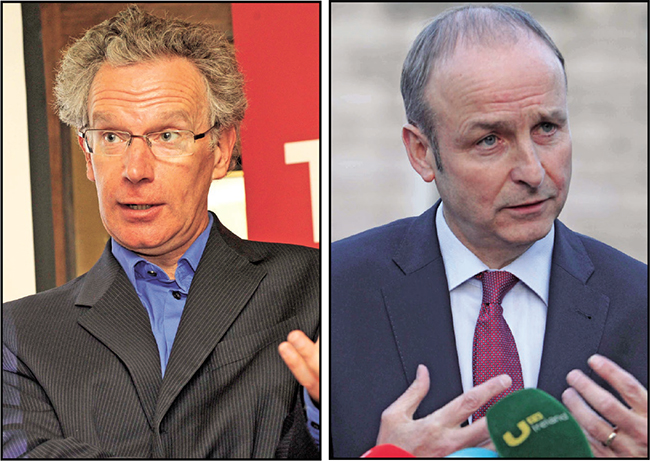 • Columnist Fintan O'Toole and Fianna Fáil's Mícheál Martin
Get ready for a united Ireland
This became "Get ready for a united Ireland" in the Irish Independent and "Brexit talks should include the 'possibility' of a united Ireland" in Newstalk headlines. 
On 20 July, the Irish Daily Mail splashed a "United Ireland?" headline across the front page with Matt Cooper and Fiona Looney tasked to "discuss the big question". 
Matt Cooper wrote that "emotionally, I would be among those who would love the idea of a 32-county Ireland" but added he had been "stunned in recent weeks by the number of strongly-worded negative text messages" he received while hosting his evening drivetime Today FM show. He also brought up the old 'South can't afford the North' argument but more of this later.
The sub-editors couldn't resist front-paging Fiona Looney's piece with the facile quote "We'd be bankrupt of course . . . but the idea is intoxicating" while, inside, she gave a "Glorious Twelve top reasons to end the Border". 
Among them were speed limits being less confusing, it would help combat tax evasion, and we would have a better football team and a "really interesting national parliament".
Irish Independent columnist David Quinn took up the baton on 22 July with an article titled "Hoping to see a united Ireland? Time travel is a lot more likely". Quinn also addressed what an all-Ireland Leinster House would be like and even though Sinn Féin would have more seats in the Dáil, the arch-conservative's silver lining to his Sinn Féin cloud would be that the Dublin parliament would also have in the DUP a real "socially conservative party" who could pitch for Southern conservative votes. Their share of the vote, he estimates, could increase to 15% across the island and maybe the DUP and Fine Gael could form a coalition.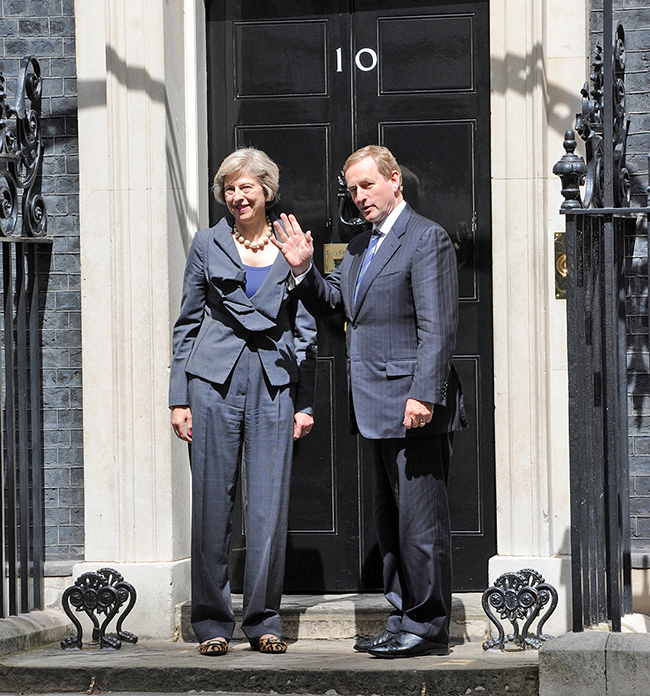 • New British Prime Minister Theresa May meets Taoiseach Enda Kenny
Like Cooper, Quinn also poses a fiscal constraint, writing that the Northern economy is "hugely propped up by England" and has "a weak private sector".
Enter French President Francois Hollande, who on a visit to Ireland on 21 July declared: "I do recognise that there is a special situation in Ireland." 
So, at an EU level it is clearly game on for an all-island EU jurisdiction post-Brexit. 
Could these be the first steps to a new all-Ireland entity?
Star Trek's united Ireland
David McWilliams, writing in The Sunday Business Post, used Star Trek as his portal into the united Ireland discussion. 
Avid Trekkie readers will know that an episode of Star Trek: The Next Generation (Episode 18, Season 3) was censored in Ireland and Britain because it predicts a united Ireland. 
McWilliams claimed that the "Northern economy is incapable of supporting itself" but the respected economist also recognised:
"The Union has been an economic disaster for the people of Northern Ireland, Protestant and Catholic, unionist and nationalist. They have all been impoverished by the Union."
Any debate on the future direction of Irish political life wouldn't be complete without the input of bookmaker Paddy Power. The bould Paddy duly obliged on 30 July, publishing the findings of a RED C poll on views about a united Ireland – 65% of 26-County adults would vote in favour of a united Ireland.
By early August the new British Prime Minister, Theresa May, had met with Martin McGuinness and Arlene Foster, following up with a meeting with Enda Kenny the next day. On 1 August, May had declared that "nobody wants to return to the borders of the past"; Enda Kenny, on his 2 August meeting with May, said:
"We are in agreement that we don't wish to see any return to the borders of the past on the island of Ireland."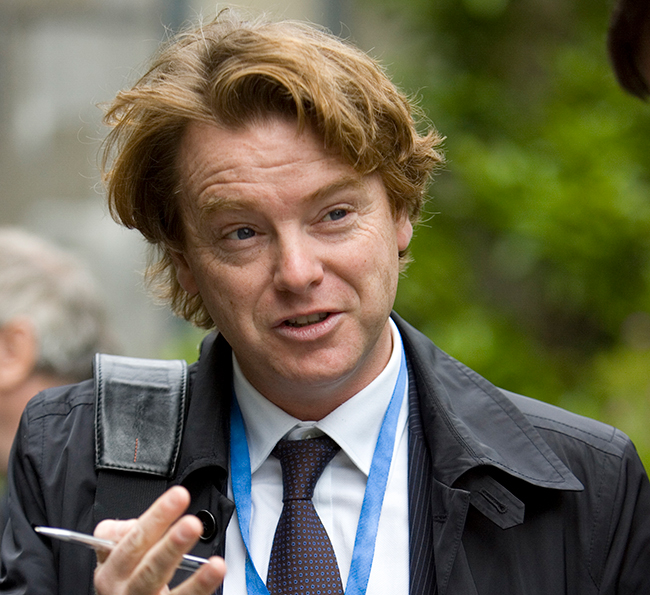 • David McWilliams
Unionist Dáil ministers
Newton Emerson, the "liberal unionist" columnist, writing in The Irish Times on 4 August, floated the idea that a post-Brexit united Ireland, like the Northern Assembly, should have mandatory power-sharing. Emerson estimated that, in a 220-seat all-Ireland Dáil, unionists would have 26 seats and in an all-Ireland power-sharing executive could have two of the 15 ministries.
Last words go to David McWilliams on Star Trek's united Ireland prediction:
"Wouldn't it be strange if Commander Data was partially right after all? Then again, that was science fiction, wasn't it?"