1 August 2016 Edition
Derek Highsted 40th anniversary marked with dedicated publication
Tribute to veteran and Sinn Féin Organiser in Britain during the 1970s
FAMILY, friends and comrades remembered Derek Highsted, Sinn Féin Organiser in Britain during the 1970s, on Sunday evening at a wreath-laying ceremony in July which enjoyed warm sunshine at his final resting place in St Patrick's Churchyard, Glen, Maghera, on the occasion of the 40th anniversary of his death in England. 
Hundreds of republicans from down through the different generations of struggle from across County Derry turned out in tribute to the man who will forever be linked to the memory of IRA Hunger Strikers Michael Gaughan and Frank Stagg. 
Many of Derek's comrades from the local area who were imprisoned with him in Crumlin Road Jail during the IRA's 1950s campaign were present and a special tribute was paid by them to Derek. This also included representatives from the families of deceased republicans from the neighbouring townlands who had been imprisoned with them also. A wreath was laid by Derek's teammates from Watty Graham's GAC, of which he was an active and playing member.
A colour party from the South Derry Martyrs Flute Band, resplendent in 1916 uniforms, performed the lowering of the flags in salute to Derek and in memory of Ireland's patriot dead at his graveside They were joined by the County Derry 1916 Re-enactors who wore the uniforms of the Irish Volunteers, Cumann na mBan, Irish Citizen Army and Na Fianna Éireann.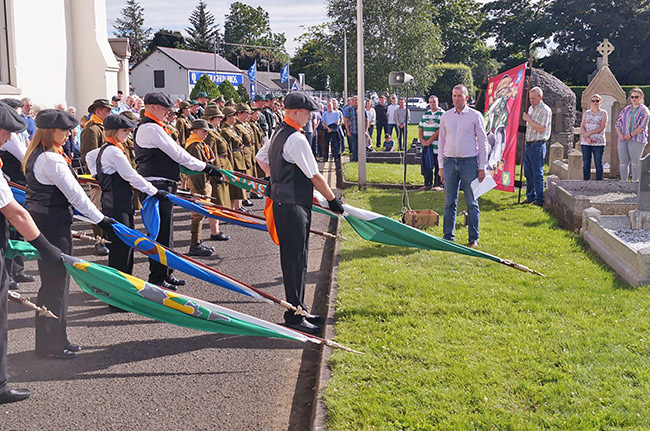 • Flags are lowered in St Patrick's churchyard in memory of Sinn Féin Organiser Derek Highsted
Derek's children, Brendan and Bríd, and his sister Patricia McDaid were present at the commemorative events which heard H-Blocks Hunger Striker and Sinn Féin MLA for Foyle Raymond McCartney pay great tribute to the republican leader when launching a special commemorative booklet later in the evening in Brackagh Hall.
Veteran republican comrade Maureen Maguire, who worked alongside Derek in Britain in promoting Irish republican campaigns and looking after the families of the political prisoners incarcerated in English jails during the course of the 1970s, joined local MLA Ian Milne and Raymond McCartney in making presentations to Derek's children and sister.
Concluding proceedings at the launch of the special commemorative booklet, Paul Bryson on behalf of the local Highsted, Casement, Kelly Sinn Féin Cumann said it is to remind people of the contribution that Derek Highsted – together with his contemporaries in the 1950s, 1960s and 1970s – made to the republican struggle.
• The special commemorative booklet is now on sale from the usual republican outlets and members of Maghera Sinn Féin, price £5.