1 August 2016 Edition
Raidió na Poblachta – Radio of the Republic
Remembering the Past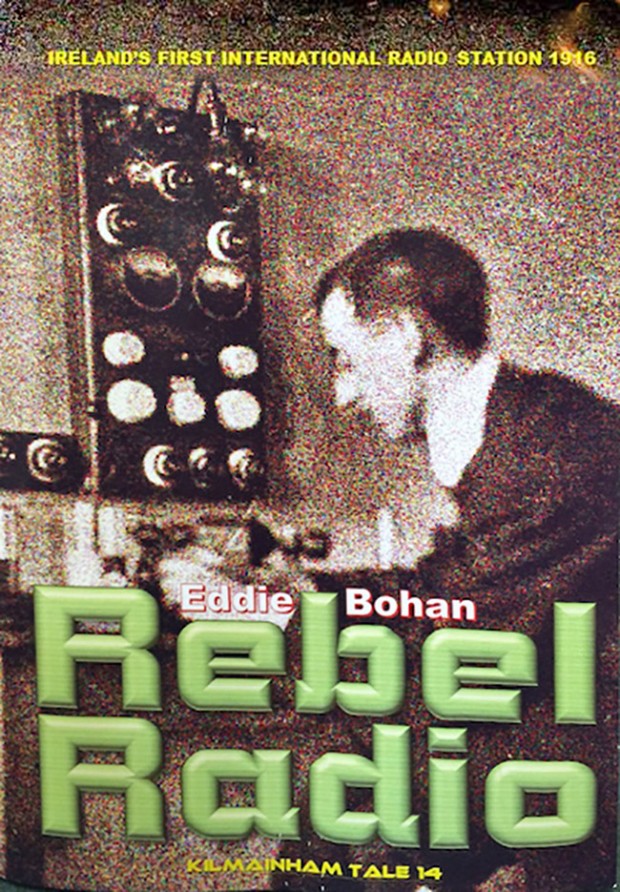 "Irish Republic declared in Dublin today. Irish troops have captured city and are in full possession. Enemy cannot move in city. The whole country rising. Pearse GOC. Connolly commanding Dublin. Plunkett Chief of Staff."
These were the words of the first international radio broadcast from Ireland. They were sent from O'Connell Street, Dublin, in Morse code tapped out on a transmitter by a Volunteer of the Irish Republican Army. The building was then Reis's shop, 10-11 Lower O'Connell Street, at the corner of Abbey Street, now the Grand Central Bar. 
In the upper floors in 1916 was the former Wireless School which the Volunteers captured. They had to venture out on the roof and brave British Army gunfire to erect the aerial. 
Proclamation signatory Joseph Plunkett was himself an amateur radio enthusiast and knew the vital importance of getting word out to the world that there was a Rising in Ireland. And so it was that the capture of the Wireless School was part of the plan for the Rising. 
James Connolly himself, in a written order, instructed the Volunteers in this and neighbouring buildings that the main purpose of their post was "to protect our wireless station". Captain Thomas Weafer gave his life in that duty when he was killed nearby (a plaque marks the building today).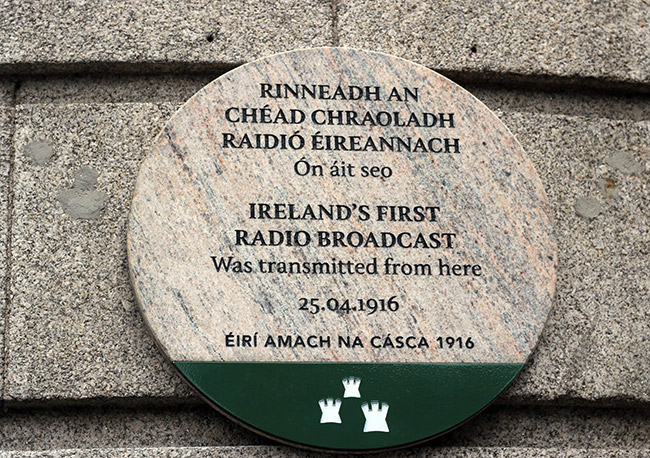 We do not know the full extent to which the historic first broadcast and subsequent messages throughout Tuesday and Wednesday of Easter Week were picked up. However, the speed with which the press in the USA in particular reported news of the Rising, despite British censorship, indicates that several ships received the signal and passed them on. Under British fire, the wireless station was abandoned on Wednesday, with Volunteers taking equipment across the bullet-swept street to the GPO. 
On 21 July this year, a plaque was unveiled on the wall of the Grand Central Bar to commemorate the broadcast. This writer spoke as Cathaoirleach of Dublin City Council's Commemorative Naming Committee and pointed out the motivation of the republicans in ensuring that they broke through strict British censorship to get news of the Irish Republic out to the world. I reminded those in attendance that if the unveiling had happened on the 75th anniversary of the Rising in 1991 my remarks could not have been broadcast under Section 31 of the Broadcasting Act which censored Sinn Féin. Communications Minister Denis Naughten unveiled the plaque. 
The full story of this hitherto little known but important aspect of the 1916 Rising is told in the excellent Rebel Radio by Eddie Bohan in the 'Kilmainham Tales' series of pamphlets (see www.kilmainhamtales.ie). 
• 'Rebel Radio' author Eddie Bohan, Sinn Féin Councillor Mícheál Mac Donncha and historian Las Fallon at the unveiling of the plaque marking the site of the Irish Republic broadcast of Easter 1916