1 August 2016 Edition
Bobby Sands: 66 Days
Robbie Smyth looks at the acclaimed new movie on the 1980/1981 H-Blocks Hunger Strikes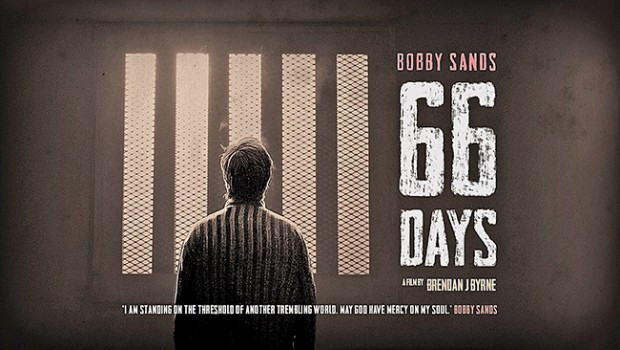 A compelling interpretation of the multiple perspectives on the H-Block protests and hunger strikes
WHEN you hear that not only has the BBC co-funded a documentary about Bobby Sands but it also has Irish Times Pontificator General Fintan O'Toole featuring extensively the alarm bells go off. But Bobby Sands: 66 Days is worth the ticket price when it goes on general release in August.
The documentary is a compelling interpretation of the multiple perspectives there are on the H-Block protests and hunger strikes.
The republican voice is strong throughout. Alongside this is a thread of how unionists saw the H-Block struggle – petulant anger and derision, if you're wondering. There's a hand-wringing view from Dublin, scornful disdain from London, disquiet in the United States and, of course (as is the case with 'serious' documentaries) there is a long series of vignettes from academics giving supposed context and a critical viewpoint.
Then there are the potent, searing writings of Bobby Sands, spoken by an actor and used throughout the 105 minutes of this feature. They give a depth and context, setting a tone and pulse to this documentary, cutting through the academic wordplay that attempts to portray the H-Block protests as an artistic drama. Yes, Sands was an artist and some contend that the Hunger Strike was his final creative act!
Irish republicans have a more studied analysis.
The nationalist people rebelled because of systemic injustice and oppression. It wasn't imagined or fabricated. 
Bobby Sands was clear on this in his writings, and 66 Days does categorically show the conditions that created the conflict in Ireland. It concisely shows the incendiary turmoil that Sands grew up through and emerged into as an adult. Critically, as Sands approaches death in May 1981, the editing of director Brendan J. Byrne captures the raw emotion and tumult that brought people to the streets in their tens of thousands across Ireland.
What is fascinating is how this is ignored or overlooked by some of the other contributions. This is as relevant today when you consider the industry of 'Official Ireland' that continually seeks to overlook, dilute and explain away the Sinn Féin political successes and continued electoral growth.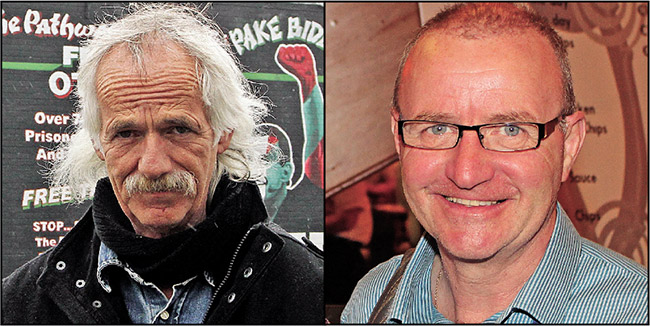 • Danny Devenny and Jim Gibney
From a republican viewpoint there are contributions from Tomboy Loudon, Danny Morrison, Séanna Walsh, Danny Devenny, Gerard Rooney, Gerry Adams, Brendan 'Bik' McFarlane, Owen Carron and Jim Gibney which build into a picture of Bobby Sands as friend, IRA Volunteer, revolutionary, community activist and leader. These inserts create a tangible personal sense of Bobby and the film's director has captured something here.
Two contributions from the academic side do stand out. 
First, Denis O'Hearn, a US academic and author of the Bobby Sands biography, An Unfinished Song, provides insights into the political activism of Sands. 
Dr Ronnie Close, once an An Phoblacht photographer himself and now teaching at the University of Cairo in Egypt, gives a unique perspective on the emergence of Sands as an international revolutionary icon.
Not included at all in this documentary are inputs from the Catholic Hierarchy in Ireland. During the Hunger Strikes, Cardinal Ó Fiach visited Tory Prime Minister Margaret Thatcher in Downing Street and numerous other interventions were made, including the controversial inputs of Denis Faul, a priest who visited the prisoners regularly.
I also wonder what David Beresford, the Guardian journalist who died earlier this year, would think of the documentary. Beresford wrote the intense 10 Men Dead book which tells the story of the H-Block protests and resulting hunger strikes.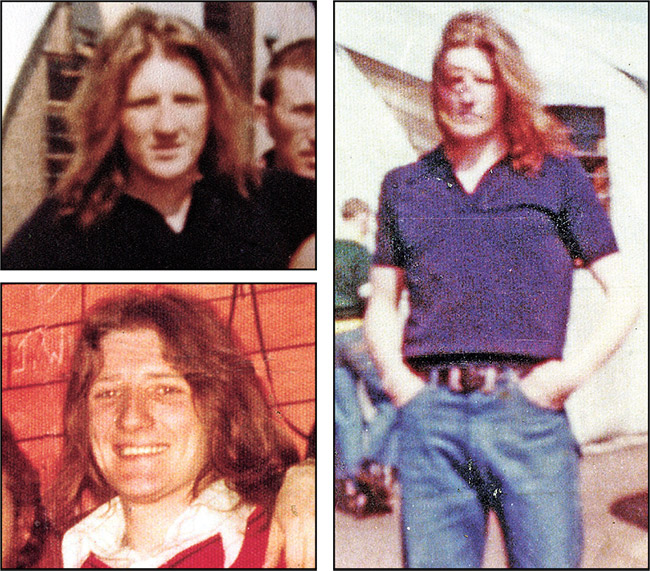 • Bobby Sands became an international revolutionary icon
Aside from these omissions, a key strength of this documentary is the cinematography, the editing of archive footage, weaving it with news reports from the time and other images culminating in a powerfully visual work.
The film for me was skewed by beginning and almost ending with long monologues from Fintan O'Toole, who claims: "Ultimately, Bobby Sands effectively marked the end of the tradition of armed struggle in Ireland. Because what he said was there is really no justification and no need to kill people, what you really need to do is dramatise your own suffering."
Sands wrote extensively on what he believed, yet O'Toole reinterprets this by emphasising his take on Sands, whom the Irish Times columnist never accurately quotes in the documentary.
O'Toole is trumped by the very last words in the film which are given to an excerpt from Bobby's Rhythm of Time, which ponders on "the inner thing in every man": 
It lights the dark of this prison cell, 
It thunders forth its might,
It is 'the undauntable thought', my friend,
That thought that says 'I'm right!'
If you are watching this documentary wondering about where truth lies in the weaving of conflicting narratives and views of Bobby Sands and the 1980/1981 Hunger Strikes, the only solid conclusions one can make is that history matters. Ultimately, you have to make your own mind up on it but maybe read a few books first and listen to the people who were there.
66 Days will be shown at Féile An Phobail from 3 and 4 August at the Omniplex Cinema, Kennedy Centre, in west Belfast, and goes on general release in cinemas nationwide from 5 August