6 June 2016 Edition
Support the Gaza kids' soccer tour of Ireland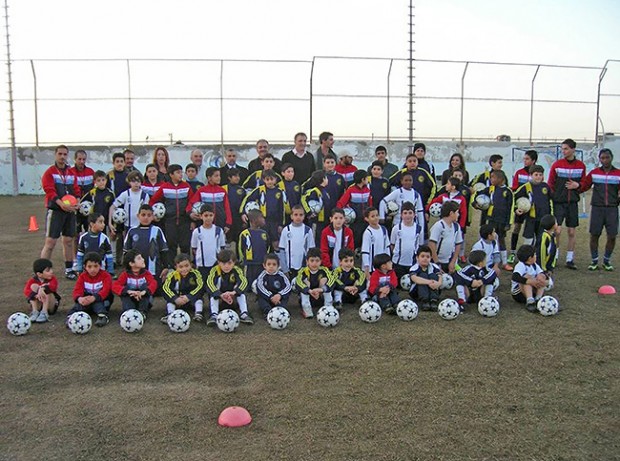 The windows of the Al-Helal clubhouse, located between two overcrowded refugee camps, were blown out by nearby Israeli missile strikes last year
SOCCER-MAD KIDS from Gaza are being treated to a break from the relentless, punitive siege by the Israeli war machine with a tour of Ireland in July. And football fans and friends of Palestine are being asked to lend their support through cash donations and helping out.
A squad of kids and some of the coaches from the Al-Helal club in Gaza will travel here to play games and have fun with their peers in Dublin, Limerick, Tipperary and Antrim.
Chris Andrews is a long-time campaigner with tour organisers Gaza Action Ireland. He's a Sinn Féin councillor in Dublin who has taken part in the Irish Ship to Gaza blockade-busting initiative with Waterford Sinn Féin Councillors John Hearne and Pat Fitzgerald to highlight the grip Israel has on the people of the Palestinian territory. Chris urged An Phoblacht readers to get behind the Gaza kids' team by donating whatever they can to the fund-raising drive.
"We're still a good way short of what's needed to ensure this trip gives these kids as memorable a time in Ireland as possible so every few pounds or euro will go a long way for these children from Palestine."
Gaza has been pounded and pummelled by Israeli artillery on land, rockets and bombs from warplanes, and shelling from warships siting off the coast. The psychological impact on children as well as the obvious physical damage can only be imagined, which is why trips such as the Ireland tour are an important respite from the horrors of the conflict and its aftermath.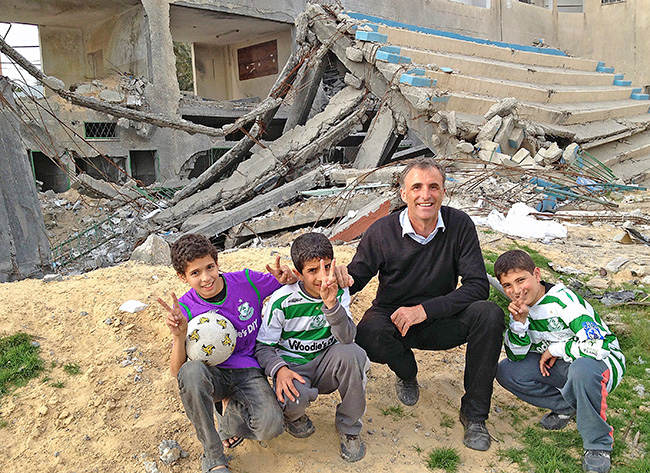 • Sinn Féin councillor for Pembroke South Dock Chris Andrews in Gaza with Palestinian kids who are taking part in a soccer tour of Ireland organised by Gaza Action Ireland
Seventeen youngsters under 14 will be in Ireland for almost two weeks in July, from the 13th to the 25th, during which they will be hosted at the Shamrock Rovers versus Bohemian League of Ireland Premier Division match in Tallaght in July.
"Football means everything to these kids," says Ayed Abu-Ramadan, a director at the Al-Helal club. "The sea is right here but they can't even go swimming because of the sewage."
For the children of Gaza, Israel's attacks and the siege of the territory are real and ever-present. The windows of the Al-Helal clubhouse, located between two overcrowded refugee camps, were blown out by nearby missile strikes last year. Gaza's main football stadium, a few miles away, was deliberately damaged by other strikes by the Israeli military. Poverty and destruction are rampant. The children generally can't travel beyond this narrow strip of land between the sea, Israel and Egypt.
Their trip to Ireland will give them some respite from the situation in the Middle East but sports can't always be free of politics, despite the protestations of mainstream media and politicians.
Gaza Action Ireland says:
"Israel has made it almost impossible for Gaza's soccer stars to travel to play for the Palestine national team. The social circumstances, exacerbated by the siege have frustrated Al Helal's efforts to field a girls' team thus far but they haven't given up on the project.
"With your help to make this project a reality, a group of Palestinian children will have a new story to tell, one of freedom, friendship, play and solidarity in Ireland.
"We need funding for flights and expenses so please share this event, and spread the word."
• Gaza Action Ireland (which grew out of the Irish Ship to Gaza initiative) is a solidarity group that organises civil society contacts between Ireland and Palestinians in Gaza. It is responsible for the Windows Into Gaza art exhibition currently touring Ireland. In addition to artists and sports clubs, it has also forged links with fishermen, journalists, human rights activists and providers of emergency services.