8 May 2016
8 May 1916 – Executions of Rising leaders continue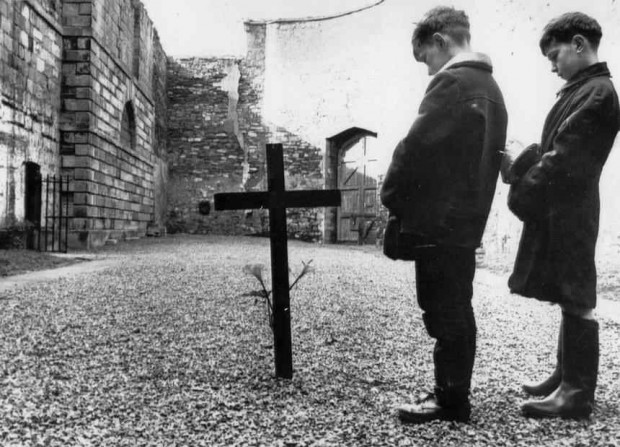 Con Colbert
Cornelius (Con) Colbert was born at Monaleena, Castlemahon, County Limerick, the son of Michael Colbert, a small farmer, and Nora MacDermott.
While he was still a child the family moved to the Athea area in west Limerick where his father farmed some old family land at Templeathea. He attended Athea National School and for a brief period the national school at Kilcolman, near Ballysteen.
In early adolescence, he went to live with a sister in Dublin where he received his secondary education at the Christian Brothers' schools at St Mary's Place and North Richmond Street (O'Connell's Schools). When he had completed his secondary education he secured a clerkship at Kennedy's bakery in Parnell Street, where he worked until his death.
Both sides of Colbert's family had a tradition of nationalist and Fenian involvement, and he became politically aware from an early age. He developed an interest in local and national history and picked up expressions in Irish from some of the old people around west Limerick where the language had not yet entirely died out. He is also said to have become a devout Roman Catholic from early on.
In Dublin, he joined the Gaelic League and assiduously attended Irish classes, lectures and the various cultural and social activities provided for members. He enrolled in Fianna Éireann, the scouting organisation for boys first established by Bulmer Hobson in 1903 and revived by Hobson and Constance Markievicz in August 1909. He was a model member of Fianna Éireann: he applied himself to gaining proficiency in its various activities and skills which included drill, marching, scouting, signalling, map reading, first aid and the use of small arms. His diligence and level of achievement were soon acknowledged by his promotion to the captaincy of his branch and eventually to the Council.
When Pádraig Pearse required a part-time drill instructor with Irish for St Enda's in 1910, Colbert was ideally suited for the position on both counts. He took on the task with his usual enthusiasm, indignantly refusing payment when the matter was raised. He is believed, however, to have recruited some of the older students to Fianna Éireann without Pearse's knowledge or consent. Meanwhile, he was recruited to the Irish Republican Brotherhood, later becoming head of an IRB circle consisting of Fianna Éireann members formed in 1912 by Bulmer Hobson, who was then head of the IRB in Dublin.
Colbert was elected to the Provisional Committee of the Irish Volunteers on their formation in November 1913.
He attained the rank of captain in Éamonn Ceannt's 4th Battalion of the Dublin Brigade, in which capacity he became heavily involved in training and developing his company. Although small in stature, being just over five feet tall, he had considerable presence and was a charismatic trainer and leader; he was highly respected by the Fianna, by the students at St Enda's, and by the Volunteers.
In the Rising, Colbert and his company were assigned to Watkins's brewery to the east of the South Dublin Union, which was held by Ceannt and the main body of the 4th Battalion. As Watkins's proved to have no strategic significance, Colbert and his company joined Séamus Murphy at Jameson's distillery in Marrowbone Lane, closer to the South Dublin Union. As this position was bypassed by the cordon of British troops that gradually encircled the city centre, the garrison did little fighting, eventually surrendering on Sunday.
Con Colbert was tried by court-martial and sentenced to death. He was executed on 8 May.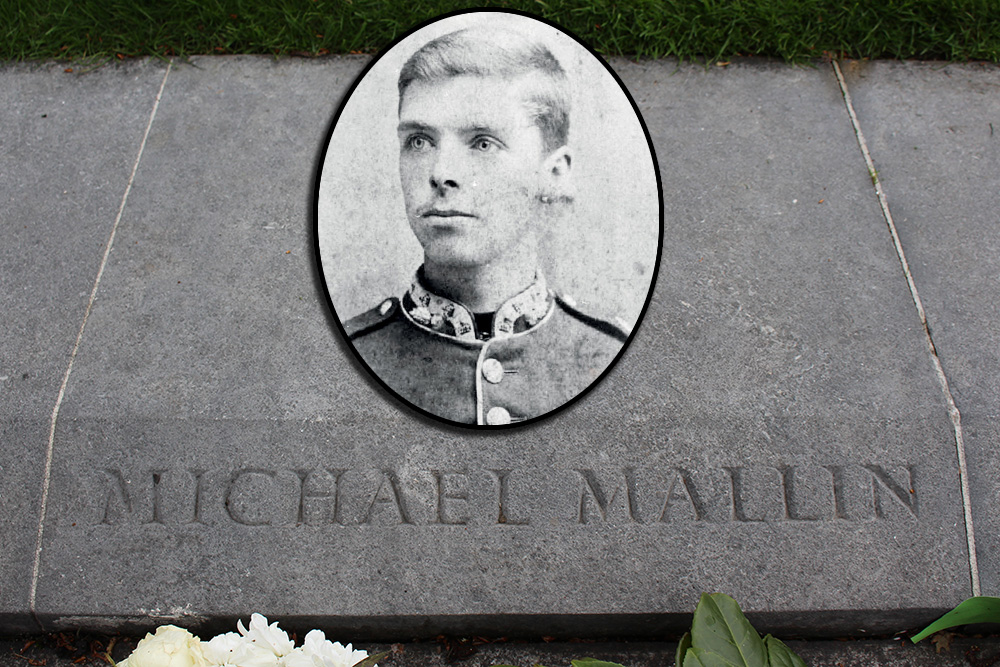 Michael Mallin
Michael Mallin was born in Dublin, the son of John Mallin, a carpenter. Presumably, he was educated locally at a national school. He joined the British Army as a drummer boy, probably around the age of 16, the military being a common choice of career for working-class boys at the time. He served for approximately 14 years, becoming a non-commissioned officer. Part of his service was in India, where he contracted malaria.
Following his discharge, he settled in Dublin where he worked as a silk weaver. Being concerned at working conditions in the industry, he joined the Silk Weavers' Union of which he became secretary. He was also active in the Working Men's Temperance Club. He joined the Irish Citizen Army on its formation in November 1913.
An enthusiastic and committed member, his dedication and ability were acknowledged by James Connolly, who promoted him to the new post of Chief of Staff. He proceeded to make his mark by raising standards of discipline and professionalism. In addition, he introduced a rigorous training regime featuring marches, field manoeuvres and mock attacks on public buildings.
As Connolly was in overall command of operations during the Rising and was based in the GPO, the command of the main Citizen Army force devolved on Mallin and his second in command, Constance Markievicz. Their post was St Stephen's Green, a rectangular park approximately 20 acres in size, located a mile south of the GPO, across the Liffey. The membership of the Citizen Army was approximately 400, of which 200 to 250 are estimated to have turned out during the Rising. Being overlooked by the Shelbourne Hotel and other tall buildings, most positions in St Stephen's Green had to be abandoned within 24 hours. The majority of the Citizen Army men then occupied the very solid College of Surgeons to the west side of the Green where they held out until the order for surrender reached them on the Sunday.
Michael Mallin was tried by court-martial and was sentenced to death. He was executed on 8 May.
He was survived by his wife Agnes Hickey, his three sons and two daughters, the younger of whom was not born until four months after his death. He is said to have been a devout Roman Catholic.
Séan Heuston
Séan Heuston was born in Dublin in 1891. Educated by the Christian Brothers, he went to Limerick to work in 1908. There he organised and trained the Fianna Éireann boy scouts.
He came to Dublin in 1913 and joined the Irish Volunteers when they started. At the request of Pádraig Pearse, he and Con Colbert trained the Scoil Éanna boys in drill and musketry.
He became captain in the Volunteers and was in command in the Mendicity Institute on the Dublin quays during Easter Week, holding back for three days with a garrison of about 20 men some hundreds of British troops who were on their way into Dublin from Kingsbridge. He was shot in Kilmainham on 8 May 1916.
Seán Heuston was born at 24 Lower Gloucester Street, Dublin, the son of John Heuston, a clerk, and Maria McDonald. He was educated to intermediate grade by the Christian Brothers at O'Connell's Schools on North Richmond Street.
At the age of 17 he joined the Great Southern & Western Railway Company as a clerk and was stationed in Limerick for six years. He joined Fianna Éireann in August 1909. He organised an extremely active branch in Limerick which eventually had a membership of 250 boys. He devoted most of his spare time to the organisation: lecturing, drilling, marching and promoting a high level of proficiency in the boys under his command.
In 1913 he was transferred to Dublin by the railway company and assigned to the traffic manager's office at Kingsbridge railway station (now Heuston station).
He continued his work with Fianna Éireann where he met Con Colbert and Liam Mellows, both prominent in the organisation. He was given command of a branch in the north side of the city based in Hardwicke Hall. He was promoted Vice-Commandant of the Dublin Brigade and also became Director of Training. Colbert and Pádraig Pearse engaged him for St Enda's, where he provided training in drill and musketry for the students.
When arms were landed at Howth in July 1914, he led a contingent of Fianna, bringing a consignment of guns safely back to Dublin in a trek-cart.
Heuston joined the Irish Volunteers soon after their formation in November 1913, eventually becoming a captain in 'Ned' Daly's 1st Battalion. He worked hard with his company, organising marches and field manoeuvres, fostering a spirit of commitment and camaraderie, and procuring arms and equipment by purchase and any other means at his disposal.
On Easter Monday he was assigned command at the Mendicity Institution, a building on the south side of the river Liffey, and to the west of the Four Courts where Daly and the 1st Battalion were based. Heuston's function was to control the route between the Royal Barracks (later Collins Barracks, now the National Museum of Ireland) and the Four Courts for some hours so that Daly and the remainder of the 1st Battalion would have time to settle in. In the event, Heuston and his force of fewer than 30 men held out for three days against some hundreds of British troops who were on their way into Dublin from Kingsbridge. Surrounded and in a hopeless situation, Heuston surrendered on Wednesday to save the lives of his men.
Seán Heuston was tried by court-martial and sentenced to death. He was executed on 8 May. At twenty-five years and two months, he was the youngest of those executed.
Éammon Ceannt
Éammon Ceannt remains probably the least-known of all the signatories to the Proclamation.
Born in Galway in 1881 to a father who was a serving member of the Royal Irish Constabulary (RIC), the family moved to Dublin when he was 10.
Even at this young age, his passion for all things Irish was with him, a trait he was to carry into his adult life. At the age of 16 he marched in the centenary celebrations for the 1798 United Irishmen rebellion.
Ceannnt joined the Irish Volunteers in 1913 and rose quickly through the ranks, becoming Officer Commanding the 4th Battalion, Dublin Brigade, by the time of the famous Howth gun-running operation. By 1915 he had been appointed to the Supreme Council of the IRB.
During Easter Week, Ceannt was given the formidable task of holding the South Dublin Union, a massive area of some 52 acres. Due to the countermanding orders, his battalion, whose paper strength stood at over 700 Volunteers, assembled with only 120 men and women with the task of preventing British reinforcements sweeping in through the south-western suburbs of Dublin.
A tall, striking man, Ceannt's persona inspired confidence and a sense of awe. One eyewitness describing the surrender of Ceannt's garrison spoke in revering tones:
"On the day of the surrender I saw him lead his men to the place where they were to lay down their arms. His bearings were noble . . . I felt proud of him and the British soldiers looked on in wonder at the size of his force."
In his final letter to his wife, Ceannt ended by telling her:
"Biodh misneach agat a stóirin mo chroídhe. Tog do cheann agus mo chroídhe."
Éammon Ceannt was executed by British Army firing squad on May 1916.