1 February 2016 Edition
A republican voter's guide
Dáil election 2016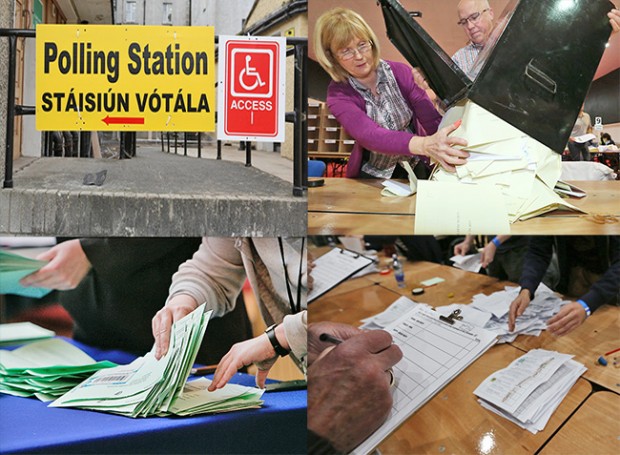 FORGET the next Star Wars movie or Batman versus Superman in 2016 – a much bigger show is coming. The 32nd Dáil general election since 1918 is opening soon.
There will be a tsunami of journalistic madness as the Establishment 'news media' (and I use that label more loosely than "Labour Factcheck") begins to comment and analyse the promises, posturing and powerbroking of what presents as politics in Ireland today.
Meaningless names
There are few things 'Official Ireland' and its media like more than a tacky name to simplify voter behaviour. It makes commentary easier for journalists, TV and radio presenters (and the online social media Twitterati).
In 2002 and 2007 we had the 'Bertie Bounce', followed briefly by the 'Lee Lift'. Have you forgotten already that all-too-brief sojourn from RTÉ that serious commentator George Lee spent with Fine Gael? Well it did happen: he came, he saw, and he scurried back to Montrose.
In 2011, we had the 'Gilmore Gale' but don't expect the Irish Independent to be trumpeting an 'Adams Avalanche'. One of the first rules of Establishment media is to ignore, undermine or explain away the Sinn Féin vote (more on that later).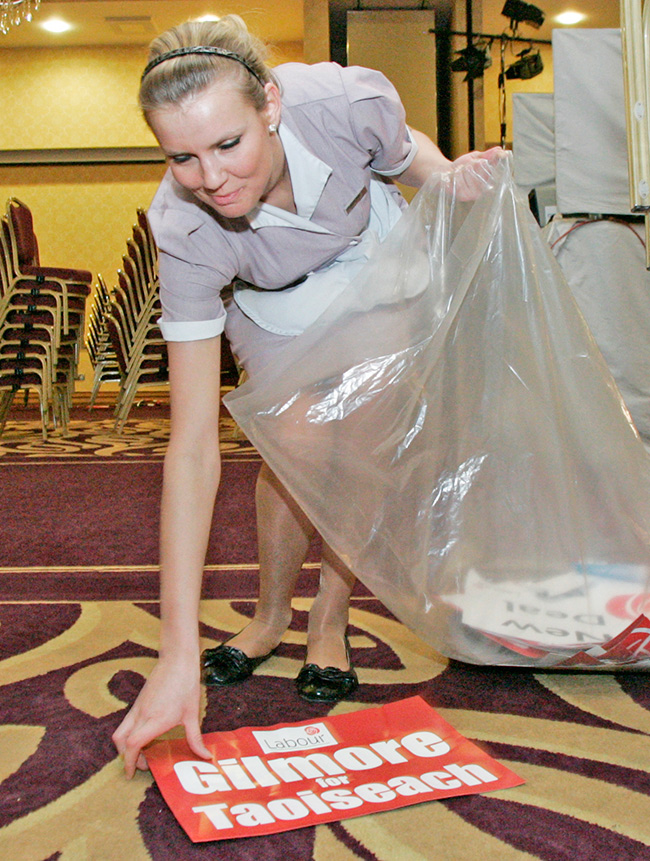 • Will Joan Burton be following Eamon Gilmore in getting the sack?
Labour comeback
With that in mind, watch our news media go to extraordinary lengths to hype up a Labour comeback. Yes, I know this means ignoring the evidence of opinion polls, including Labour's own internal ones which showed a possible 20-seat loss. It also means overlooking the devastation of the 2014 local and EU elections, where the Labour Party won 5.3% of the vote. 
Ignoring reality is an important ability for our wily election media. Instead, they will be pondering over the Labour electoral corpse, looking for any sign of life and will trumpet this resurrection quicker than Charlton Heston in The Greatest Story Ever Told.
Stephen Collins in The Irish Times was first into this space with a column on 5 December titled "Labour still has the power to defy the prophets of doom". We'll see about that.
A battle to the end
Some election commentators are frustrated sports reporters. This is why terms like neck and neck, pulling ahead, in the driving seat, and the battle for first place are sprinkled throughout articles.
The news media also like a little boxing parlance and so we have parties who, 'battle it out', or have 'bitter dog fights', 'battle for survival', 'body blows' and 'knock outs'. The real challenge in 2016 is for journalists to get some sort of UFC reference into the media coverage but don't hold your breath for an Evening Herald front-page pic of Michael Noonan with the headline, "I LIKE HURTING PEOPLE".
• Remember the brief sojourn from RTÉ that commentator George Lee spent with Fine Gael?
Coalition chatter
We know there will be a coalition government after the election. Or maybe political Siamese twins Fine Gael and Fianna Fáil will finally get over themselves and become as one. Coalitions have been the case in the 10 elections since 1981 except for minority Fianna Fáil governments in 1982 (for six months) and 1987 (for two years).
In 2007, it was all about Fine Gael and Labour until their combined poll ratings didn't match up and the media eventually added the Greens in another "Rainbow Coalition" concoction. In the end, the media were 'shocked' at the eventual Fianna Fáil/Green Party/Progressive Democrats coalition. 
In 2011, the Fine Gael/Labour 'We're just friends' line got tiring very quickly but in 2016, with a wide open field, watch the media focus on the narrowest of coalition options and get ready for their shock at whoever eventually forms a government.
Sinn Féin's vote
Maybe you thought the decades of community activism, the hard work on councils, the Northern Assembly, the Dáil and EU parliament, not to mention the transformative power of the Peace Process were all reasons that Sinn Féin's vote share has increased steadily since the early 1990s.
No, no, no! It's an "angry" vote, a "tired of Fianna Fáil" vote, a "protest" vote, a "misguided" vote, a "gullible first-time voter" vote.
If in doubt consult the opinion columns of independent.ie.
Pointless polls
News media spend a lot of money on polls that actually show little real change in voter support. They will still hype the results though (well, they have to fill pages or airwaves to justify their money spent). So beware the endless Fine Gael up, Fianna Fáil up and down routine. Like I'm A Celebrity, Get Me Out of Here, it might be entertaining but seldom of any real importance in the grand scheme of things.
Yes, some voters haven't made their minds up but the critical factor will be turnout. So if you're thinking of voting Sinn Féin, make that resolution to actually get out and cast that important vote in 2016.