1 February 2016 Edition
Jim Kelly, Derry City
Fógraí Bháis
A fearless Volunteer, Jim operated for years under the noses of the British forces before having to go on the run across the Border.
IT WAS with huge sadness that Derry republicans heard of the unexpected death of Jim Kelly.
Jim was the second eldest son of Lily and Brian Kelly and brother of Adrian, Brian, Kieran, Eamonn, Áine and Orla.
Raised in the Bogside area of Derry, Jim was an accomplished swimmer and he won many titles, including many Irish titles.
Jim was brought up with a sense of justice and as the conflict erupted he witnessed at first hand how British occupation was the root cause of conflict in Ireland.
Jim's home was regularly raided by British troops and his uncle, John Walker, was falsely imprisoned in England as one of the Birmingham Six.
Jim became politically active during the Hunger Strikes of 1980 and 1981 where he was a member of the Bogside Youth Against Oppression. Seeing the response to peaceful protest by the British Government and the deaths of 10 young men on Hunger Strike, Jim joined Na Fianna Éireann and it wasn't long before he moved into the ranks of Óglaigh na hÉireann.
He quickly gained the respect of his fellow Volunteers and by the age of 21 was one of the most experienced fighters in the brigade, holding several leadership positions on the brigade staff. 
Jim had also began learning a trade as a joiner but often skipped out of work to carry out operations against the British crown forces. He eventually gave up his apprenticeship to continue his work with the IRA.
It was around this time that Jim met Fiona Doherty, whom he married in 1987, and had three children, Erin, Conor and Pádraig.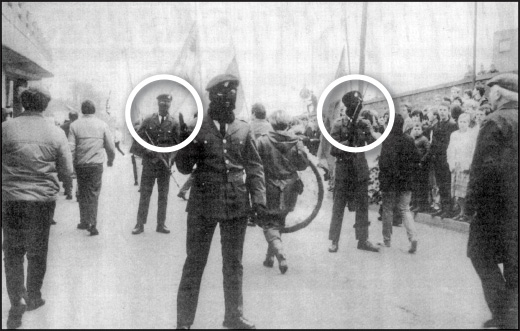 • Volunteer Charles English (back left) and Volunteer Jim Kelly (back right) at the Easter commemoration in Derry City, 1985
Jim's skill as a joiner was always a source of fun between him and his close friends after shelves he erected for his mother-in-law, Eileen Doherty, fell off the wall when Paddy Bogside set books on them. Paddy died the same day as Jim, adding to the heartbreak of Fiona and family.
A fearless Volunteer, Jim operated for years under the noses of the British forces before having to go on the run across the Border.
Returning to Derry, he was regularly arrested and harassed by the RUC and British Army yet he was undeterred in his role as a member of the IRA. 
Jim was extremely well-known and respected in republican circles and was a regular member of the Easter Sunday colour party.
Being very politically aware, he was forever supportive of any initiative taken by the Republican Movement and progressive political developments.
The huge turnout for his funeral is testament to the respect that Jim Kelly was held in and he will be forever missed and remembered by his family, friends and comrades.