1 February 2016 Edition
Dignity, security and equality
Sinn Féin publishes 'Citizens Charter for Older People'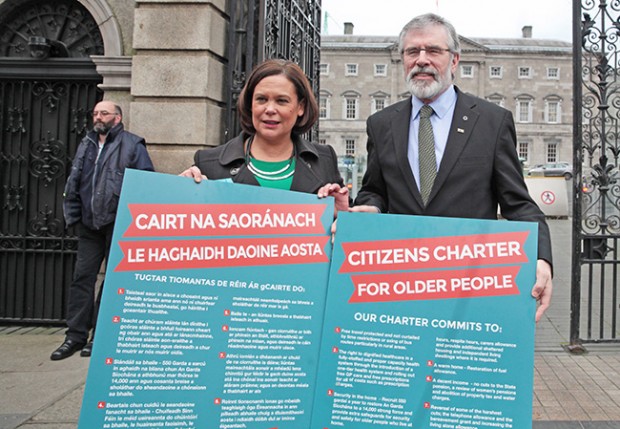 Older people have found themselves the targets of cruel cuts and austerity measures first from Fianna Fáil and now from Fine Gael and Labour
MARY LOU McDonald TD says Sinn Féin's 'Citizens Charter for Older People' aims to ensure that older people live in a state where they are treated with the respect and dignity they deserve:
"We all share the common dream to live long and grow old in Ireland with dignity, security and equality. The reality for many of our older citizens under this government is that family members have been lost to emigration, they can no longer rely on the health service, and they have to struggle daily to heat homes and meet their bills. This government has cuts benefits and introduced water and property charges," she said.
Mary Lou said Sinn Féin believes that the equality promised in the Proclamation of the Irish Republic must be shared by all citizens and that her party is committed to ending the trolley crisis in hospitals, ending prescriptions charges, and delivering a universal health care system.
"In the midst of the negative campaigning from some other parties, we are showing that the needs of older people are not forgotten by us in Sinn Féin," she told reporters at the launch at Leinster House.
The 2011 Census showed that there are 535,000 people over the age of 65 in the state and by 2041 there will be more than 1.4million people – equivalent to 22% of the population.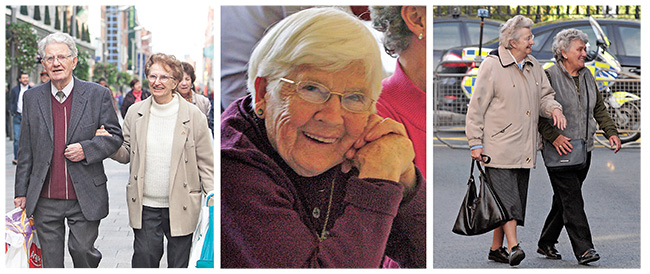 In recent years, older people who spent their lives building up the Irish state and have endured more than their fair share of austerity found themselves the targets of cruel cuts and austerity measures first from Fianna Fáil and now from Fine Gael and Labour. 
From 2009 until the most recent Budget, an older person relying on a state pension and the Household Benefits Package has seen their average weekly income cut by €13.18 due to cuts to the Telephone Allowance, Fuel Allowance, Christmas Bonus and changes to the Household Benefits Package.
Mary Lou McDonald said women in particular are unfairly discriminated against once they reach pensionable age as they are often not entitled to a full pension, usually after the birth of a child.
"This affects women who have been outside of the workforce periodically for domestic or caring reasons, so that needs to be addressed," she said. "We will ensure that people are entitled to the full pension as it stands."
The Dublin Central TD also reiterated her party's stance that Water Charges and the Local Property Tax must be scrapped:
"The Property Tax is most feared by older people in our community who simply cannot pay it because it is not linked in any way to ability to pay. I know of many elderly citizens who have literally had sleepless nights wondering how they can afford to pay this unfair tax," she said. "Sinn Féin will deliver dignity, security and equality for our older people so that we can all live long and grow old in Ireland."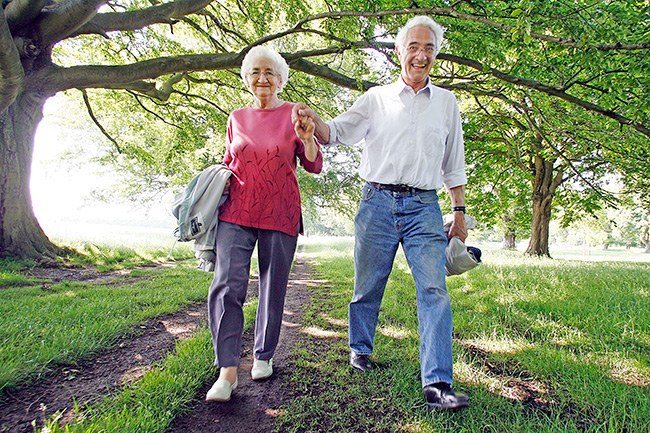 Citizens' Charter for Older People
Free travel protected and not curtailed by time restrictions and protect bus routes particularly in rural areas.
 The right to dignified healthcare in a fully-staffed and proper capacity health system through the introduction of a one-tier health system and rolling out free GP care and free prescriptions for all.
Security in the home – Recruit 550 gardaí a year to restore An Garda Síochána to a 14,000 strong force and provide extra safeguards for security and safety for older people who live at home.
Measures to support the ability of older people to remain in their own home.  Sinn Féin would increase home help hours, respite hours, carers allowance and provide additional sheltered housing and independent living dwellings where it is required.
A warm home – Restoration of fuel allowance.
A decent income – no cuts to the State pension, a review of women's pensions and abolition of property tax and water charges.
Reversal of some of the harshest cuts; the telephone allowance and the bereavement grant and increasing the living alone allowance.
A series of initiatives to enable young Irish families to return home to their elderly parents after forced emigration.