1 February 2016 Edition
'It may look like I am free but I am still a prisoner'
Basque internationalists living in limbo under Spanish state repression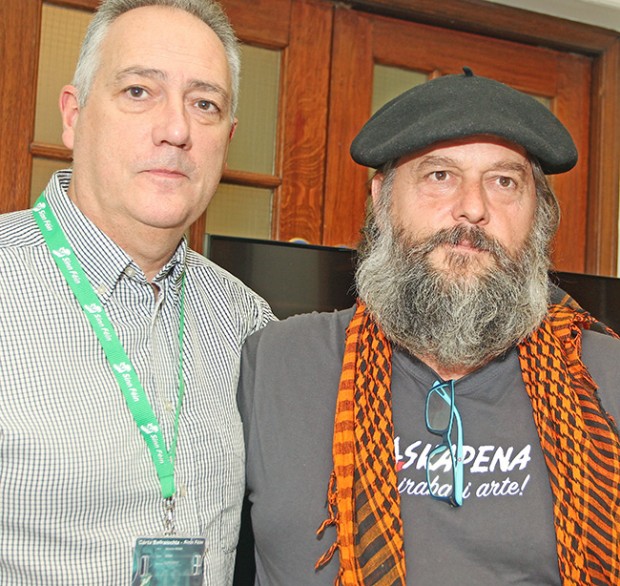 The hammer of the Spanish state could fall on Gabi at any time and smash his family life to pieces
WHEN Gabi Basáñez spoke to An Phoblacht in Dublin two weeks before Christmas, he didn't know if he'd be spending Christmas with his family or in prison. He still doesn't know if he'll be with his wife and two daughters for Easter; or for the summer; or for next Christmas. It's been like that for five years, since he was accused of being a member of ETA, the Basque guerrilla organisation that publicly announced the end of its armed campaign in 2011, a year after Gabi's arrest.
The hammer of the Spanish state could fall on Gabi at any time and smash his family life to pieces. He could be dragged away at any time before even his lawyer or his family know it. Then he could spirited across Spain to a prison hundreds of kilometres away, making it difficult for his loved ones to visit him.
He lives in a legal limbo. He and his family live with the psychological torture every day. Spain is a member of the European Union.
Speaking to An Phoblacht through an interpreter, Dublin Sinn Féin member Pablo Vicente, Gabi told his story. 
A small farmer who lives just outside Bilbao, Gabi is a member of the National Executive of the Basque internationalist organisation Askapena. Founded in 1987, Askapena builds solidarity with other struggles around the world as well as campaigning for Basque independence. Gabi himself has close ties to the indigenous Mapuché people in Chile and Argentina.
On 28 September 2010, Gabi was one of nine people dramatically arrested in dawn raids by heavily-armed, masked anti-terrorist police who stormed his home. Living, working and campaigning openly, Gabi asks rhetorically why the police couldn't have taken him during daylight hours, without the drama.
Held incommunicado for three days, with no contact allowed with his family or lawyers, Gabi was charged with membership of ETA before a special court with no jury and presided over by three judges appointed by the Spanish state. Gabi and four of the nine arrested (Walter Wendelin, Aritz Ganboa, Unai Vazquez and David Soto) were remanded in custody.  They were scattered to prisons across Spain to increase their isolation. Gabi ended up in a prison in Madrid, more than 400kilometres from his family and a journey of up to ten hours by car there and back. He was imprisoned for 187 days before being released in April 2011 under stringent conditions and lodging a surety of €60,000. Bank accounts were frozen. He can only travel outside Spain with police permission. His passport was seized. Restrictions on overseas travel are often rigorously enforced to the letter.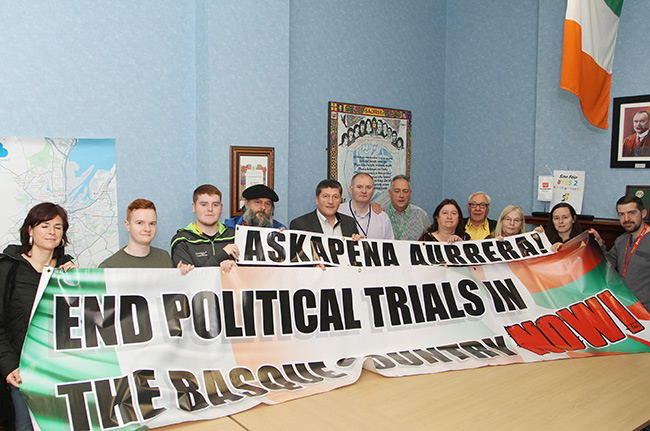 • Basque political prisoner Gabi Basáñez  meets Sinn Féin councillors in Belfast City Hall in December, including former prisoners Séanna Walsh and Mary McConville. Former Lisburn councillor Pat Rice was among the delegation as well as Mairéad Farrell Republican Youth Committee activists
Gabi was in Ireland in December to meet solidarity groups and Sinn Féin in Belfast and Dublin. When he arrived at Bilbao Airport on Thursday 10 December with a ticket to Dublin, everything was okay until he was about to board the plane. Then the Spanish authorities realised he was also going to Belfast. Security police arrived and arrested him. His permission was for Dublin; it did not include Belfast even though this is in another EU member state's jurisdiction. Barred from flying from Bilbao, he went to Madrid and caught a flight to Dublin, from where he got a bus to Belfast. There he met Sinn Féin Belfast City Mayor Arder Carson, Sinn Féin councillors, activists and other ex-prisoners, and the Belfast Basque Solidarity Committee. He returned to Dublin the following day. He met Basque solidarity activists and spoke to An Phoblacht and met Ard-Mhéara Bhaile Átha Cliath Críona Ní Dhálaigh before flying to Barcelona that evening. He didn't know if he would actually make it home.
"When I leave the aircraft I don't know if if I will be allowed to go home to my family or be put in jail without warning. It's like that every hour of every day. I still feel like a prisoner, only now I am a prisoner on the street. It may look like I am free but I am still a prisoner."
On a personal level, Gabi says, he is naturally concerned that he may lose his liberty and the effects on his family of continued activism. "But I could go about my daily business and work my farm and still be arrested without a moment's notice.
"In countries such as Ireland, where there has been a long struggle for national freedom, people more readily understand the situation in Euskadi. Meeting Sinn Féin in person was important because of Sinn Féin's own tradition of struggle and their solidarity with our cause," Gabi said, adding that his first experience of international struggle was reading about the 1916 Easter Rising. He reflected that affection for Ireland.
"Che Guevara is supposed to have once said that solidarity is the best expression of the tenderness of the people," Gabi smiled: "I am looking for the tenderness of the Irish people."