1 February 2016 Edition
Join the Rising
Mansion House filled to capacity for first 1916 centenary year event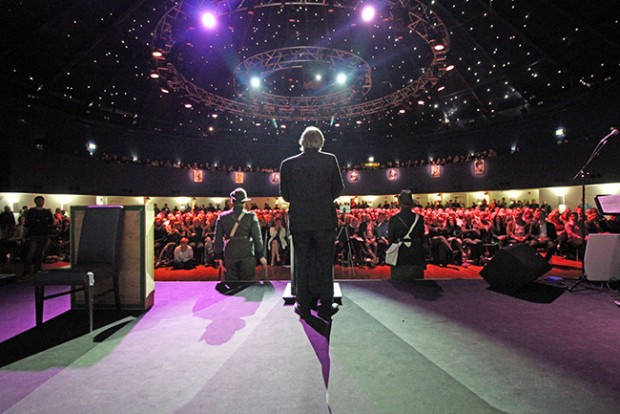 'An alternative can be presented if there is a will to do so. It is clear that there is so much more that unites us than divides us. A coalition of the Left makes more sense than a coalition with the Right' – James Connolly Heron, great-grandson of James Connolly
THERE WERE QUEUES outside the Mansion House on Thursday 7 January over an hour before Sinn Féin's 'Join the Rising' event to launch its year of centenary events opened its doors. By the time an actor appeared on stage in the role of Pádraig Pearse and flanked by Irish Citizen Army Volunteers tor read the Proclamation, the venue was full to capacity. Martin Ferris TD went outside to speak to those who were unable to get in.
James Connolly-Heron, great-grandson of executed 1916 leader James Connolly, gave a barnstorming speech in which he condemned the Fine Gael/Labour Government's plans to destroy the historic terrace on Moore Street – the last headquarters of the Provisional Government of the Irish Republic. As he delivered his speech, he also informed the audience to applause that activists had occupied the terrace to halt demolition works which were underway.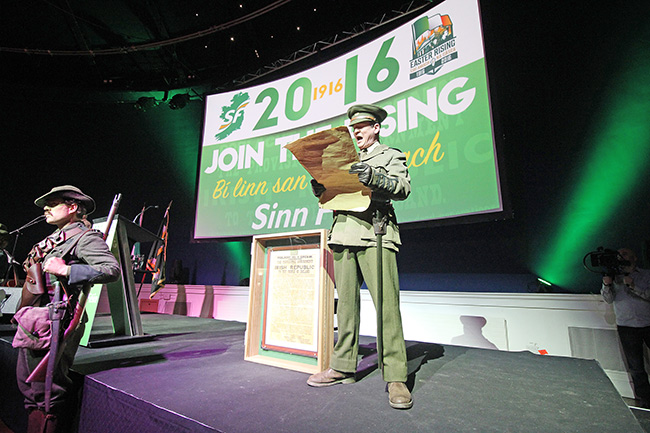 • An actor portraying Pádraig Pearse reads the Proclamation of the Irish Republic
Connolly-Heron also hit out at the Government's plans for the centenary, describing it as an "airbrushing" exercise designed to distort history: 
"In November 2014, on an infamous evening in our recent history – a night never to be forgotten – our government set out an 'Ireland Inspires' programme that purported to remember that golden generation in the spiritual home of the rising – the GPO. There, on a video screen in front of various state and invited dignitaries from around the globe, the men and women of 1916 were written out of history in the very place where they made history. As if they never lived – as if they never died.
"Not a single image of a 1916 leader or Volunteer, man or woman, appeared on that big screen. The heroes of our history, the fathers and mothers of the nation were replaced by images of among others the Queen of England, David Cameron, Dr Ian Paisley, Brian O'Driscoll and Bono. What centenary, what commemoration and what celebration was being planned, many asked as well they might. Who were the mysterious architects of this charade? We simply do not know.
"The taming of nationalism's moment had arrived. This was a blatant and shameful airbrushing exercise in a distortion of our history in an attempt to distance citizens from their history and diminish and detract from a golden generation of their time – the likes of which we have not seen since."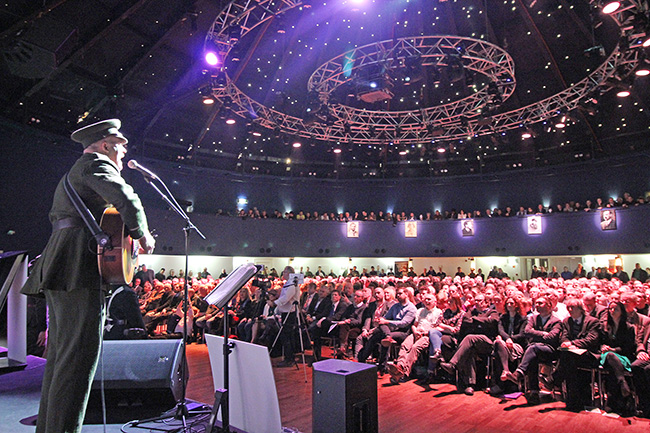 • Musician Darren McGovern performs 'The Foggy Dew'
Speaking on the current political situation, he said:
"An alternative can be presented if there is a will to do so. It is clear that there is so much more that unites us than divides us. A coalition of the Left makes more sense than a coalition with the Right.
"We must return politics to the secure embrace of the people with elected representatives as servants of the people acting in the public interest."
The final speech was delivered by Sinn Féin President Gerry Adams, who told the audience that 2016 is the year in which the stranglehold of Fianna Fáil and Fine Gael can be broken and a truly republican government which aims to deliver on the ideals contained in the Proclamation can be delivered:
"Ireland today needs once again the spirit and vision of the Hunger Strikers allied to the selflessness and generosity of those who struck for freedom and justice 100 years ago. And it is ordinary citizens like us who must take up that vision and renew that spirit."
• Dublin's Mansion House was full to capacity for Sinn Féin's 'Join the Rising' centenary event on 7 January