2 November 2015 Edition
The walls can speak
BOOK REVIEWS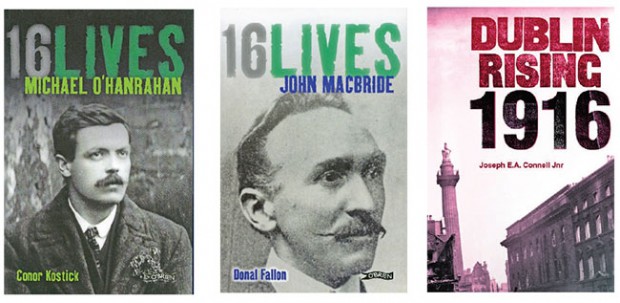 16 Lives – Michael O'Hanrahan, By Conor Kostick. 16 Lives - John MacBride, By Donal Fallon and Dublin Rising 1916, Joseph E.A. Connell Jnr
BEFORE I read the latest in the 16 Lives series, Michael O'Hanrahan was the executed Easter Week leader about whom I knew least. I suspect many people would be the same but this biography certainly redresses the balance and restores to his proper place a republican who worked diligently for freedom for many years and who played a key role in preparations for the 1916 Rising. 
Born in New Ross in 1877, Michael O'Hanrahan was one of the older of the leaders. He came from a Fenian family and was involved in Conradh na Gaeilge and other Irish-Ireland organisations from an early age. His family moved to Carlow and then to Dublin. It was in the capital that he spent his life of activism, working tirelessly on cultural, political and finally military fronts. He was a founder member of Sinn Féin in 1905 and of the Irish Volunteers in 1913. 
O'Hanrahan was a driving force in Volunteer headquarters and the author quotes numerous accounts of his work acquiring, storing and distributing arms and equipment. He was also an accomplished writer, his novel, A Swordsman of the Brigade, winning acclaim in his lifetime and showing potential that was not fulfilled because the Volunteers came first. He was based in  Jacob's Factory in Easter Week and, as a figure well-known to Dublin Castle detectives, he was among those pinpointed for execution. 
Michael's brother Harry and sister Eily later took the republican side in the Civil War and their home and business was bombed by Free Staters. The same premises had previously been one of the most important addresses used by Michael Collins for his intelligence work. 
John MacBride
While Michael O'Hanrahan was very much a diligent background man, John MacBride was a prominent and controversial public figure. He shot to fame when fighting with the Irish Brigade on the side of the Boers in South Africa against the British. 
From a republican background in Westport, County Mayo, he travelled in South Africa, France and the United States before returning to Ireland. He married Maud Gonne, a short-lived and disastrous marriage that ended in a bitter and very public court case and separation. Donal Fallon deals well with this aspect of MacBride's life, assessing fairly the claims and counter-claims regarding his alleged abuse of Iseult, Maud Gonne's daughter from a previous relationship. The allegation is strongly contested to this day and the truth will probably never be known. 
MacBride was more a figure of the 19th century than the 20th. He was deeply imbued with Fenianism and a sense of bravado and was a 'lone wolf' in many respects. Undoubtedly a flawed and troubled character, he was courageous nonetheless and was seen as redeemed by his participation in the Rising and his subsequent execution.
The Rising – Alive, Alive-O
The walls of Dublin City still speak of Easter Week – the connections and memories are everywhere. Joseph E.A. Connell Jnr has written prolifically about the Rising and has brought it alive on every street.
Dublin Rising 1916 takes the city by postal districts and uses addresses to tell the story of the Rising and the revolutionary years generally. This book incorporates much of the material in the author's earlier Dublin in Rebellion – A Directory 1913-1923 but with greater concentration on the Rising itself. 
In such an extensive work there are bound to be errors. The one regarding 44 Parnell Square, now Sinn Féin Ard Oifig, should be corrected in any reprints. It states that the building was used by the Ancient Order of Hibernians who were "much closer philosophically to the ICA [Irish Citizen Army] than were the Volunteers. No Protestants were allowed to join". This statement – contentious in itself – implies (unintentionally, I am sure) that the ICA did not admit Protestants, which of course is certainly not the case. That said, the book is recommended as a treasure trove for anyone seeking a detailed knowledge of the Rising.