2 November 2015 Edition
A Song for Ireland
Irish Top 10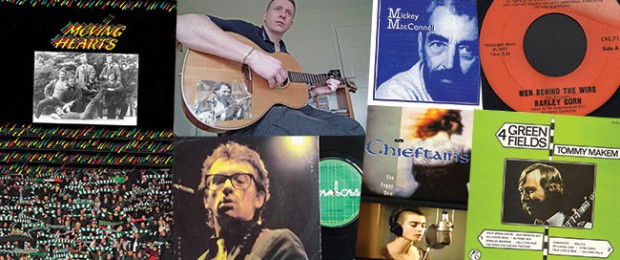 Like many of my generation, our introduction to Irish music came courtesy of Horslips and Thin Lizzy and that's still a great place for anyone to start.
I STILL REMEMBER the first time I heard Barleycorn's The Men Behind the Wire. It was at a south Dublin primary school in 1972. Within a year, there was no men and no wire to be heard on RTÉ Radio and the class above us were learning Louis Armstrong's What a Wonderful World. Censorship had moved beyond Montrose across the airwaves and into the leafy suburbs, its schools and social conversation.
For mine and subsequent generations, access to knowledge of Irish political music was almost totally dependent on your family circumstance. In my own personal sphere, we had Val Doonican's Greatest Hits Volumes 1 and 2 at home. He had his rocking chair on BBC Friday night prime-time TV, so all seemed right with the world. 
I left primary school without being taught Amhrán na bhFiann.
Like many of my generation, our introduction to Irish music came courtesy of Horslips and Thin Lizzy and that's still a great place for anyone to start.
I had considered including Thin Lizzy's Jail Break on the list here as the album's cover and gatefold text wrote of a jailbreak against an evil oppressive overlord, and Jim Fitzpatrick's artwork wove the ancient mythological with a more modern Ireland, but this would be stretching the classification just a little too much.
In the late 1970s, punk and Planxty kicked open the doors of our musical consciousness. Planxty brought Christy Moore, Donal Lunny and others like Paul Brady onto our TV screens and radio playlists with musical themes that were previously dormant. For teenagers it was an unstoppable momentum. You could go forward with the music and also back into the forgotten, overlooked origins that created Planxty, the Bothy Band and then the band that changed everything – Moving Hearts.
Punk meant our re-education had begun. Neil Diamond made way for Elvis Costello. His Oliver's Army makes the list as it moves effortlessly from quirky, edgy pop song to searing political comment: "There was a checkpoint Charlie, he didn't crack a smile, but it's no laughing matter when you've been on the murder mile." The war in Ireland was on Top of the Pops!
Moving Hearts' Hiroshima Nagasaki Russian Roulette exploded onto the radio and the band's first album had many tracks that could be considered for this list. It wasn't easy not excluding No Time For Love, written by Jack Warshaw. The Hearts' music encapsulated a local and global revolutionary vista. This is what puts Hiroshima on the list.
Christy Moore could have a top ten all of his own but I think the resonance of Ordinary Man by Peter Hames in this post-NAMA Ireland is stronger than ever: "But the captains of industry won't let him lose. He still drives a car and smokes his cigar. And still he takes his family on a cruise. He'll never lose."
Damien Dempsey has proven that he is the definitive voice of honest political comment in the new millennium. Colony is a stand-out track and the audience reaction when he plays it live is something special. There are so many versions of The Foggy Dew to pick but I think the Sinéad O'Connor/Chieftains collaboration captures the essence of the tune. 
I have sat in many heated discussions with fellow republicans on the music of Paul Brady, particularly his song The Island, which RTÉ seem to have perpetually on their playlist since 1985. Whatever about that, there can be no doubt that he nailed the emigrant experience with Nothing But the Same Old Story.
In terms of traditional music there is an ocean of choices to pick from, but some still catch your ear despite the years gone by. Tommy Makem's Four Green Fields is one. Mickey MacConnell's Only Our Rivers Run Free has been recorded by nearly everybody (check out YouTube if you don't believe me).
With the Dubliners I picked The Town I Love So Well as, again, it is one of the less obvious political songs that was forged out of the conflict in Ireland but it has endured to this day. 
Finally, Pete St John's Fields of Athenry makes the list, partly because of what the song has become. I don't think anyone envisaged what an anthem it would be. For Celtic fans, sports fans, Irish fans, the song has become an alternative national anthem, and perhaps a better one. I know all the lyrics but I still can't get through Amhrán na bhFiann.

Irish Top 10 
Hiroshima Nagasaki, Russian Roulette – Moving Hearts
Colony – Damien Dempsey
Ordinary Man – Christy Moore
The Foggy Dew – Sinéad O'Connor and the Chieftains
Nothing But the Same Old Story – Paul Brady
Oliver's Army – Elvis Costello
Four Green Fields – Tommy Makem
The Town I Love So Well – The Dubliners
Only Our Rivers Run Free – Mickey MacConnell
Fields of Athenry – The Supporters of Glasgow Celtic (and Paddy Reilly)