2 November 2015 Edition
Cuba visit by Gerry Adams
Sinn Féin has continually called on the Irish Government to send a trade delegation to Cuba, as a swathe of other European countries have recently done
GERRY ADAMS led a Sinn Féin delegation to visit Cuba from 30 September until 3 October. He was last in Cuba 14 years ago and there have been a lot of domestic and international developments since then. 
The rise of the Left throughout Latin America over the past 15 years has seen Cuba become a major regional power. Additionally, the United States administration has realised that its isolation and blockade of the island has been a failure and it is making moves to normalise its relationship with Cuba.
The Sinn Féin delegation met with Cuban Vice-President Salvador Antonio Valdés Mesa and a range of senior ministers in the Foreign Affairs, Health, and International Trade departments, and leaders in the National Assembly.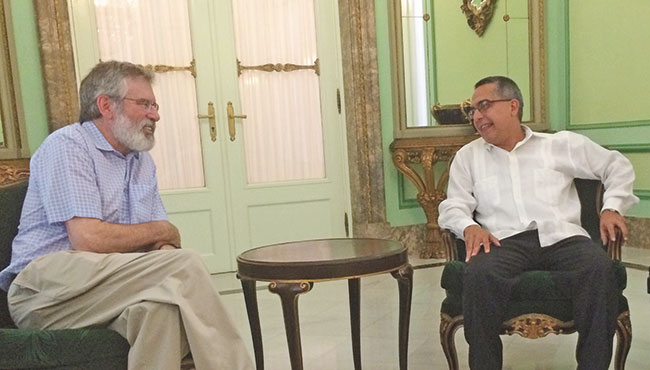 • With Cuban Marcelino Medina, Deputy Minister for Foreign Affairs
Gerry Adams conducted all the meetings as Gaeilge and his words were translated into Spanish.
In meetings, Gerry Adams reiterated Sinn Féin's long-held opposition to the embargo and the party's support for the historic diplomatic and political developments that are occurring in US-Cuban relations. The Cuban officials made it clear that the economic, cultural and human cost of the blockade to the people of Cuba has been enormous and that discussions must also focus on the return of Guantánamo.
The Sinn Féin delegation discussed how to improve trade and investment between our islands. Sinn Féin has continually called on the Irish Government to send a trade delegation to Cuba (as a swathe of other European countries have recently done) but they have failed to do so and Sinn Féin is filling the void. 
The delegation visited the memorial to the Irish Hunger Strikers in Havana which was formally unveiled 14 years ago on the 20th anniversary of the H-Blocks Hunger Strikes. Gerry Adams formally unveiled it then and on this visit he laid a wreath and made a speech to an audience of Cubans with connections to and an interest in Ireland. 
The event was supported by the Cuban Institute for Friendship Between People (ICAP), an NGO to promote solidarity between Cuba and people around the world. The President and Vice-President of ICAP attended and the Vice-President spoke of the heroic struggle and sacrifice of the Hunger Strikers and how they continue to inspire Cubans.
• Gerry Adams with Sinn Féin's Lucilita Breathnach and Ana Maríá Mari Machado (Vice-President of the National Assembly of People's Power)