1 June 2015 Edition
Kurdish fight for freedom against ISIS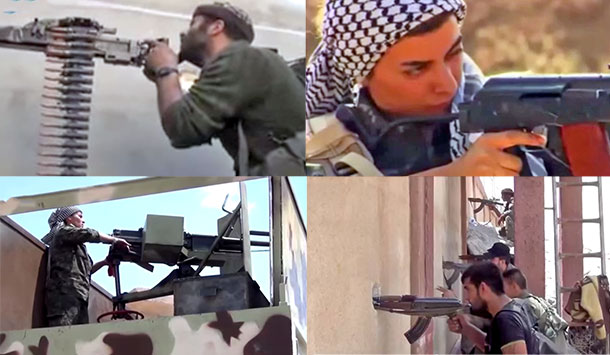 The Kurds heroically fought off the genocidal ISIS and their attempts to wipe out Kobani
THE KURDISH PEOPLE have long faced oppression. Their language, culture and way of life has been repressed by a variety governments and regimes. The Kurdish struggle for self-determination is taking place in modern-day Turkey, Syria, Iran and Iraq.
Iraqi Kurdistan or southern Kurdistan is the autonomous region in northern Iraq. Tensions between the region and the central government in Baghdad over power-sharing, oil revenues, oil production, and territorial control are ongoing. The region operates largely outside the control of Baghdad and its leaders have hinted at tabling an independence referendum soon. They also face continued attacks from the genocidal ISIS.
ISIS (or Da'eesh in Arabic), is a fundamentalist Sunni Salafist armed group that is intent on eliminating religious and ethnic minorities in the region. The Kurdish people have had to directly face their brutality, particularly in the majority Kurdish areas in northern Syria or Rojava.
Kurdish groups have largely stayed outside of the umbrella of opposition groups attempting to overthrow the Syrian Government. This was primarily down to Turkey's funding and active support of many of these Syrian opposition groups and the Kurds' ingrained and understandable mistrust of the Turkish state.
The People's Protection Units (or YPG in Kurdish) have liberated Kurdish majority areas in northern Syrian and protected (to various degrees of success) the civilian population from fundamentalist jihadi groups. They heroically fought off ISIS and their onslaught on Kobani. They are also building a unique project in the three cantons of Rojava which declared their own autonomy at the beginning of 2014.
In a region blighted by war, oppression and destruction, the fledgling democratic project in Rojava offers real hope for the Kurdish people and other minorities.
In Rojava, many Christian, Yezidi, Arab, Turkmen, Chechen, and Armenian refugees have received sanctuary. Many  were saved by the YPG fighting off jihadi death squads whose intention was to slaughter or enslave these minorities. Collectively, many of these groups now live, work, and fight alongside each other.
Real advances in women's rights are also taking place. The YPG has female units, called the Women's Protection Units (YPJ). Polygamy has been outlawed. Women are treated equally to men in the eyes of a court. Significantly, the membership of every institution and organisation in Rojava must be at least 40% female, including the Parliament and Government.
They fight the savagery of ISIS but  they are also fighting for a new future, a revolutionary future where everyone is treated with equality and respect. It is no utopia but it is a revolutionary project.
Sinn Féin is acutely aware of the plight of the Kurdish people and other minorities in the region as they battle ISIS. I have continually raised the plight of minorities in the region with the Irish Minister for Foreign Affairs. We want to see Ireland actively supporting the efforts of Rojava representatives to get their own independent voice at the Syrian peace talks and negotiations and not to be just lumped into the 'general opposition'.
Crucially, we want to see the Irish Government send humanitarian aid directly to Rojava and Iraqi Kurdistan, which have been overwhelmed with refugees. Unfortunately, a lot of this aid that is sent via Damascus, Baghdad or through Turkey and never actually reaches the Kurdish people.
We are on record for criticising the Turkish Government over their shameful refusal to allow Kurdish fighters to resupply their front lines with weaponry and fighters during the Kobani siege while ISIS levelled Kobani with their heavy weapons as Turkish tanks sat on the border.
Sinn Féin supports Abdullah Öcalan's calls for an inclusive peace process between the Turkish state and the PKK, and we support calls for his release from prison.
I have recently met three groups of prominent Turkish figures who visited Ireland to learn about our own peace process. They included leading MPs, academics, journalists, civic society activists, and feminist groups. I have encouraged them to engage in a process to safeguard the rights of the Kurdish people and to seize the historic opening for peace that Öcalan has created.
SEÁN CROWE is Sinn Féin Dáil Spokesperson on Foreign Affairs