1 June 2015 Edition
Unionist, pro-austerity parties win Westminster election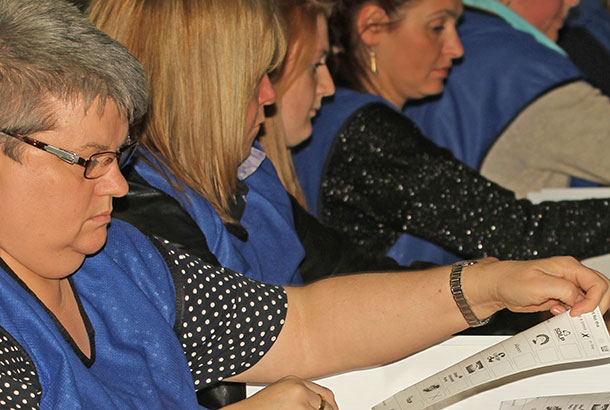 Gerry Adams said the unionist pact was held together by 'an opposition to change, opposition to equality and in support of a union that is imposing austerity'
THE UNIONIST PACT between the Democratic Unionist Party and the Ulster Unionist Party dictated the outcome of the 2015 Westminster election in the Six Counties. In the face of this conservative consensus, Sinn Féin battled to keep the focus on the Tory cuts imposed from Westminster.
After the election triumph of the Conservative Party in England and Wales, Sinn Féin President Gerry Adams said:
"The newly re-elected Tory Government in London is wedded to austerity and this presents severe challenges for society and citizens in the North.
"These include the threat of more destructive cuts to the North's budget and to the social welfare system as well as a referendum that could remove the North from the EU against the wishes and the interests of citizens here.
"It is now clearer than ever that austerity is the price of the Union."
He acknowledged that the loss of the Fermanagh & South Tyrone seat to the unionist pact was a disappointment and he paid tribute to Michelle Gildernew for her service to Sinn Féin and to the people of Fermanagh & South Tyrone. He also said that Sinn Féin ran "a positive, forward-looking" campaign.
• Councillor Niall Ó Donnghaile, Gerry Kelly MLA, Gerry Adams TD and Mary Lou McDonald TD 'photo-bombing' a Paul Maskey MP interview with 'An Phoblacht TV'
Sinn Féin candidates consolidated or built new bases from which to contest Assembly seats in 2016. 
"Our 18 candidates across the North represented the progressive politics of Irish unity and equality for all citizens. I want to thank each of them and their families."
Gerry Adams said the unionist pact was held together by "an opposition to change, opposition to equality and in support of a union that is imposing austerity". The SDLP refused a Sinn Féin request to consider a counter-balancing agreement to meet the challenge of the unionist right of centre bloc. 
Despite the pact – very actively or tacitly supported by the Orange Order and the hardline Traditional Unionist Voice, among others – Sinn Féin held four of its five seats – West Belfast (Paul Maskey), Mid Ulster (Francie Molloy), West Tyrone (Pat Doherty), and Newry & Armagh (Mickey Brady).
The unionist pact covered four of the 18 constituencies: Fermanagh & South Tyrone, East Belfast, North Belfast, and Newry & Armagh.
The final results from the 18 constituencies were:-
DUP = 8 (no change)
UUP = 2 (up 2)
Sinn Féin = 4 (down 1)
SDLP = 3 (no change)
Alliance = 0 (down 1)
Independent Unionist = 1 (no change)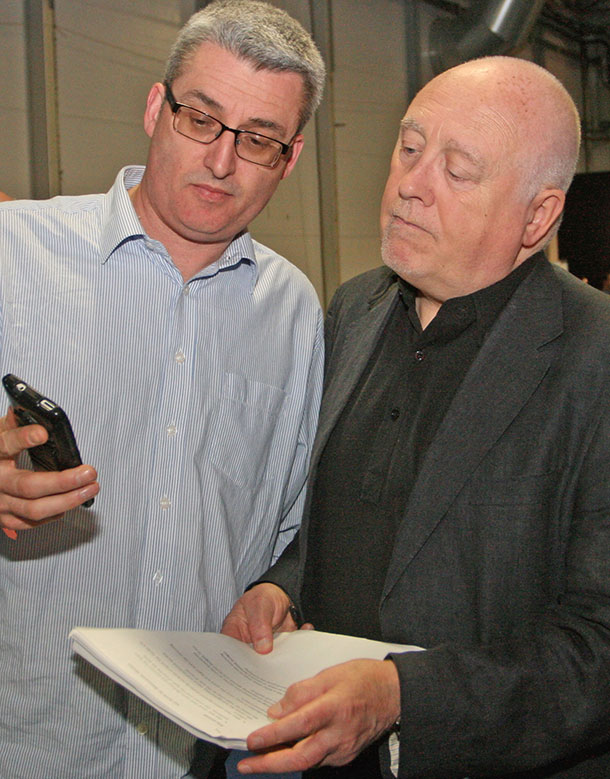 • Sinn Féin Director of Publicity Ciarán Quinn with commentator Danny Morrison
Sinn Féin received its highest-ever vote in Fermanagh & South Tyrone, North Belfast, South Belfast and Upper Bann.
The vote percentage differences for the DUP, UUP, Independent Unionist and Sinn Féin were all with one per cent difference on 2010 but Alliance were up 2.3% and the SDLP down 2.6%. The higher unionist turnout affected comparisons with previous elections.
The pact achieved its aim of taking the Fermanagh & Tyrone seat from Sinn Féin (won by just four votes in 2010) and recovering the East Belfast seat embarrassingly lost to Alliance by DUP leader Peter Robinson five years ago. 
In North Belfast, the pact saw DUP deputy leader and Orangeman Nigel Dodds hold off a vigorous challenge from Sinn Féin MLA Gerry Kelly. In Newry & Armagh, Sinn Féin MLA Mickey Brady (replacing Conor Murphy) seeing off UUP pact candidate Danny Kennedy.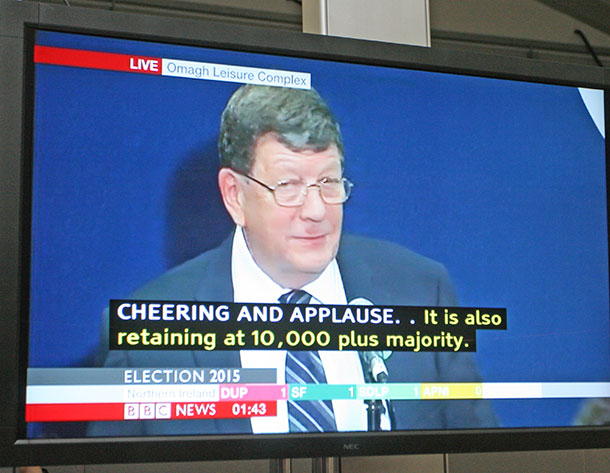 • Pat Doherty took West Tyrone with a huge majority
Constituency overview
West Belfast – Sinn Féin sitting MP Paul Maskey easily topped the poll with 19,163 but the SDLP's Alex Attwood on 3,475 was pushed into third place by People Before Profit's Gerry Carroll on 6,798.
North Belfast – pact candidate and DUP leader deputy leader Nigel Dodds increased his vote to 19,096 votes while Sinn Féin's Gerry Kelly secured 13,770.
Fermanagh & South Tyrone – The priority target of the unionist pact was achieved with UUP candidate and ex-leader, Orangeman and former Ulster Defence Regiment soldier Tom Elliott getting 23,608 against Michelle Gildernew's 23,078 (the SDLP candidate took 2,732).
Foyle – Gearóid Ó hEára polled 11,679 for Sinn Féin while former SDLP leader Mark Durkan held the seat with 17,725.
Mid Ulster – Sinn Féin sitting MP Francie Molloy was returned with almost half the vote at 19,935.
Newry & Armagh – New Sinn Féin candidate Mickey Brady took up the candidacy from sitting MP Conor Murphy and held off the challenge from unionist pact and UUP candidate Danny Kennedy, with 20,488 votes to 16,312.
West Tyrone – Sitting Sinn Féin MP Pat Doherty was returned with 16,805 votes to his nearest rival, DUP candidate Tom Buchanan on 6,747.
Sinn Féin candidates also ran strong campaigns in South Belfast ( Máirtín Ó Muilleoir), East Belfast (Níall Ó Donnghaile), Upper Bann (Catherine Seeley), South Down (Chris Hazzard), North Antrim (Daithí McKay), South Antrim (Declan Kearney), East Derry (Caoimhe Archibald), East Antrim (Oliver McMullan), Lagan Valley (Jacqui McGeough), Strangford (Sheila Bailie), North Down (Therese McCartney).