4 May 2015 Edition
Behind the Easter Week barricades
This is a heartfelt work, full of humanity and genuine warmth as well as being an invaluable historical record
Inside the GPO, 1916: A first-hand account
By Joe Good | O'Brien Press | Price: €11.99
THE first thing to say about this book is that everyone should own a copy. It is the definitive account of the Easter Rising, written by a participant who fought with the HQ staff in the GPO. It is packed from cover to cover with insights and observations that provide a more human analysis than is often given by other, more sterile, factual accounts. 
The book is exceptionally well-written, especially when one considers that the author was already working in a factory at the age of 14, having long left school. Yet it is littered with quotations and allusions to everyone from Homer's Iliad, to Shakespeare and the Pope. This makes it sound pretentious, with pseudo-intellectual insertions placed to show how clever the author is, but nothing could be further from the truth. 
This is a heartfelt work, full of humanity and genuine warmth, as well as being an invaluable historical record.
The book confounds preconceived ideas from the outset.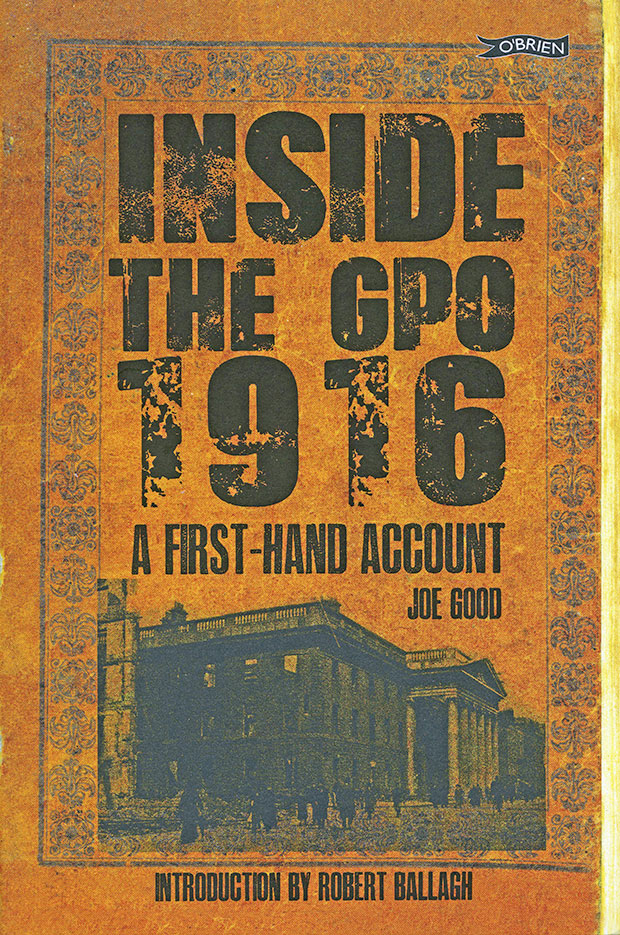 The author was born in London, with only tenuous links to his perceived Irish heritage. And this was not an isolated case. Over 70 Volunteers were billeted at Joseph Plunkett's property in Kimmage. This garrison was drawn exclusively from the English- and Scottish-born sons of Irish emigrants. Another 20 or so were billeted in North King Street, and a further ten Cumann na mBan members distributed throughout the city. Pearse was so impressed with these Diaspora Volunteers that he appointed them as the HQ Company of the Volunteer Staff Command. It is interesting to reflect that the inside of the GPO would have been full of English accents, whilst a good 20% of the attacking British soldiers would have been Irish-born. Certainly, 20% of the "British" fatalities were Irish troops. The Kimmage Volunteers comprised 10% of all rebel fatalities, the highest of any group on the insurgent side.
Joe Good reflects on the response of these British-born (or American-born in De Valera's case) and speculates on the reasons for their commitment. The list of republican leaders born in Britain is extensive. Everyone knows that Connolly was born in Edinburgh, but how many realise that Tom Clarke was born on the Isle of Wight? There are many others: Maud Gonne, Surrey; Erskine Childers, Mayfair; Piaras Béaslai, Liverpool; Liam Mellows, Lancashire . . . The list goes on, with some returning to Ireland in childhood, and others as adults.
There is one curious passage where Joe describes Michael Collins and Cathal Brugha as being "brilliant partners" and the "closest of friends". All other sources say that they loathed each other. Presumably, as a great admirer of each of them, he could not bear to recognise their mutual antipathy.  
There are many books being produced for the centenary of 1916 – this one should be top of the list.