4 May 2015 Edition
Youth positive mental health programme in June
Comhairle na nÓg 'Let's Go Mental' initiative introduced in Leinster House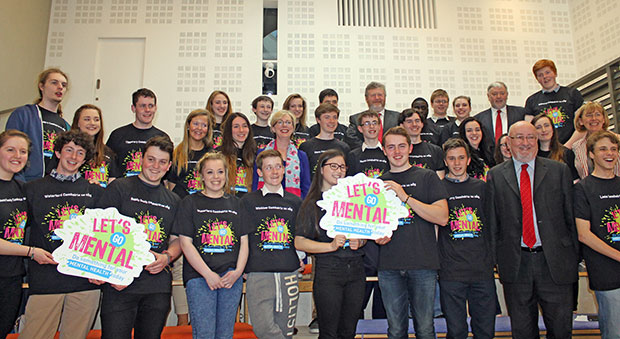 The visit was proposed by Cavan/Monaghan Dáil Deputy Caoimhghín Ó Caoláin, Sinn Féin Health spokesperson
YOUTH representatives from all 31 Comhairlí na nÓg structures from across the state were in Leinster House in April for the introduction of their 'Let's Go Mental' initiative to Dáil deputies and senators.
The visit, proposed by Cavan/Monaghan Dáil Deputy Caoimhghín Ó Caoláin (Sinn Féin), who also co-chaired the event, was part of the Oireachtas All-Party Group on Mental Health's programme of work for 2015. 
Deputy Ó Caoláin was joined in co-chairing the first of two presentations by Deputy Maureen O'Sullivan (Independent). 
The second session was co-chaired by Deputy Regina Doherty (Fine Gael) and Deputy Robert Troy (Fianna Fáil).
Among the topics addressed by Comhairle na nÓg in recent years are mental health services for young people, facilities for young people, how young people are treated by the adult world, and homophobic bullying.
Among the young representatives were Conor McCabe of Mountnugent, County Cavan, and Lily Cheung of Glaslough, County Monaghan, both of whom are members of the Comhairle na nÓg National Executive.
Senators Kathryn Reilly and Diarmuid Wilson were among the Oireachtas members present, as were Leila Shaddadi from the office of Deputy Joe O'Reilly and Nuala Brady from the office of Deputy Brendan Smith.
The statewide launch of 'Let's Go Mental' will take place in June in Dublin. 
There will be regional events at a number of locations, each designed to promote positive mental health through music, sport, the arts and other fun activities. 
While the focus of the initiative and of the various events scheduled is on young people, everyone, irrespective of age, is welcome to come along and to join in.