1 April 2015 Edition
Julia Grenan – woman of 1916
Remembering the Past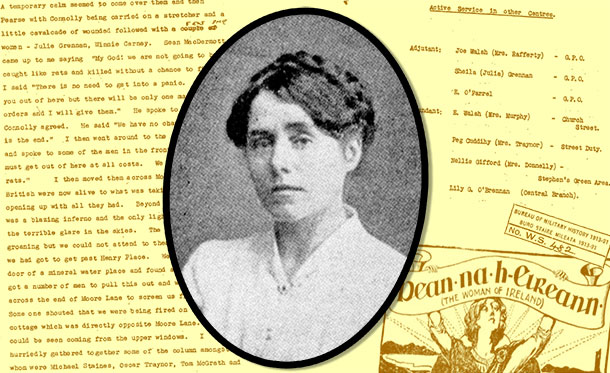 When the Rising began, women were at first turned away from some of the garrisons
IT HAS BEEN estimated that some 75 women who were members of Cumann na mBan and the Irish Citizen Army served in the GPO garrison during Easter Week 1916. When most were evacuated after the building caught fire, only three remained – Elizabeth O'Farrell, Winifred Carney and, perhaps the least well known of the three, Julia Grenan. 
Julia (also known as Sheila) Grenan was a Dublin woman. She went to school in the Mercy Convent, Townsend Street. It was there she met Elizabeth O'Farrell, who was to be a lifelong friend and fellow republican. The two young women joined Inghinidhe na hÉireann, the nationalist society for women founded by Maud Gonne. Its paper, Bean na hÉireann, was influential, being the only openly separatist journal then in existence. 
When Cumann na mBan was founded in April 1914 both Julia and Elizabeth joined and the course of  their lives was changed. 
They were members of the Inghinidhe na hÉireann branch of Cumann na mBan and were among its most active. After Eoin Mac Neill's countermanding order on Easter Sunday, the Provisional Government sent women couriers throughout the country to inform the Volunteer organisation that the Rising would go ahead on Easter Monday. Julia Grenan was sent to Dundalk with this task. 
When the Rising began, women were at first turned away from some of the garrisons, including the GPO, before they were allowed to participate. Julia Grenan and Elizabeth O'Farrell were attached to the Irish Citizen Army at the request of James Connolly. Julia served as a dispatch carrier, taking messages to and from the GPO, at great risk, throughout the week. 
After the evacuation of the GPO, Julia was with the garrison as it entered Moore Street and surrendered with them on Easter Saturday. Her friend, Elizabeth O'Farrell, carried the surrender note from Pearse to the British Army. Julia was one of the prisoners held overnight on the green in front of the Rotunda Hospital and was then transferred to Kilmainham Jail. From her cell she heard the volleys of shots as the leaders were executed. 
Julia Grenan continued as an active republican in the following years. Like many republican women she was highly critical of de Valera's 1937 Constitution. She and Elizabeth O'Farrell shared a home in Dublin until the latter's death in 1957. Julia died in 1972 and she and Elizabeth O'Farrell are buried side by side in Glasnevin Cemetery.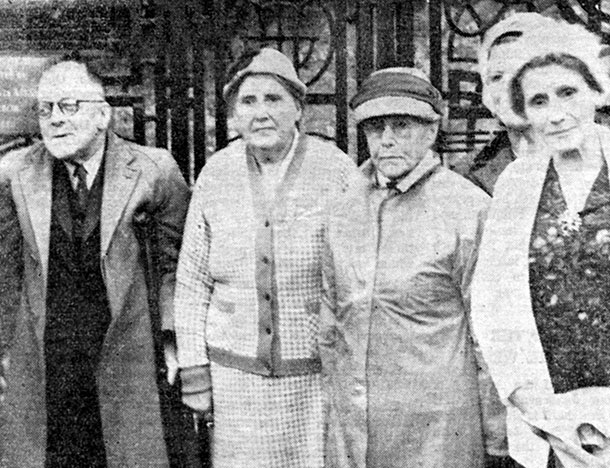 • Bodenstown 23 June 1963: Joe Clarke, veteran of the Battle of Mount Street 1916; Mrs Russell, Cumann na mBan 1916 and a Republican Justice during the Tan War and imprisoned in 1922; Julia Grenan, member of GPO garrison 1916; May Daly, sister of Charlie Daly executed by Free State Forces in Drumboe in 1923; and Mrs O'Hanlon, mother of Fearghal Ó hAnnluain, killed in action with Sean Sabhat in Brookeborough in 1957