1 April 2015 Edition
Peering under the rock that hides the Golden Circle
World expert in banking and finance tells Dáil inquiry the story behind the Irish banks crisis is one of power
He said that a crisis is defined by the resulting political and economic struggle over who pays for the losses
ED KANE is not a name that is known to most people. His appearance at the bank inquiry was a low-key affair, lacking the media bells and whistles of a Patrick Honohan or a David McWilliams. Yet, for the two hours he gave evidence, Professor Kane, a world expert in banking and finance, explained the way a crisis unfolds. 
He did so by making a very clear and simple point. He said that a crisis is defined by the resulting political and economic struggle over who pays for the losses. And that struggle is related to political and economic power. Those who have it avoid the losses; and those who don't, carry the debt.
Sinn Féin Deputy Pearse Doherty questioned Professor Kane about this in relation to the Irish bank crisis.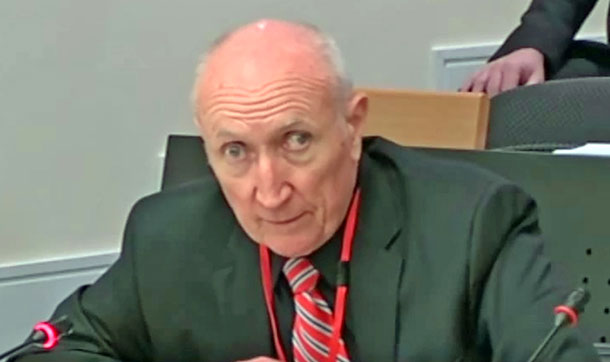 • Professor Ed Kane, world expert in banking and finance
"My superficial understanding of Ireland is that many foreign creditors were paid off with Irish taxpayers' money," said Professor Kane, "and it is astonishing to me how good politics, the way a republic or a democracy is supposed to work, would ever lead to that solution."
Earlier, Professor Kane had said that a bank that is too big to fail is in reality a bank that is too well-connected to fail. When asked as to how that comes about, he said that it develops  from "the campaign contributions that [bankers] are able to make either directly or indirectly through encouraging their staffs and basically schmoozing people and building relationships".
None of this is of any surprise to the Irish people, of course, yet it is rare to hear it from someone such as Professor Ed Kane. 
Here we are used to experts telling us that the crisis was really our fault for taking out mortgages. When the crisis came, what else could we expect but to carry the consequences?
The problem with this line of argument is that the facts do not add up. 
We know from the Nyberg Report into the Irish bank crisis that 50% of the Irish loan book of Anglo Irish Bank was in the hands of around 20 individuals. 
Deputy Doherty put these facts to another banking expert, Bill Black, in January. Mr Black replied that he had "never seen a concentration that high at any financial institution of any size anywhere in the world at any time in history. It is absolutely – no questions and no ifs, ands or buts – utterly unsafe and unsound."
This point was raised by Gerry Adams during Leaders' Questions in the Dáil on 28 January, where he put it to the Taoiseach that these 20 or so borrowers represented "a small elite in a golden circle." The Taoiseach, as is his wont, , ignored the question and accused Mr Adams of "economic ballyhoo".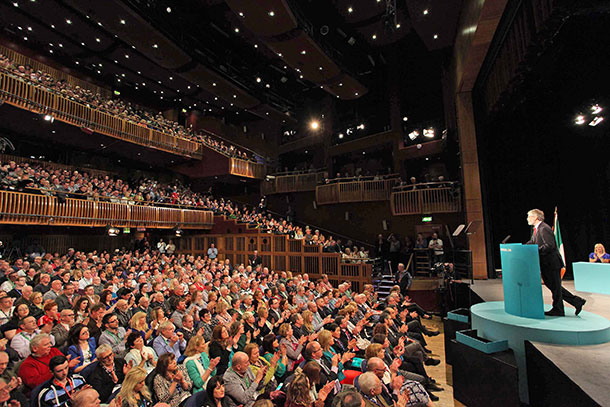 • Gerry Adams tells the audience that corrupt bankers and corrupt politicians should be in jail, not water charges protesters
The facts presented by Adams in the Dáil were repeated in his Presidential address to the Sinn Féin Ard Fheis in Derry in March.
"Bankers and their political cronies are the Golden Circle," he said. "It is corrupt bankers and corrupt politicians who should be in jail, and not water charge protesters."
Just over one week later, the Sunday Business Post plastered its front page with an 'exclusive' story that in 2008 there were just 22 men with bank debts of €25.5billion. The Taoiseach was asked to comment. He said that "it seems like an extraordinary amount of money to an extraordinary small number of individuals". There is no record of him accusing the Sunday Business Post of economic ballyhoo. 

• The Taoiseach said it was 'extraordinary' that just 22 men were responsible for bank debts of €25.5billion
The story behind the Irish bank crisis is one of power. It is about the nature of political and economic influence in the South – those who wield it and those who don't. During the crisis that power had to reveal itself in order to protect itself. Since then, it has slithered back under the rock where it usually hides. 
The terms of reference of the bank inquiry state that it must look into the relationships between state authorities, political parties, elected representatives, supervisory authorities, banking institutions and the property sector, and it is the intention of Sinn Féin to work to ensure that this happens. 
It is within these relationships that power operates, and out of them came the bank guarantee.