2 March 2015 Edition
Marty Crudden, Fermanagh
Fógraí Bháis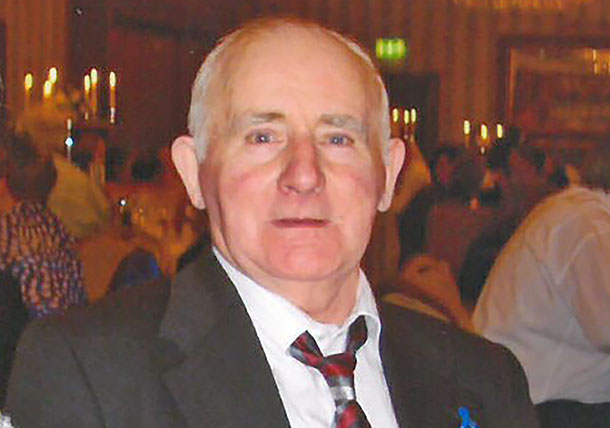 Marty became involved in the Civil Rights movement and while he was dedicated heart and soul to the causes of Civil Rights and Irish republicanism it was never at the expense of family life
BORN on 4 November, 1922, Martin Joseph Crudden, or Marty as he was known to his friends, was a lifelong republican. He lived the entirety of his life along the Cavan/Fermanagh border in the townland of Drumherrif near the village of Kinawley, County Fermanagh.
Conscious from an early age that partition and the imposition of the Orange State were a serious injustice, Marty saw firsthand how partition divided his own historic parish of Kinawley, with Swanlinbar now in the 26 Counties and Kinawley in the North. For men like Marty this wasn't an acceptable arrangement at all.
He would meet his wife Annie and together they would rear a family of seven. Marty became involved in the Civil Rights movement and while he was dedicated heart and soul to the causes of Civil Rights and Irish republicanism it was never at the expense of family life. Developing a strong friendship with fellow Fermanagh activist Tom Flatly, Marty worked hard for the cause and comrades alike. The tragic accidental death of Tom Flatly came as a serious blow to Marty as it was to the broader Movement.
Continuing the balancing act of being the best activist and father that he could be, Marty joined the local H-Blocks committee. It was men and women like Marty who laid the groundwork for the elections of Bobby Sands and Owen Carron upon Bobby's death.
Marty continued to support the Republican Movement and the advancement of the people's rights through many further years of activism. He was a familiar face outside the chapel in Kinawley, 20 yards from an RUC/British Army base, selling An Phoblacht. He was a regular attendee at Bodenstown and organised bus trips from his beloved Kinawley.
Later in life, Marty saw the value of and supported the Peace Process. As long as his health permitted, this proud republican would be at his local Easter commemoration.
Marty is sadly missed but forever remembered as dedicated republican and a stalwart of republicanism in Fermanagh.